Clinker Hopper / Hydraulic Conveying System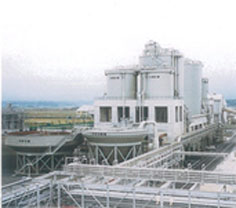 The Hydraulic Conveying System is a typical bottom ash handling system adopted by many domestic coal-fired power plants. This system has basically two variations. One is the Dewatering Bin Recovery system with a dewatering bin and the other is the Hydraulic Conveying System without a dewatering bin to convey ash directly to an ash dump.
Feature
This system is a conveying system by water circulation.
Most maintenance work can be done without stopping the system due to its intermittent handling.
This system can handle mill pyrite along with bottom ash.
Handling System
Bottom ash which is cooled and stored temporarily at a clinker hopper is discharged regularly, crushed by a crusher, conveyed to a dewatering bin by a jet pulsion pump, and carried to an ash dump by truck or conveyor after dewatering.
Wastewater from the dewatering bin goes into an ash sedimentation tank or an ash sedimentation pond for the sedimentation of ash particles and water without ash particles is supplied to the JPP by an ash handling pump. The ash particles which settle in the ash sedimentation tank and the water tank are returned to the dewatering bin by a sludge return pump.