Heat Recovery Steam Generator (HRSG)
The Heat Recovery Steam Generator (HRSG) recovers heat from gas turbine waste gas by steam to generate electric power by a steam turbine. This is the main product for the Combined Cycle Power Plant and the Cogeneration Plant generating electric power and steam. We have a track record in the production of many HRSGs including the generator with a capacity of 460 t/h steam and the 3-stage reheating type. So far we have delivered 59 units to the U.S., Brazil, India, Thailand, Malaysia, Myanmar, China, Mexico, Spain, the Philippines, and Iran as well as domestic companies.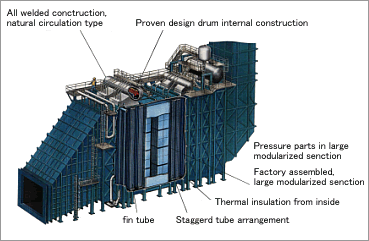 Features
Kawasaki has a track record in providing the HRSG System suitable for various plants including a 1,500 Mw combined cycle plant, a cogeneration plant requiring various operations, heavy oil-fired gas turbine, a blast furnace gas-fired gas turbine and the HRSG with auxiliary combustion equipment. Therefore, we can supply the HRSG to meet your needs. We have both horizontal and vertical natural cycle types and can provide the optimum type to suit the site. In addition, our plant completely responds to ordinary continuous operations and the DSS (daily start and stop) operation, much tougher, attesting its high-reliability.

Contact