Fluidized Bed Boiler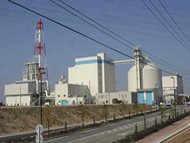 Kawasaki produces three types of fluidized bed boilers--the Bubbling Fluidized Bed Boiler (7 boilers delivered), the External Circulation Fluidized Bed Boiler (2 boilers delivered) and the Internal Circulation Fluidized Bed Boiler (2 boilers delivered). The latest `the Internal Circulation Fluidized Bed Boiler' has been developed as a highly-efficient and clean system to generate power by utilizing various waste and sludge as a `fuel' as well as waste containing corrosive substances and environmental pollutants and solid fuels derived from plastic waste. The boiler is characterized in that the fluidized bed consists of the combustion cell and the heat collection cell and the bed material circulates from the combustion cell to the heat collection cell by the velocity difference of flowing air. This achieves the separation of burning gas flow and bed material flow, the control of bed temperature by a heat transfer tube installed at the heat collection cell and the prevention of the corrosion of the heat transfer tube due to corrosive gas such as chlorine, realizing a highly-efficient and highly-reliable system.
Features
The fluidized bed is divided into a combustion cell and two heat-collection cells. One heat-collection cell has evaporation tube bundle and another has a super heater tube bundle in the fluidized bed, respectively. Fuel is supplied to the combustion cell only, and burned there. The reaction heat is conveyed to heat collection cells by the circulating bed material, and absorbed to tube bundles there.
Thus, tube bundles in heat-collection cells are not exposed to corrosive exhaust gas, and get long lifetime. Temperature at combustion cell can be controlled moderately by controlling the amount of circulating bed material, thereby various fuels and waste can be burned stably.
Contact