Kawasaki Advanced Clean Combustion (KACC) Boiler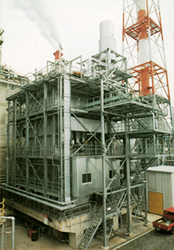 Kawasaki has developed `the Kawasaki Advanced Clean Combustion Boiler ' aiming at reducing NOx and dust emission by a completely different method from conventional ones. This boiler can reduce NOx and dust emission drastically by firing heavy oil containing much Fuel-N in a furnace made up of a high temperature reduction burning zone and a low temperature oxidation zone. We have delivered 3 boilers of an evaporation capacity of 100~200 t/h since its first delivery in 1998, all of which are acclaimed for their performance with low NOx and dust emission. This system is effective for asphalt as well as ordinary heavy oil to ensure an operation with unprecedentedly low NOx and stable and highly-efficient combustion.
Features
The greatest feature of this boiler is that the combustion chamber is divided into two--the upper and the lower. In the firewalled lower chamber, heavy oil is gasified by the high temperature reduction combustion under a high temperature of 1,500~1,800 deg.C and next in the water-walled upper chamber burning is completed by the low temperature oxidation. By combining upper and lower chambers different in temperature and ambience, highly efficient and stable combustion with less than 100 ppm NOx and less than 250 mg/Nm3 is achieved.
Contact