Marine Boiler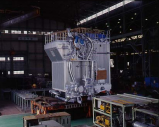 Kawasaki has delivered more than two thousand marine boilers since 1878.
Kawasaki produces the marine boilers with its own design and technology, and also gave license for production to several other boiler suppliers from Japan and abroad.
Kawasaki has supplied the marine boilers to various ship builders all over the world.

Kawasaki's Type UM main boiler has been delivered for many VLCC and LNGC since 1972.
Features
The UM main boiler has the following features.
(1) Installation is easy due to packaged design
(2) Arrangement is compact due to roof firing design
(3) Exhaust gas tightness is reliable due to full membrane wall design
(4) Steam tightness is reliable due to welded superheater construction
(5) Choice of fuel media is flexible depending on the Customer's need and fuel availability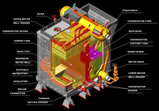 Contact