Flue Gas Desulfurization System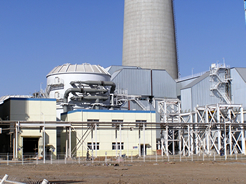 Kawasaki provides the Flue Gas Desulfurization System to eliminate sulfuroxide in waste gas exhausted from various industrial and utility boilers. This technology has been achieved after research and improvement for more than 30 years, featuring high-performance, energy-saving and high-reliability. We have supplied 37 systems to various industries and power companies in Japan and 55 systems worldwide including China, Southeast Asian and European countries. Our experience record is 25, 700 MW in terms of a total power generation. We also provide technical license to overseas, contributing to the global environmental protection.
Features
Kawasaki has the Limestone-Gypsum Method Flue Gas Desulfurization System mainly for a commercial use and the Mg Method Flue Gas Desulfurization System mainly for an industrial boiler providing the right desulfurization system suitable for various gas conditions and plant locations. Especially, the Limestone-Gypsum Flue Gas Desulfurization System has achieved a highly-efficient desulfurization and dust-elimination performances by adopting a spray nozzle of our own development. The recent development of a compact type absorber tower has made a plant further more energy-saving, resources-saving, more reliable and easy-maintenance.
Link
Contact