Air Cooled Heat Exchanger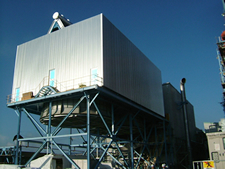 Kawasaki is Japan's leading manufacturer of the Air Cooled Heat Exchanger for power generation facilities (turbine exhaust condenser). It is an environmentally-friendly product utilizing inexhaustible supply of air as a refrigerant to condense steam into water. Our delivery record is more than 100 plants including overseas power plants and mainly to domestic refuse incineration plants, all of which are running smoothly.
Features
The Air Cooled Heat Exchanger provided by Kawasaki is a highly economical and reliable and easy-to-maintain product combining the optimum heat exchangers. In addition, it can be used as a cooler for fluids including pressurized steam, gas, oil and water as well as for power plant facilities. Therefore, we can propose the right air cooler heat exchanger to meet the needs of our environmental conscious customers based on our track record.
Contact