Conventional Fossil Fuel Fired Power Plant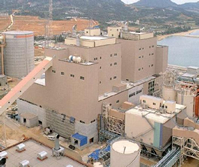 Kawasaki has delivered more than 1,000 coal-fired boiler plants.
Unlike oil and gas, coal can vary greatly in its properties, depending on its region of production. Therefore, when planning a coal fired power plant, a comprehensive planning on total plant encompassing the boiler and peripheral equipment for handling and treating of the coal as well as the byproducts like ash and flue gas, is indispensable. Kawasaki is capable of such planning for all kinds of commercial and industrial coal fired boiler including their peripheral equipment.
Features
The pulverized coal-fired boiler by Kawasaki has the following features.

1) The plant is based on the proper evaluation of coal and reflecting the optimum facility plan and operationability.
2) The CC burner of highly efficient and low NOX burning developed by Kawasaki is adopted.
3) The KVM type pulverized coal mill with high efficiency and operationability developed by Kawasaki group is adopted.
4) The boiler and SCR ( denitrification plant ) are well-planned in consideration of factors affecting the performance of the SCR including gas temperature, the concentration distribution of O2 and NOX .
Contact