Solidified Coal Ash Aggregate Manufacturing Facility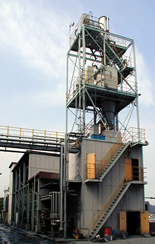 Kawasaki is a leading ash handling plant manufacture with the largest market share in Japan, having a track record in delivering many ash handling systems for a coal-fired boiler. In addition, we have established a high-security and high-reliability system in the field of effective utilization of coal ash thanks to rich experiences and various researches for long years.
Recently, coal ash amounts to 10 million tons, which makes it more and more difficult to dispose due to high disposal cost and very few landfills. Thinking of these, Kawasaki is focusing on efficient use of coal ash to contribute to creating an environmentally-friendly and recycle-based society. The Solidified Coal Ash Aggregate Manufacturing Facility is an example of the efficient use of coal ash.
Features
Our unique technology is employed-- first we add additives to coal ash and steam-cure it to solidify. This technology prevents hazardous heavy metals from liquating out and enables us to manufactureenvironmentally-friendly solidified aggregate which meets the environmental quality?standards for soil.
This can be used as civil engineering materials for land-fill, backfill, ground improvement and others.
Especially, this aggregate has been often utilized as a road bed material for prefectural roads, proving to be comparable to natural aggregate in characteristics.
Link
Contact