The KMX series is multiple control valves that systematically control actuators of an excavator. Complicated main circuits and pilot signal circuits are arranged inside the housing compactly. In response to customers requests, unique and original circuits, including special functions: for instance, straight traveling, swing priority, highly pressurized traveling, confluence and regeneration, are available.
Features
Energy conservation (low pressure drop, flow regeneration function)
Good Controllability (straight traveling, priority, flow confluence function, etc.)
Multi-functionalized (auxiliary add-on valve)
Specifications

Model
KMX13
KMX15
KMX32
Max. Pressure (MPa)
34.3
Rated Flow (L/min)
180
300
450
Applications
Focus
Designing with CFD(Computational Fluid Dynamics) achieves the ideal oil passage structure and contributes the reduction of pressure drop.
Excavator System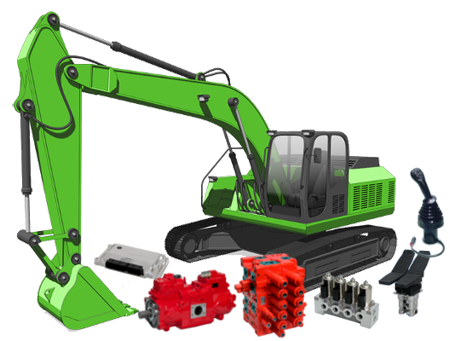 Most common hydraulic system for the hydraulic excavators is a system with the variable displacement pump in the open center control system. Electronically controlled positive displacement control system, which is one of the excavator system, can optimize each operating function to provide efficient, smooth and precise control performance.
Contact