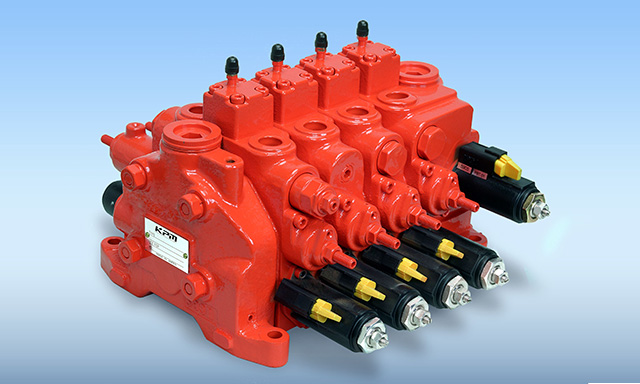 KMP series is a bank type proportional multiple control valve. It has a pressure compensator operated by electric controls for construction machinery and industrial vehicles.Chiefly, it is used with a fixed displacement pump system.
Features
With pressure compensator.
Because it has an internal pilot supply, external pilot pump is not necessary.
For bank type, it is able to increase or decrease the number of valves as required,and is suitable for actuators.
In case of emergency, manual operation is available by the attached lever.
Specifications

Model
KMP10(C)
Max. Pressure (MPa)
30.9
Max. Flow (L/min)
80 (P,T port)
Max. Controlled Flow (L/min)
70 (A,B port)
Proportional Solenoid
Rated Current (A)
0.7
1.6
Coil Resistance (Ω)
17.5
3.2
Applications
Load Sensing System

The required machine operating speed can be provided independent from the machine loading conditions.
Contact