Azimuth Thruster (Rexpeller®)
Rexpeller, the "King of Propellers," is the name of Kawasaki's outstanding line of azimuth thrusters.
A fully azimuth-steerable thruster, the Rexpeller works as a propulsor and a rudder all in one.
Since 1983 Kawasaki has been a leading supplier of azimuth thrusters, providing its Rexpeller for a wide array of vessels, from tugboats to cable layers, and other workboats as well as offshore vessels like drillships, supply boats and more.
Since the propeller rotates 360 degrees around its vertical axis, the thruster can perform double duty, propelling as well as steering a vessel. Able to generate thrust in any direction, the Rexpeller not only delivers excellent maneuverability but maintains superior positional accuracy as well. The crash astern function significantly shortens a vessel's stopping distance.
Features
Extensive product line
Wide range of input power to meet virtually any vessel specifications
Input power: up to 6,500 kW
Powerful thrust
High-efficiency duct (kort nozzle), small pod and large-diameter propeller generate stronger bollard thrust
Low vibration and low noise
Adaption of the skewed propeller and optimized design stiffness minimize vibration and noise
Easy installation and maintenance
Compact design with built-in clutch and hydraulic components
Built lightweight but robust
Optimized component design with the latest in finite element method (FEM) analysis
Available with controllable pitch propeller (CPP) or fixed pitch propeller (FPP)
Can be installed with either L or Z drive configuration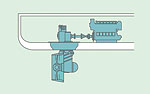 Z-drive
with diesel engine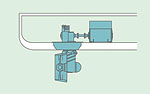 Z-drive
with horizontal motor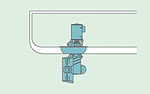 L-drive
with vertical motor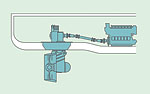 Offset arrangement
with diesel engine
Control unit
Easy operation for highly accurate control. Work with navigational devices and positioning system to enable autopilot and dynamic positioning.
Can be coupled to protective devices such as automatic load control (ALC) and overload protection (OLP) systems (for CPP)
Shockless hydraulic clutch
Reduce the shock of on/off type clutch engagement by automatically controlling the hydraulic oil flow rate.
[Option]
The slipping clutch allows for more fine-tuned vessel operation.
Product Lineup
We Offer an extensive range of azimuth thrusters for various types of vessels.
Click the link to find out more about each product.
Applications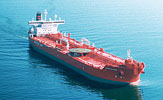 Knutsen NYK Offshore Tankers AS
"Jasmine Knutsen"
147,500DWT Shuttle Tanker
CPP x 1
Retractable type Rexpeller x 2
Side Thruster x 1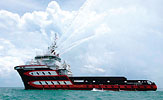 Pacific Richfield Marine Pte Ltd.
"Pacific Excellent"
70m Anchor Handling Supply Tug
Rexpeller x 2
Side Thruster x 2

Brochures
Service Locations
Main Office
Kobe Works
Marine Machinery Dept.
PROFILE AND MAP
1-1, Higashi-Kawasaki-cho
3-chome, Chuo-ku, Kobe 650-
8670, Japan
Parts Sales Section
Tel: +81-78-682-5321/ Fax: +81-78-682-5549
E-mail : marine-machinery-sales-e@khi.co.jp
Tokyo Head Office
Marine Machinery Dept.
PROFILE AND MAP
14-5, Kaigan 1-chome, Minatoku,
Tokyo 105-8315, Japan
Overseas Sales Section
Tel: +81-3-3435-2374/ Fax: +81-3-3435-2022
Regional Key Contact Point
Amsterdam,
The Netherlands
Kawasaki Heavy Industries
(Europe) B.V.
Tel:+31-20-6446869/ Fax:+31-20-6425725
E-mail: diesel@keb.nl
Hong Kong, China
Kawasaki Heavy Industries
(H.K.) Ltd.
Tel:+852-2522-3560/ Fax:+852-2845-2905
E-mail: khi_hk@khihk.com.hk
Singapore
Kawasaki Heavy Industries
(Singapore) Pte. Ltd.
Tel:+65-6225-5133/ Fax:+65-6224-9029
E-mail: cs3_info@khi.co.jp
Rio de Janeiro, Brazil
Kawasaki Machinery
do Brasil Maquinas e
Equipamentos Ltda.
(Rio de Janeiro Office)

Tel:+55-21-2226-3938 / Fax:+55-21-2225-3613
E-mail: service@kawasakijuko.com.br
Overseas Office
Beijing, China
Beijing Office
Tel:+86-10-6505-1350 / Fax:+86-10-6505-1351
Shanghai, China
Kawasaki Heavy Industries Management (Shanghai) Co., Ltd.
Tel:+86-21-3366-3100 / Fax:+86-21-3366-3108
Taipei, Taiwan
Taipei Office
Tel:+886-2-2322-1752 / Fax:+886-2-2322-5009
Delhi, India
Delhi Office
Tel:+91-11-4358-3531 / Fax:+91-11-4358-3532
Moscow, Russia
Moscow Office
Tel:+7-495-258-2115 / Fax:+7-495-258-2116
New York, USA
Kawasaki Heavy Industries(USA), Inc.
Tel:+1-917-475-1195 / Fax:+1-917-475-1392
Houston, USA
Kawasaki Heavy Industries (USA), Inc.
(Houston Branch)
Tel:+1-713-654-8981 / Fax:+1-713-654-8187
Dubai, UAE
Kawasaki Heavy Industries Middle East FZE
Tel:+971-4-214-6730 / Fax:+971-4-214-6729
Sao Paulo, Brazil
Kawasaki Machinery do Brasil Maquinas e Equipamentos Ltda.
Tel:+55-11-3266-3318 / Fax:+55-11-3289-2788
Service Station
Ravensburg, Germany
Andritz Hydro GmbH
Wilhelmshaven, Germany
Turbo-Technik Reparature-Werft GmbH & Co. KG
Zaltbommel, The Netherlands
Promac BV
Rotterdam, The Netherlands
Wetering Rotterdam
Ridderkerk, The Netherlands
Nabmic b.v. Netherlands (Remote Control System)
Singapore
Polestar Marine Consultants Pte. Ltd.
Singapore
Nabtesco Marine Service Singapore Pte Ltd. (Remote Control System)
Busan, Korea
Hasung Marine Corp.
Busan, Korea
Jonghap Maritime Inc.
Busan, Korea
Plus Engineering Co.Ltd.
Shanghai, China
Shanghai Wenyuan Marine Equipment Co.Ltd.
Dalian, China
Dalian Wanfang Marine Technology Co.Ltd.
Mumbai, India
Ind-Aust Maritime Pvt.Ltd.
Seatle, USA
NW Propeller OperationsInc.
Dubai, UAE
Albwardy Marine Engineering L.L.C
Sharjah, UAE
Technology Ventures Middle East FZC
Rio de Janeiro, Brazil
Naproservice Offshore Estaleiros do Brasil Ltda.
Itajai SC, Brazil
Detroit Brasil Ltda.
Santos, Brazil
Metalock Brasil Ltda.
Link
Contact