Controllable Pitch Propeller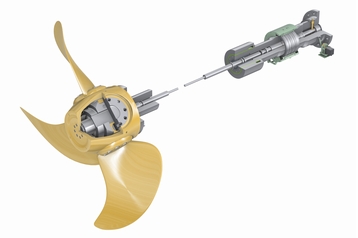 Kawasaki began the manufacture of controllable pitch propellers in 1956 through a licensing agreement with Escher Wyss & Co. (Switzerland). Since then, these controllable pitch propellers have been widely adopted for many kinds of vessels. Today, Kawasaki is one of the world's leading manufacturers with sophisticated technology and rich experience in this field.
The ability to control pitch according to specific load and marine conditions enables you to maximize engine performance. A controllable pitch propeller enables a vessel to operate with optimal fuel efficiency, making it energy-saving, environmentally friendly and economical.
It also makes it easy to control speed and quickly bring a vessel to a standstill without reversing the engine while delivering enhanced maneuverability as well as safety.
Features
Extensive product line
Wide range of input power to meet virtually any vessel specifications.
Input power: 1,000 - 50,000 kW
High reliability
Reliable design based on a solid foundation of marine technology and manufacturing expertise gained through decades of experience.
High performance
Low vibration, low noise, high efficiency and excellent cavitation performance.
Various control programs
Extensive line of control devices for automatic load control (ALC), overload protection (OLP) and more.
Hydraulic unit
Inboard hydraulic pitch control equipment is neatly packaged into a compact, all-in-one, space-saving unit.
Gear box mounting oil distribution box (Option)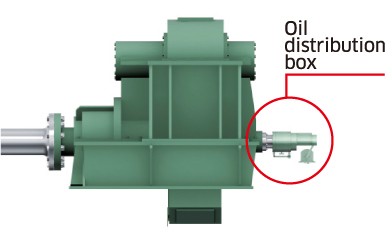 Products
• Maximum propeller diameters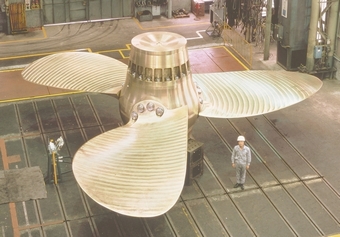 2200P3
When first built, it was the world's largest propeller (11m).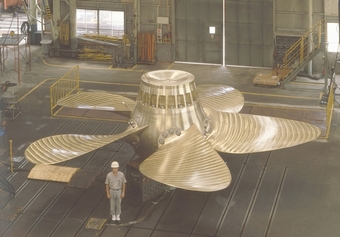 2400P5
When first built, it was the world's largest 5-blade propeller (9.15 m).
• CH Series(latest model)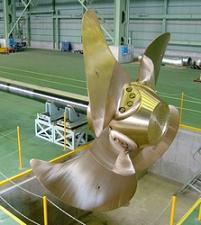 1780CH
(Propeller diameter:6m)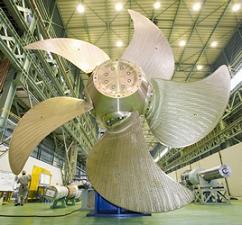 1580CH5
(Propeller diameter:5.5m)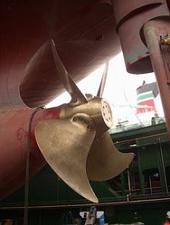 2000CH
(Propeller diameter:8m)
Applications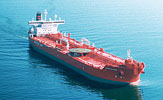 Knutsen NYK Offshore Tankers AS
"Jasmine Knutsen"
147,500DWT Shuttle Tanker
CPP x 1
Retractable type Rexpeller x 2
Side Thruster x 1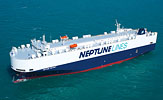 Neptune Lines Shipping & Managing Enterprises S.A.
"Neptune Odyssey"
31,000m2 PCTC
CPP x 1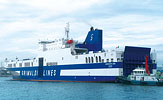 Grimaldi Group
"Eurocargo Bari"
108,000DWT Ro-Ro Carrier
CPP x 1
Side Thruster x 3
Brochures
Service Locations
Main Office
Kobe Works
Marine Machinery Sales Dept.
PROFILE AND MAP
1-1, Higashi-Kawasaki-cho
3-chome, Chuo-ku, Kobe 650-
8670, Japan
Parts Sales Section
Tel: +81-78-682-5321/ Fax: +81-78-682-5549
E-mail : marine-machinery-sales-e@khi.co.jp
Tokyo Head Office
Marine Machinery Sales Dept.
PROFILE AND MAP
14-5, Kaigan 1-chome, Minatoku,
Tokyo 105-8315, Japan
Overseas Sales Section
Tel: +81-3-3435-2374/ Fax: +81-3-3435-2022
Regional Key Contact Point
Amsterdam,
The Netherlands
Kawasaki Heavy Industries
(Europe) B.V.
Tel:+31-20-6446869/ Fax:+31-20-6425725
E-mail: diesel@keb.nl
Hong Kong, China
Kawasaki Heavy Industries
(H.K.) Ltd.
Tel:+852-2522-3560/ Fax:+852-2845-2905
E-mail: khi_hk@khihk.com.hk
Singapore
Kawasaki Heavy Industries
(Singapore) Pte. Ltd.
Tel:+65-6225-5133/ Fax:+65-6224-9029
E-mail: cs3_info@khi.co.jp
Rio de Janeiro, Brazil
Kawasaki Machinery
do Brasil Maquinas e
Equipamentos Ltda.
(Rio de Janeiro Office)

Tel:+55-21-2226-3938 / Fax:+55-21-2225-3613
E-mail: service@kawasakijuko.com.br
Overseas Office
Beijing, China
Beijing Office
Tel:+86-10-6505-1350 / Fax:+86-10-6505-1351
Shanghai, China
Kawasaki Heavy Industries Management (Shanghai) Co., Ltd.
Tel:+86-21-3366-3100 / Fax:+86-21-3366-3108
Taipei, Taiwan
Taipei Office
Tel:+886-2-2322-1752 / Fax:+886-2-2322-5009
Delhi, India
Delhi Office
Tel:+91-11-4358-3531 / Fax:+91-11-4358-3532
Moscow, Russia
Moscow Office
Tel:+7-495-258-2115 / Fax:+7-495-258-2116
New York, USA
Kawasaki Heavy Industries(USA), Inc.
Tel:+1-917-475-1195 / Fax:+1-917-475-1392
Houston, USA
Kawasaki Heavy Industries (USA), Inc.
(Houston Branch)
Tel:+1-713-654-8981 / Fax:+1-713-654-8187
Dubai, UAE
Kawasaki Heavy Industries Middle East FZE
Tel:+971-4-214-6730 / Fax:+971-4-214-6729
Sao Paulo, Brazil
Kawasaki Machinery do Brasil Maquinas e Equipamentos Ltda.
Tel:+55-11-3266-3318 / Fax:+55-11-3289-2788
Service Station
Ravensburg, Germany
Andritz Hydro GmbH
Wilhelmshaven, Germany
Turbo-Technik Reparature-Werft GmbH & Co. KG
Zaltbommel, The Netherlands
Promac BV
Rotterdam, The Netherlands
Wetering Rotterdam
Ridderkerk, The Netherlands
Nabmic b.v. Netherlands (Remote Control System)
Singapore
Polestar Marine Consultants Pte. Ltd.
Singapore
Nabtesco Marine Service Singapore Pte Ltd. (Remote Control System)
Busan, Korea
Hasung Marine Corp.
Busan, Korea
Jonghap Maritime Inc.
Busan, Korea
Plus Engineering Co.Ltd.
Shanghai, China
Shanghai Wenyuan Marine Equipment Co.Ltd.
Dalian, China
Dalian Wanfang Marine Technology Co.Ltd.
Mumbai, India
Ind-Aust Maritime Pvt.Ltd.
Seatle, USA
NW Propeller OperationsInc.
Dubai, UAE
Albwardy Marine Engineering L.L.C
Sharjah, UAE
Technology Ventures Middle East FZC
Rio de Janeiro, Brazil
Naproservice Offshore Estaleiros do Brasil Ltda.
Itajai SC, Brazil
Detroit Brasil Ltda.
Santos, Brazil
Metalock Brasil Ltda.
Contact