Turbocharger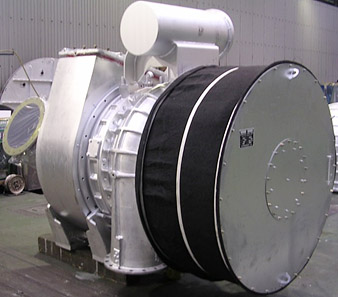 Kawasaki-MAN TCA/TCR Turbocharger has been developed to meet the growing demands for high turbocharging two, four-stroke diesel engines and gas engines.
Features
Increase of the compressor pressure ratio
High efficiency
Low noise emissions
Simple installation to the engine
Easy maintenance
Long service life
Products
TCA
TCR
Variable Turbine Area "VTA"
VTA makes it possible for diesel and gas engines to supply more appropriate combustion air pressure at each engine load, then specific fuel oil consumption and emission of CO2 / HC will be reduced.
Lineup
Turbocharger program


Type

Max. Supercharged engine output (kW)

Max. Turbine inlet temperature (ºC)

Two-stroke
(le* = 8 kg/kWh)

Four-stroke
(le* = 6.5 kg/kWh)

Two-stroke

Four-stroke

TCR22

6,200
6,500
650
650

TCA55

9,000
10,400
500
650

TCA66

13,000
500
650

TCA77

18,600
500
650
*: assumed specific air consumption
Note: Selection of turbocharger strongly depends on engine type and engine tuning. For detail information, please contact us.
Overall dimensions and weight
| Type | Length (mm) | Width (mm) | Height (mm) | Mass (kg) |
| --- | --- | --- | --- | --- |
| TCR22 | 1,990 | 996 | 1,788 | 1,900 |
| TCA55 | 2,439 | 1,371 | 1,819 | 3,300 |
| TCA66 | 2,837 | 1,625 | 2,076 | 5,400 |
| TCA77 | 3,416 | 1,930 | 2,397 | 9,300 |
Application range
Applications
Model TCA55 with 2-stroke diesel engine 6S50MC-C7
Model TCA66 & TCR22 with 2-stroke diesel engine 7S60ME-C8.2
Link
Brochures
Service Locations
Main Office
Kobe Works
Marine Machinery Sales Dept.
PROFILE AND MAP
1-1, Higashi-Kawasaki-cho
3-chome, Chuo-ku, Kobe 650-
8670, Japan
Parts Sales Section
Tel: +81-78-682-5321/ Fax: +81-78-682-5549
E-mail : marine-machinery-sales-e@khi.co.jp
Tokyo Head Office
Marine Machinery Sales Dept.
PROFILE AND MAP
14-5, Kaigan 1-chome, Minatoku,
Tokyo 105-8315, Japan
Overseas Sales Section
Tel: +81-3-3435-2374/ Fax: +81-3-3435-2022
Parts Sales Section
Tel: +81-3-3435-2368/ Fax: +81-3-3435-2022
Regional Key Contact Point
Amsterdam,
The Netherlands
Kawasaki Heavy Industries
(Europe) B.V.
Tel:+31-20-6446869/ Fax:+31-20-6425725
E-mail: diesel@keb.nl
Hong Kong, China
Kawasaki Heavy Industries
(H.K.) Ltd.
Tel:+852-2522-3560/ Fax:+852-2845-2905
E-mail: khi_hk@khihk.com.hk
Overseas Office
Singapore
Kawasaki Heavy Industries
(Singapore) Pte. Ltd.
Tel:+65-6225-5133/ Fax:+65-6224-9029
Beijing, China
Beijing Office
Tel:+86-10-6505-1350 / Fax:+86-10-6505-1351
Shanghai, China
Kawasaki Heavy Industries Management (Shanghai) Co., Ltd.
Tel:+86-21-3366-3100 / Fax:+86-21-3366-3108
Taipei, Taiwan
Taipei Office
Tel:+886-2-2322-1752 / Fax:+886-2-2322-5009
Delhi, India
Delhi Office
Tel:+91-11-4358-3531 / Fax:+91-11-4358-3532
Moscow, Russia
Moscow Office
Tel:+7-495-258-2115 / Fax:+7-495-258-2116
Dubai, UAE
Kawasaki Heavy Industries Middle East FZE
Tel:+971-4-214-6730 / Fax:+971-4-214-6729
New York, USA
Kawasaki Heavy Industries(USA), Inc.
Tel:+1-917-475-1195 / Fax:+1-917-475-1392
Rio de Janeiro, Brazil
Kawasaki Machinery do Brasil
Maquinas e Equipamentos Ltda.
(Rio de Janeiro Office)
Tel:+55-21-2226-3938 / Fax:+55-21-2225-3613
Sao Paulo, Brazil
Kawasaki Machinery do Brasil
Maquinas e Equipamentos Ltda.
Tel:+55-11-3266-3318 / Fax:+55-11-3289-2788
Contact