Container Type Rexpeller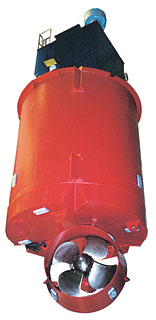 All thruster components including the prime mover are encased in a special housing unit.
Retractable models, similar to the retractable Rexpeller, are also available for stowage inside the hull to reduce drag.
Container type Rexpeller azimuth thrusters are ideal for crane vessels and research ships.
Features
Easy installation and removal
The ability to stow the retractable model's propeller into the hull makes it ideal for vessels operating in shallow waters.
Installation
The container type Rexpeller is mounted to the hull via an opening cut into the deck.

Contact