New Rexpeller Plant Completed at the Harima Works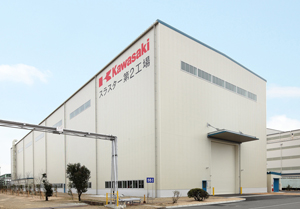 Tokyo, January 22, 2013—Kawasaki Heavy Industries, Ltd. announced today that it has completed and commissioned a new plant for its azimuth thruster Rexpeller® at its Harima Works in Hyogo Prefecture.
The newly commissioned Thruster Plant No. 2 will take over the production of Rexpellers, which was previously handled at the Kobe Works. With this relocation, Kawasaki aims to boost the production capacity for marine propulsion systems and accommodate the projected growth in demand for the azimuth thrusters. Kawasaki took this opportunity to optimize the floor layout and to invest in additional assembly and testing facilities. Thanks to these improvements, the new plant will be able to produce approximately 140 Rexpeller units a year, representing a 50% increase in production capacity.
The Rexpeller is an azimuth thruster that can rotate 360 degrees to generate thrust in any horizontal direction. It works as a propulsor, rudder and side thruster all in one. It has recently been adopted for large ships such as shuttle tankers and drillships used for offshore drilling, as well as offshore vessels such as supply boats that transport materials and supplies to offshore facilities. The Rexpeller delivers excellent positioning control and maneuverability that these ships require when they perform drilling operations or handle cargo. The new plant will play a significant role as a new production base in responding to the recent boom in the offshore drilling market, and the resulting growth in demand for large ships and offshore vessels.
In October 2008, Kawasaki opened a new plant at its Harima Works for the production of side thrusters, which enable a ship to turn or move sideways. The recent completion of a new plant will further add to Kawasaki's production capacity for marine propulsion systems.
Kawasaki will continue to provide highly reliable products that meet the various needs of its customers, while investing in the further development of its marine propulsion system business.
Overview of the New Plant
Location:
8, Niijima, Harima-cho, Kako-gun, Hyogo
Products:
Azimuth Thruster Rexpeller
Production capacity:
Approx. 140 units/year
Total floor area:
Approx. 3,700 m2
Contact