CSR Promotion System
The Kawasaki Group has organized the Corporate CSR Committee as an organization for deliberating and determining material issues concerning CSR and compliance. With Kawasaki president as the chair, the committee consists of such committee members as directors, company presidents, executive officer in charge of CSR and division heads of the Head Office. We request outside directors to attend it from the viewpoint of reflecting the external expertise and opinions in the committee's decision making and, at the same time, auditors participate in it from the viewpoint of auditing execution of business. The committee meets regularly twice a year and additional meetings are held as needed.
We have also organized the CSR Planning Working Group for the support and cooperation in promotion of CSR activities. The CSR Planning Working Group consists of staff members of divisions of the Head Office and companies, assuming such roles as prior examination of what action we should take for new CSR issues, internal development of the decisions made by the Corporate CSR Committee and others, for making the CSR activities reflect in actual business activities.
CSR Promotion System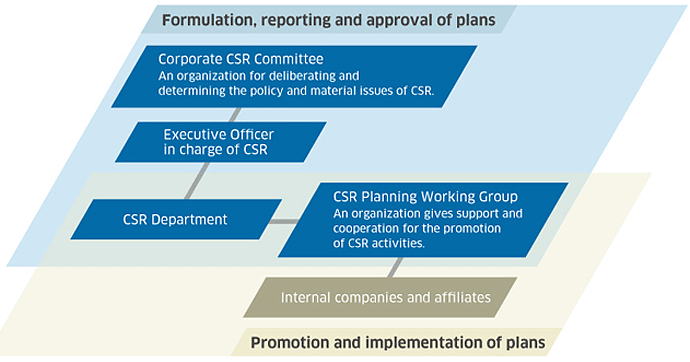 ---
Contact