Message from President and CEO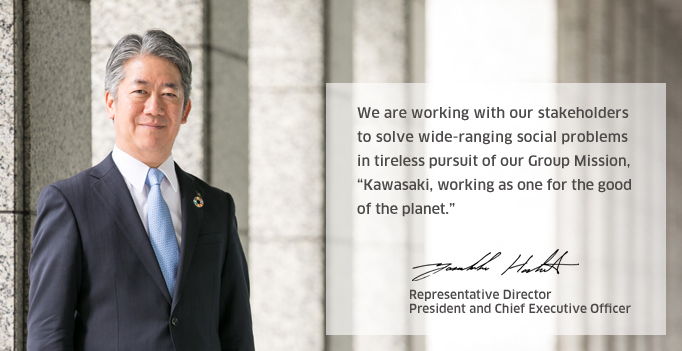 ---
Kawasaki Heavy Industries traces its history back to the 1878 founding of Kawasaki Tsukiji Shipyard by Shozo Kawasaki under a philosophy of "contributing to the nation—to society—through expertise." Afterward, the Company ventured into the rolling stock and aircraft businesses and then a wide range of other fields, such as energy and environmental engineering, industrial equipment, and motorcycles, developing into a comprehensive heavy industries enterprise. Throughout its history, the Kawasaki Group has evolved in step with its stakeholders, including customers, suppliers, employees, shareholders, and the communities in which it does business, to meet the changing needs of society with innovative products and technologies in line with its founding philosophy.
Countries around the world are currently confronting crises ranging from climate change and resource depletion to poverty, hunger, demographic graying, and shrinking workforces. Coming on top of these challenges, the novel coronavirus pandemic is exacting a devastating toll on human health and the global economy.
Amid these trying circumstances, we believe that our ultimate duty to society is achieving the Group Mission. Established in line with the spirit of the founding philosophy, it simply states: "Kawasaki, working as one for the good of the planet." To realize the Group Mission, we are working hard to gain a deeper understanding of a broad range of social problems while fostering Groupwide synergy and innovation to help solve issues and create new value. To overcome the global crisis that is the novel coronavirus pandemic, we intend to take swift and decisive action by leveraging our accumulated technological prowess across a myriad of fields. Through our businesses, we will continue to help achieve the United Nation's Sustainable Development Goals (SDGs).
In addition, to ensure we can maintain the trust society has placed in us, we will engage in constructive dialogue with stakeholders and continue to strengthen measures that enhance corporate governance, prevent corruption, ensure thorough compliance, strengthen environmental management practices, promote human rights, utilize diverse human resources and develop their skills, improve the work-life balance of employees, and promote further social contribution activities.
In September 2019, the Kawasaki Group signed a statement of support for the Task Force on Climate-related Financial Disclosures (TCFD), signaling its proactive stance on disclosures to help realize a decarbonized society. Furthermore, in January 2020, we signed the U.N. Global Compact in support of its 10 principles related to human rights, labor, the environment, and anti-corruption. In line with these international activities, we will advance ESG initiatives and work to address the needs of society in cooperation with our stakeholders to solve a wide range of social problems.

---
Contact