TOP Management Message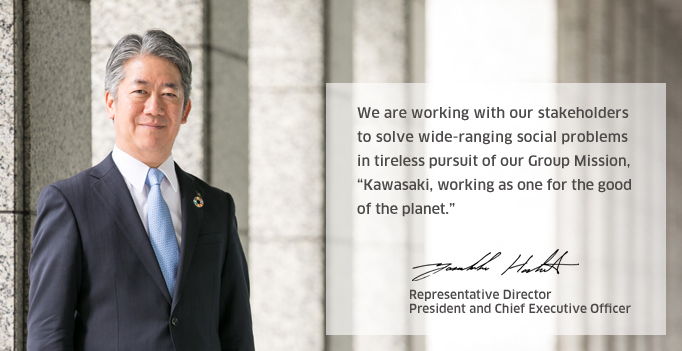 ---
The Kawasaki Group has its roots in the shipbuilding business, which founder Shozo Kawasaki began under a philosophy of "contributing to the nation–to society–through expertise," but has diversified over the years into land, sea and air transportation systems, energy and environmental engineering, and industrial equipment, always striving to provide new value.
Today, some concerns over resources and environmental risk are shared worldwide, but other issues, namely, poverty and hunger, the graying of society and a decrease in the working population, are specific to certain countries and regions.
As a corporate group, we seek to find solutions to these social issues, in line with our Group Mission "Kawasaki, working as one for the good of the planet (Enriching lifestyles and helping safeguard the environment: Global Kawasaki)." This statement epitomizes the spirit that has infused our operations since the days of Shozo Kawasaki.
Moreover, as companies serve a public function, Kawasaki earnestly seizes opportunities to build a good relationship with society on various levels through its business activities and strives to meet the expectations of all stakeholders of the Group. With this in mind, we are fully engaged in efforts to enhance corporate governance, ensure thorough compliance, strengthen environmental management practices, improve the work-life balance of employees, utilize diverse human resources and develop their skills, and contribute more widely to society.
Going forward, we will maintain a robust approach, reflecting the expectations that society has of us in our corporate activities, and working with all stakeholders to realize viable solutions to various social issues.

---
Contact