Sustainability Framework
---
Basic Policy on Sustainability
The Kawasaki Group has formulated the Kawasaki Group Policy on Sustainability Management to clarify the position of sustainability in management.
Positioning of Policy on Sustainability Management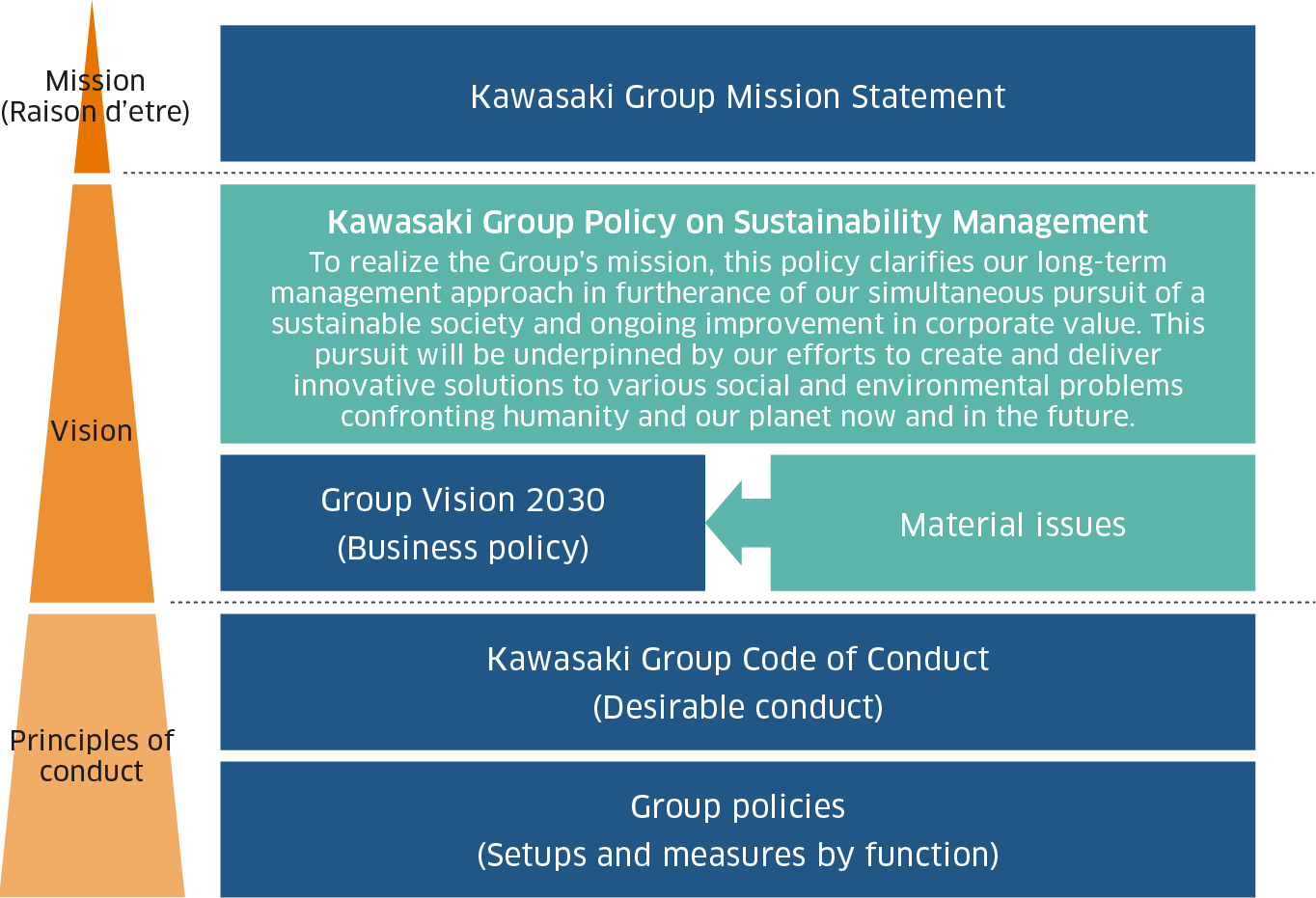 ---
Kawasaki Group Policy on Sustainability Management
Fundamental Concepts
Guided by our founder Shozo Kawasaki's philosophy of "contributing to the nation and to society through expertise," the Kawasaki Group for more than 120 years has been constantly taking on leading-edge technological challenges to contribute to social development through the provision of innovative products.
Today, we promote the development of solutions and new frameworks toward the future under the Group's mission of "Kawasaki, working as one for the good of the planet," which was built on the above philosophy. Our initiatives to this end range from transitioning to hydrogen energy to advocating for novel workstyles supported by robotic technologies.
To realize the Group's mission, this policy clarifies our long-term management approach in furtherance of our simultaneous pursuit of a sustainable society and ongoing improvement in corporate value. This pursuit will be underpinned by our efforts to create and deliver innovative solutions to various social and environmental problems confronting humanity and our planet now and in the future.
In line with this policy, we will identify material issues based on the real-time assessment of the socio-economic environment and formulate management plans backed by well-grounded growth scenarios. Moreover, we will strengthen corporate governance and engage all our stakeholders in dialogue and collaboration to create new economic, social and environmental value.
Policy on Sustainability Management


(1) Taking on the Challenge of Resolving Social Issues

We will take on the challenge of delivering innovative solutions to issues faced by society in the environmental, energy, and resource fields, as well as to other problems arising from ongoing societal changes on various fronts, with the aim of contributing to the well-being of people around the world and the good of the planet now and in the future. To this end, we will take full advantage of our technological capabilities, which we have developed over many years, while consolidating diverse insights both within and outside the Kawasaki Group. At the same time, we will continuously upgrade and transform the Kawasaki Group itself so that we remain capable of delivering new value as needed by stakeholders. Specifically, we will:

(ⅰ) Develop and implement carbon-neutral energy technologies to support international efforts to curb climate change.

(ⅱ) Deliver solutions that upgrade industries and daily living in various forms to help create a safe and secure society in which everyone can enjoy abundant life.

(ⅲ) Establish a business model that effectively utilizes resources and thereby contribute to the realization of a circular society.

(2) Responsible Corporate Conduct

We will remain acutely aware of the social and environmental impact of our business operations and strive to enhance the sustainability of the entire value chain by implementing countermeasures in areas where our operations might pose a negative impact. Specifically, we will:

(ⅰ) Strive to achieve net zero CO2 emissions and, to this end, proactively work to reduce any forms of environmental burden attributable to our business activities.

(ⅱ) Uphold international norms as well as laws and regulations enforced in countries in which we operate as part of responsible corporate conduct.

(ⅲ) Respect the human rights of all people who come into contact with our business while taking a sincere approach to addressing human rights issues.

(3) Strengthening Business Foundations

We will continuously strive to enhance our corporate value through improved corporate governance, a high level of employee engagement, and dialogue and collaboration with stakeholders. Specifically, we will:

(ⅰ) Strengthen corporate governance as the basis for sustainability management.

(ⅱ) Enhance employee engagement and organizational resilience by fostering a corporate culture that encourages employees to take on challenges and promoting active diversity.

(ⅲ) Develop solid and trusting relationships with stakeholders via timely and appropriate information disclosure and constructive dialogue and collaboration, in addition to reflecting their expectations in our management decisions.
---
Important Sustainability Issues
In fiscal 2017, the Kawasaki Group specified material issues that should be addressed, revised our sustainability activity framework, identified the creation of social and environmental value through business as the Group's most important issue to be achieved over the long term, and positioned efforts to tackle environmental, social, and governance (ESG) factors as basic matters supporting our business activities.
In fiscal 2021, following the formulation of our Group Vision 2030, we revised our materiality. After deliberations in the Sustainability Committee and interviews with outside experts, our new material issues were decided through discussion and resolution in the Board of Directors.
The new materiality aligns "social and environmental value created through our business" with the three focal fields in our Group Vision 2030 of a safe and secure remotely connected society, near-future mobility, and energy and environmental solutions. It also stipulates the realization of a carbon-free society, measures to counter climate change, the promotion of human resource activities, and so on as basic matters supporting our business activities. Based on this new framework, we stipulated the responsible divisions, personnel, and ideals and key performance indicators for the specified important issues and are endeavoring to improve sustainability by monitoring the state of progress every year and rotating the plan-do-check-act cycle.
---
Sustainability Promotion System
The Sustainability Committee is charged with deliberating and determining Group-wide sustainability policy and matters concerning the material issues.
The Sustainability Committee deliberates and reports on the following matters:
Measures contributing to realization of the sustainability of both society/environment and the Kawasaki Group and enhancement of the Kawasaki Group's corporate value, as well as their practice and state of achievement
Measures to understand, reduce, and eliminate the negative social and environmental impact of the Kawasaki Group's business activities, as well as their practice and state of achievement
Chaired by the president of Kawasaki Heavy Industries, the Sustainability Committee is composed of directors, internal company presidents, the director in charge of sustainability, Head Office division general managers, and others. Outside directors are requested to attend meetings so that the committee can glean the benefits of their external expertise and opinions and reflect them in its decision-making process. Also, members of the Audit & Supervisory Committee participate in the committee as part of their auditing of the execution of business.
The Sustainability Committee meets at least twice a year in principle. In fiscal 2021, it met three times.
Sustainability Promotion System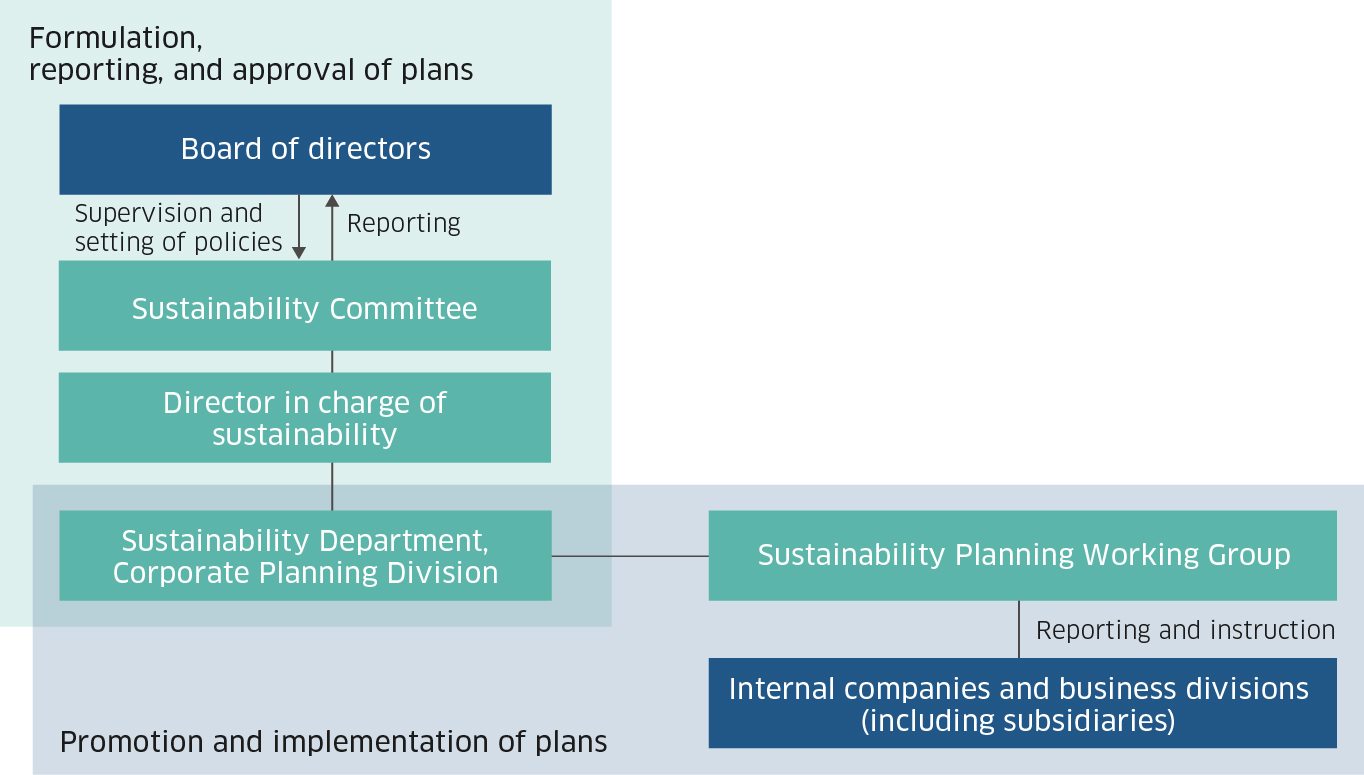 Responsible Officers
Chair of Sustainability Committee: Yasuhiko Hashimoto, Representative Director, President and Chief Executive Officer
Director in charge of sustainability: Katsuya Yamamoto, Representative Director, Vice President and Senior Executive Officer
---
In-house Sustainability Education and Awareness Building
Utilizing a variety of tools, such as educational seminars and the in-house intranet, the Kawasaki Group carries out education and awareness-building programs related to sustainability for its officers and employees.
Sustainability education and awareness building are provided through grade-specific training for such groups as new employees and newly appointed assistant managers, managerial staff, associate officers, and executive officers, as well as training for persons in charge of overseas businesses and mid-career hires.
Furthermore, in fiscal 2020 we implemented e-learning training related to the Sustainable Development Goals (SDGs), which was completed by 16,084 employees. And in fiscal 2021 we implemented e-learning training related to business and human rights, which was completed by 13,245 employees.
In addition, to ensure that all Group employees are fully informed with regard to sustainability, we provide information via our Japanese-language Group newsletter Kawasaki and our Group-wide English- and Chinese-language newsletter Kawasaki On The Move!
---
Contact