Export Control
---
Export Control Policy
In fiscal 2020, we established and published the Kawasaki Group Policy on Export Control, laying out basic principles of conduct regarding export control.
 The Kawasaki Group recognizes that compliance with laws and regulations on export control is an integral part of its corporate social responsibilities (CSR) and essential to maintaining peace and security in the international community and supporting humanity's harmonious coexistence with the global environment. In line with this recognition, the Group shall establish and maintain a strict export control system and implement appropriate security trade control so as to ensure that its products and services are not provided for transactions aimed at such purposes as the development of weapons of mass destruction or the excessive accumulation of conventional arms.
 To ensure legal compliance, we carry out export control with consideration given not only to Japan's Foreign Exchange and Foreign Trade Act, but, because our businesses have significant ties with the United States, also to U.S. reexport regulations and economic sanctions. By doing so, we work to reduce the risks of violations of these laws and of government sanctions.
---
Export Control Structure
To ensure compliance with export control laws and regulations throughout the Kawasaki Group, we have formulated a set of corporate export control regulations for goods and technologies relevant to security maintenance and have put in place an export control system in which a Representative Director acts as Chief Export Control Officer.
 As a first measure, we set up the Export Control Laws and Regulations Compliance Screening Committee ("Screening Committee"), chaired by the Chief Export Control Officer, at the Kawasaki Group Head Office. The Screening Committee undertakes the final assessment of important export transactions across the Group to confirm compliance with export control laws and regulations and provides guidance and supervision regarding the export control systems of the internal companies. In addition, the Head Office Trade Compliance Department provides secretariat services to the Screening Committee and oversees export control throughout the Kawasaki Group. We have also established the Working Level Committee, comprising the departments responsible for export control of the internal companies, under the control of the Screening Committee. The Working Level Committee undertakes export screenings, discusses matters delegated to it by the Screening Committee and undertakes the horizontal rollout of export control-related information.
 Next, each internal company operates an export control committee that screens all the export transactions of the company and refers the screening results to the Screening Committee for discussion.
 Furthermore, to promote legal compliance, we have set up export control systems at subsidiaries in and outside Japan that engage in exporting through their respective overseeing internal companies.
Export Control Structure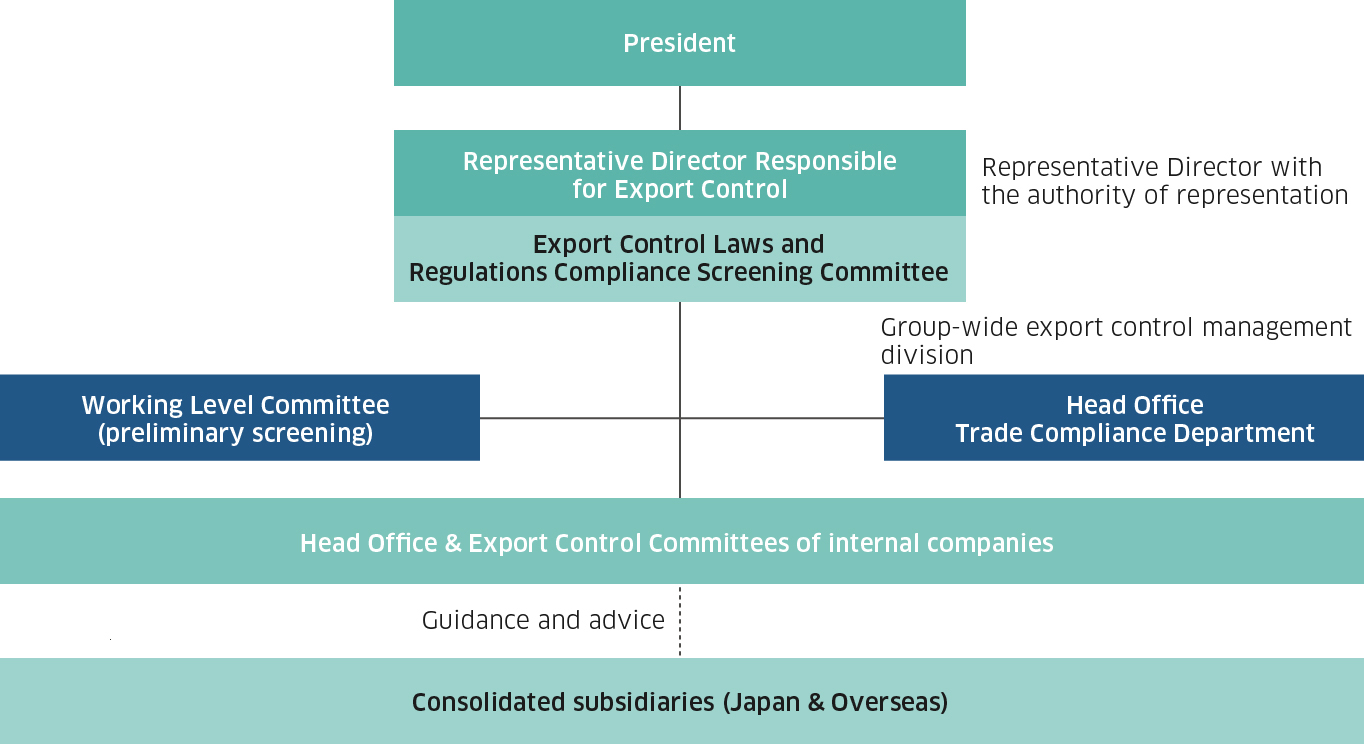 Responsible Officer
Hiroshi Nakatani, Representative Director, and Senior Corporate Executive Officer
Responsible Executive Organ and/or Committee
The Export Control Laws and Regulations Compliance Screening Committee undertakes the final assessment of export management matters across the Group. The Screening Committee meets once a month, in principle.
 In attendance for the Screening Committee are the chairman, who is the Representative Director with representative authority, the general managers of the Head Office divisions, the internal company presidents, and persons designated by the chairman.
---
Export Control Training and Guidance
We provide export control training tailored to different personnel and objectives for the entire Group, including consolidated subsidiaries. To enhance the coverage and efficiency of export control, we began using e-learning in this area in fiscal 2018. In fiscal 2022, such e-learning was provided for 14,297 employees. In addition, each internal company offers export control training as part of its grade-specific training to impart the knowledge required by managers and other personnel to execute their operations. Furthermore, practical training on classification and transaction screening is provided for export control administrators and persons in charge of export control at each internal company.
 With regard to export control audits, the Auditing Department and the Trade Compliance Department work together to perform individual audits of and provide guidance to all the internal companies and major subsidiaries in Japan once a year.
 Moreover, overseas subsidiaries are subject to an annual survey of their export control systems, export records, and related matters. Based on the survey results, the Trade Compliance Department works with the relevant internal company to provide appropriate guidance and support on export control.
---
Contact