Deck Machinery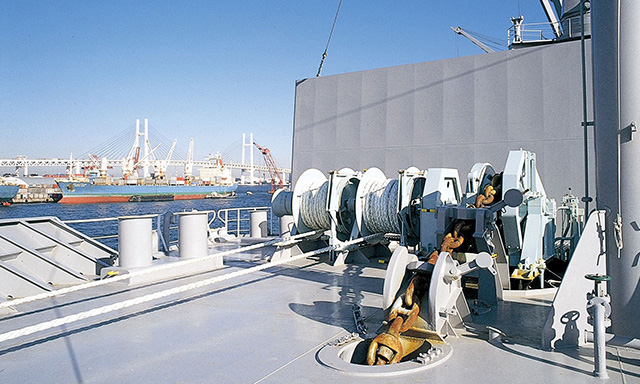 We have offered the Hydraulic Deck Machinery, taking the next era in advance, such as "Kawasaki Silent System" achieving further low noise type Hydraulic Deck Machinery and "Advanced Series" realizing low noise, in addition to responding to the needs of high pressure.
Features
The Silent System of the low noise has completely changed the image of "the noise" of high pressure type Hydraulic Deck Machinery.
The Single Main System and remote control system have responded to the labor-saving of cargo handling and mooring.
Electric deck machinery with less power consumption, low noise, and less environmental load.
Specifications

WINDLASS
MOORNG WINCH
Rated Load
61 to 766 kN
(Chain dia. fai 38 to 127)
49 to 400 kN
Rated Speed
9 m/min
15 m/min
System
Hydraulic high pressure system,
Electric (Frequency control) system
Classification
NK, ABS, LR, DNV, BV, CCS, KR, CR
Download
Applications
Contact