Kawasaki Robotics (UK) Ltd.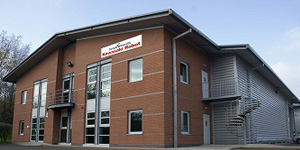 Unit 4, Easter Court, Europa Boulevard, Westbrook, Warrington WA5 7ZB, U.K.
Tel. +44-1925-713000
Fax. +44-1925-713001
Kawasaki Robotics site

Profile
Kawasaki Robotics (UK) Ltd is the UK robotics division of Kawasaki Heavy Industries Japan.
Based in Warrington, Kawasaki Robotics (UK) Ltd occupies a 10,000 Sq. Ft. Building. Its location provides easy access to the main motorway network and is at the center of its customer base.
The facility centralises all the sales and customer support operations, with areas for customer demonstrations, training, robot test and integration and a large area for stock machines.
Over 2,300 machines are now operating in a wide range of industries and applications throughout the UK.
Operating through a network of system partners, automation integrators and also supplying direct to end users, Kawasaki Robotics (UK) Ltd offers experience in the widest range of industry sectors.
---
Contact
If you need more information about our business, please feel free to contact us.
CONTACT