Kawasaki Precision Machinery (Suzhou) Ltd.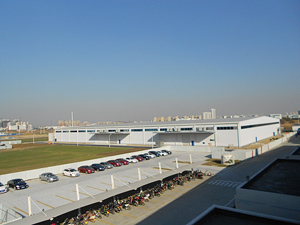 668 JianLin Rd, New District, Suzhou, 215151 China
Tel: +86-512-6616-0365
Kawasaki Robotics site

Profile
Kawasaki Precision Machinery (Suzhou) Ltd. was founded in Suzhou, Jiangsu, China in 2005 to manufacture and supply Kawasaki hydraulic components such as hydraulic pumps and motors in China. In 2015, the company started producing robots in addition to hydraulic products. This is Kawasaki's second manufacturing facility for industrial robots after the first in Akashi, Japan.
This robot factory is advanced in that 17 robots are used to manufacture many robots a day, and also that workers and robots work in collaboration with each other. As a result, high-quality robots are manufactured efficiently with less manpower. While pursuing high productivity, we also encourage potential customers to watch robots at work in the factory. Many customers have visited the factory and observed robots making other robots.
As a member of the Kawasaki group, we continue to offer robots with high quality at reasonable cost.
Main line of products (as of January 2017)
Industrial robots: CP series, CX series, BA series and RS series
Hydraulic components:
hydraulic pumps and hydraulic motors
hydraulic pump units for ships
hydraulic motor units for

---
Contact
If you need more information about our business, please feel free to contact us.
CONTACT