Labor Safety and Sanitation
Basic Premise on Employee Safety and Health
Kawasaki believes that providing its employees with a safe workplace where they can continue to work in good health until the retirement age will lead to improved value of its important assets.
With the principles of "human respect" and "health first," the Company is working to "create workplace climate that gives the first priority to safety and health and realize a safe and comfortable working environment that enables employees to work in good health both physically and mentally."
Particularly in the past three years, with an aim to realize the basic policies of "reduction of industrial accidents liable to become serious," "construction of measures against chemicals," and "reduction of mentally unhealthy workers," the Corporate Safety and Health Management Outline was established as shown below:
Corporate Safety and Health Management Outline (Summary)
1. Safety Management
Continuous improvement in the occupational health and safety management system
Establishment of measures according to the characteristics of the workplace
Disaster prevention measures at construction sites
2. Health Management
Enhancement of mental health measures
Thoroughgoing preventive measures against occupational diseases
Maintenance of health management measures
---
Safety and Health Management Systems
In its Safety and Health Management Rules, Kawasaki assumes the following corporate obligation: "We will establish safety and health management systems and institute measures necessary to prevent occupational accidents and conditions that impair health, sustain and perhaps improve the health of employees, and foster a pleasant working environment."
Specifically, the general safety and health manager at each site is assigned safety and health management supervisory duties, in accordance with basic policy outlined by the Chief Safety and Health Management Officer, to facilitate safety and health management.
---
Measures to Prevent Occupational Accidents
1. Selective implementation of safety and health management activities and risk-lowering activities based on occupational safety and health management system
Our occupational safety and health management system forms the foundation of activities to promote constant improvement through planned implementation of safety and health management activities, adherence to a PDCA cycle at production sites, and continuous execution of internal audits. These efforts serve to preempt potential occupational accidents and facilitate the creation of a comfortable work environment. In our risk assessment efforts, we constantly strive to enhance our ability to identify risk and reduce latent risk.
Occupational Accident Rates (Absentee Rates)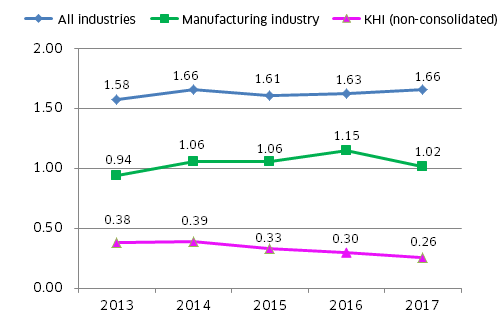 * Data source (all industries and manufacturing industry):Ministry of Health, Labour and Welfare, Occupational Accident Survey Results of 2017
* Figures of KHI (non-consolidated) include partner employees (temporary workers and shipbuilding and construction subcontractors) who are supervised and managed by KHI
2. Maintaining the KSKY Campaign
The KSKY Campaign is an important part of Kawasaki's safety measures. The letters KSKY stand for Japanese words that describe the different elements of the campaign: K for creating a disciplined workplace that observes the basic safety rules (kihon); S for making sure to identify and call out to confirm breaks and other crucial points in each work operation (shisa koshou); and KY for working to further improve ability to predict danger (kiken yochi). The purpose of the campaign is to instill greater awareness of safety measures and to create a workplace secured by "mutual cautioning," which means essentially that employees monitor the safety of others as well as themselves.
3. Promoting safety awareness education
To prevent accidents caused by unsafe practices, we implement a range of safety education programs aimed at different staff grades, including simulated scenarios that are used to help employees with the identification of dangers in the workplace. This is designed to foster an awareness of safety that will encourage employees to take the initiative in avoiding unsafe practices. In addition, we also use corporate safety education facilities, referred to as the "safety dojo," to promote safety awareness, impart knowledge, and refine risk sensitivity, in order to further promote the development of human resources who are capable of acting both safely and independently.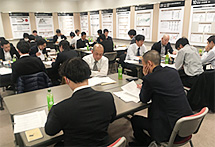 ---
Raising Safety and Health Awareness
To promote improved safety and health awareness, divisions with an excellent record in terms of the safety and health, or employees with outstanding achievements in the promotion of safety and health, are rewarded through a system based on the Kawasaki Safety Award Regulations.
We have also formulated Safety and Health Education Standards under which we carry out the necessary safety and health education in addition to the education required by law. This education not only serves to improve safety and health-related knowledge and skills but is also important in boosting safety and health awareness.
Safety and health education covers grade-specific education tailored to different staff grades; operation-specific education carried out after a change in operational content or for employees engaged in specific duties; and general education, which includes health education and training in advance detection of dangers. Specifically, grade-specific education offers education based on an integrated system covering all grades, from newly recruited employees through core staff grades to managerial and supervisory staff.
---
Efforts at health management
1. Implementation of physical checkups
The Company implements various physical checkups as required by laws and regulations such as the checkup at employment, regular checkups, checkups for employees engaging in specific operations, and checkups for employees dispatched overseas. For employees recognized as a result of such checkups that need to especially strive to maintain their health, industrial physicians provide health guidance.
2. Efforts at mental health care
To learn correct knowledge and treatment for mental health care, the Line Care Education for supervisors and the Self-Care Education for general employees are implemented regularly.
In addition, a stress check is carried out once in every one year, and interview guidance by the practitioner is provided at the request of employees with high stress levels.
3. Implementation of checkups for long-time workers
To prevent health problems caused by overwork, employees who worked overtime for 45 hours or longer in consecutive two months and 60 hours or longer in a month have checkups for long-time workers and are obliged to carry out the "fatigue accumulation self-diagnosis." To employees suffering from a high degree of accumulated fatigue, interview guidance is provided by industrial physicians.
4. Preventive measures against occupational diseases
To prevent occupational diseases, the company is working on improvement in work environments based on the results obtained in regular inspections such as working environment assessment, workplace rounds, and inspections of local ventilation equipment, etc.
5. Holding of health class
As part of the company-wide THP (Total Health Promotion) activities, we are supporting in employees' mental and physical health promotion by holding classes aimed at the prevention of lifestyle diseases such as the Eating Habit Improvement Class, Exercise Class, and the Smoking Cessation Class.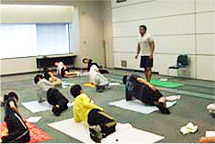 ---
Contact