Acrylic Fiber Plant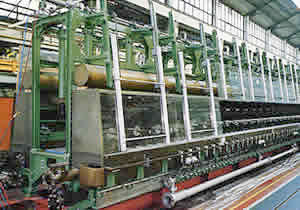 Kawasaki designs and manufactures a fiber plant and its main processing machines. Especially, more than 10 acrylic fiber plants have been delivered to Southeast Asian
countries and others, all of which are operating smoothly to gain customers' great trust.
Features
The processing machinery manufactured by Kawasaki based on technologies have been delivered to various fiber plants at home and abroad for over half a century. It is easy to maintain, ensuring high productivity and operationability of a fiber plant.
Major Delivery

| Customer | Plant |
| --- | --- |
| Japan U Company | Vinylon Spinning Machine |
| Japan M company | Carbon Fiber Spinning Equipment |
| Taiwan E Company | Microfiber |
| Taiwan E Company | Spandex Fiber Plant |
| Japan K Company | Acrylic Fiber Plant-Spinning and Aftertreatment Equipment |
| Thailand T Company | Acrylic Fiber Plant |
| India C Company | Acrylic Fiber Plant |
| India V Company | Acrylic Fiber Plant |
| China D company | Acrylic Fiber Plant-Spinning and Aftertreatment Equipment |
| China S Company | Acrylic Fiber Plant-Spinning and Aftertreatment Equipment |
| Egypt A Company | Acrylic Fiber Plant |
Contact