Case Study:

CHP System for a Chemical Manufacturer 30MW-class CHP System with Green Gas Turbine for Chemical Manufacturing
- Daicel Corporation -
Overview
Daicel Corporation is a chemical manufacturer whose primary products are celluloid and plastic. Its Himeji Plant in Japan has achieved energy conservation and reduction in CO2 emissions by adopting a cogeneration system based on a 30MW-class gas turbine, as a replacement for a steam generator.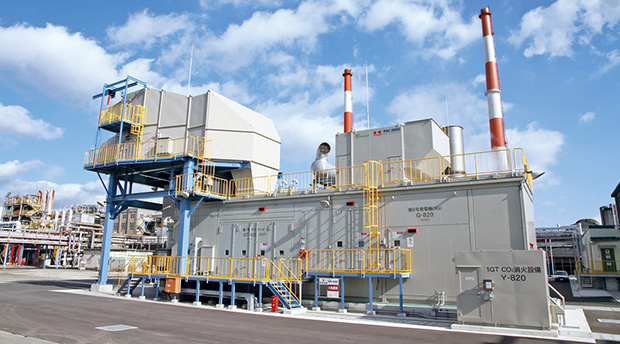 Industry
Manufacturing (Chemical)
Fuel
City Gas 13A
Main Generator
30MW Gas Turbine (L30A) x 1 unit
Use
Electricity,
High Pressure Steam
System
This equipment is a 30MW-class gas turbine cogeneration system which uses city gas as fuel. It is comprised of one gas turbine generator, one heat recovery steam generator (with duct burner), two water-tube boilers, and other incidental equipment. The electricity and heat (steam) produced by this system are used motive power and heat for the Himeji Production Sector/Aboshi Plant of Daicel Corporation. By introducing this system, it became possible, in combination with existing steam turbine generation equipment, to provide almost 100% of the plant's electricity with privately-owned generation equipment. The system also makes a major contribution to environmental efforts such as energy conservation and reduction of CO2 emissions.
Features (Results)
1. World's most efficient gas turbine*
The L30A gas turbine employs the latest CFD analysis technology in its compressor design to improve the pressure ratio and efficiency. In addition, the turbine is heated to high-temperature through the use of state-of-the-art cooling technology, thereby achieving the world's highest efficiency in its class.
*From the 2013 GTW Handbook
2. Flexible response to heat and electricity demand
This gas turbine cogeneration system has outstanding operability, environmental friendliness and economy. By optimizing the operating combination of the component systems, the equipment can flexibly respond to changes in electricity and steam demand, and achieve high-efficiency operation.
Related Products
Contact