Case Study:

Distributed Power Plant for a PPS

110MW Distributed Power Plant with Green Gas Engines As a Solution for The Electricity Shortage – Nihon Techno -
Overview
The electricity sold by Nihon Techno Co., Ltd., a power producer and supplier (PPS)*, is obtained externally through the electric power exchange market. Nihon Techno, however, decided to construct its own 110MW power plant with an eye to securing a stable supply of electricity in light of the recent supply situation wherein Japan is facing an electricity shortage that has been expected since the Great Earthquake disaster on Mar. 11, 2011.
* A PPS is defined under Japanese law as a type of independent electric power company that produces over 50kW of high-voltage electricity and supplies it to high-voltage electricity consumers such as factories and large-scale retail stores via the power grids of utility companies.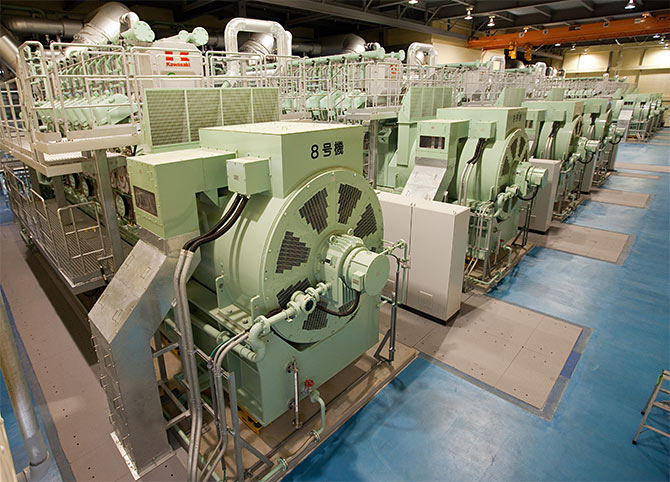 Industry
PPS (Power Producer and Supplier)
Fuel
City Gas (Natural Gas)
Main Generator
Gas Engines
KG-18-V (7.8MW) x 14 units (Total: 109.2MW)
Operating Mode
Daily Start and Stop.
Electricity Supply Only.
System
Kawasaki had a full turnkey contract to construct a power plant for Sodegaura Green Power in Chiba, eastern Japan. This system consists of 14 Kawasaki Green Gas Engines. Each engine train is equipped with its own auxiliary equipment necessary for use as a 7.8MW power plant. Thus each train can be independently started, stopped and maintained.
This configuration realizes the ultimate in flexible operation and perfect performance of electrical efficiency with a partial load.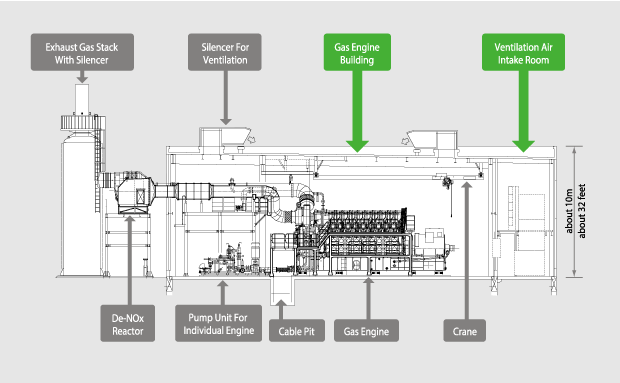 Features (Results)
Can be operated continuously for 24 hours a day, 7 days a week, with 14 units.
Optimized DSS (Daily Start And Stop) operation by each individual unit.
Fast start-up - less than 10 min. to full plant load.
Overall electrical efficiency at Generator terminal is kept at about 49% in the range of 7.8MW - 109.2MW.
Individual maintenance can be performed one unit at a time leaving the other 13 units running, so the reduction in power can be kept at only 7.2% (1/14).
Related Products
Contact