Product Liability/Safety
---
Product Liability
Our Basic Stance
The Kawasaki Group's businesses involve the provision of many infrastructure products, so ensuring that customers can use our products and services with confidence is a key management issue. In a section titled "Quality and Safety of Products and Services," the Kawasaki Group Code of Conduct states that we must provide high-performance, high-quality, and safe products and services. Our aim is to create a Group-wide quality-assurance and product-safety structure and reduce the number of product safety law violations to zero.
Product Quality and Safety Policy
The Kawasaki Group recognizes that creating new value contributing to people's affluent lives and the future of the global environment is our social responsibility and that supplying products and services with customer-satisfying quality is one of the Group's management principles relating to business continuity. In 2021 we established the Kawasaki Group Policy on Quality Management, which is operated properly throughout the entire Group so as to continue activities effectively and efficiently toward the creation of customer value.
Scope of Policy Application
Structure
We have established the TQM Department within the Corporate Technology Division and are promoting Group-wide quality-assurance activities centering on policy management, day-to-day management, and quality-management education. We have also established divisions responsible for quality control within internal companies so as to promote quality-assurance activities within these companies.
Support for the building of best-suited TQM systems for each business division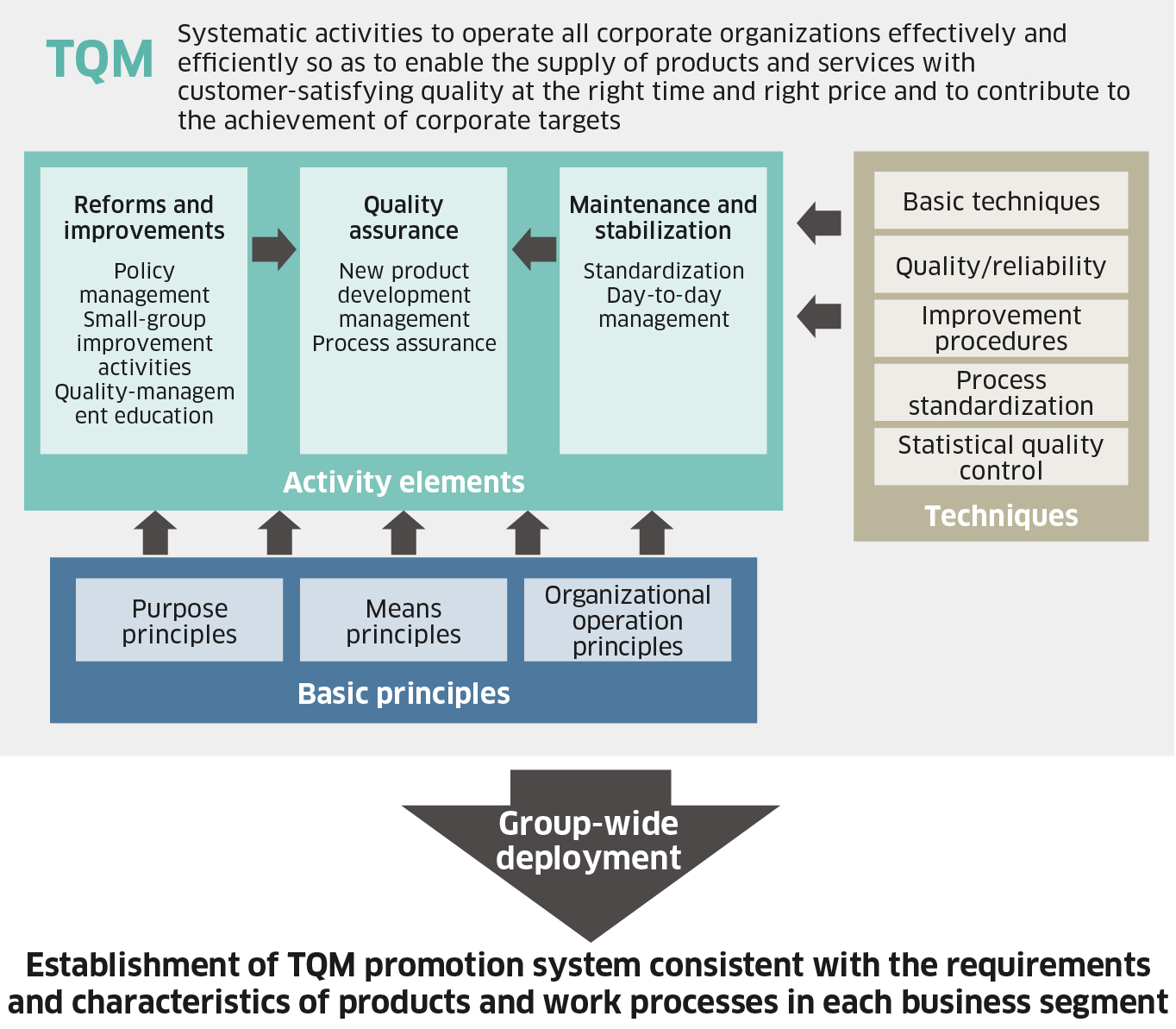 Responsible Officer
Hiroshi Nakatani, Representative Director, Vice President, and Senior Executive Officer (in charge of TQM)
Responsible Executive Organ and/or Committee
We promote initiatives by regularly formulating policies, plans, and so on related to the building and strengthening of the Group-wide TQM structure, including quality assurance. Furthermore, we promote information sharing between the Head Office and internal companies and quality-assurance activities through meetings of the Company-Wide Quality Committee held four times a year.
Quality and Safety Management
The internal companies have been reassessing their internal product safety rules to ensure that their product-safety processes are compliant with the international standard ISO 12100. As a result, the implementation of risk assessment in design divisions and, in response to the scale of the risk, appropriate risk-reduction measures are included in the design process.
Basic Safety Standards: Basic concepts applied to all types of machinery
ISO 12100 Safety of machinery—General principles for design—Risk assessment and risk reduction
Generic Safety Standards: Applied across a wide range of machinery
ISO 13849-1 Safety of machinery—Safety-related parts of control systems—Part 1: General principles for design
IEC 62061 Safety of machinery—Functional safety of electrical, electronic, and programmable electronic control systems
IEC 60204-1 Safety of machinery—Electrical equipment of machines—Part 1: General requirements
IEC 61000-6-4 Electromagnetic compatibility (EMC)—Part 6-4: Generic standards—Emission standard for industrial environments
IEC 61000-6-2 Electromagnetic compatibility (EMC)—Part 6-2: Generic standards—Immunity for industrial environments
Machine Safety Standards: Detailed safety requirements for a particular machine
ISO 10218-1 Robots and robotic devices—Safety requirements for industrial robots—Part 1: Robots
Promotion of TQM
Surveys using the TQM method
We conduct surveys of quality-assurance levels using the total quality management (TQM) method and quantitatively assess all internal companies and divisions using common indicators. Through these surveys, we diagnose the current situation, clarify necessary improvements, and thereby share our respective strengths.
Quality-assurance activities and TQM promotion activities at internal companies
We position TQM as an approach toward supplementing and strengthening quality-assurance activities at internal companies. Rather than individual activities, we tackle activities as a means of enhancing the quality and efficiency of company-wide work and services based on the TQM method.
Implementation of company-wide seminars, etc. to disseminate TQM
We continuously implement dissemination seminars for officers and all employees and deepen understanding of TQM at all levels, from new recruits to top management, by means of our own level-specific educational curriculum using original teaching materials.
Quality and Safety Education and Awareness Raising
We hold serial information meetings on machinery safety and risk assessment seminars for the technical divisions of internal companies, which are on the frontlines of realizing machine safety, to ensure that the idea and practice of machine safety reaches all affected employees.
Quality and Safety Violations and Actions Taken
We monitor the status of quality- and safety-related incidents throughout the Company, including those involving violations of laws and regulations, while regularly confirming whether required countermeasures are being implemented. Findings gleaned from these activities are utilized to update our quality management structure.
---
ISO 9001 Certification Status
Kawasaki acquires ISO 9001 certification at the internal company and business segment level.
Aerospace Systems Company: Certified (JIS Q 9100 for Aerospace Business Division and Aero Engine Business Division)
Kawasaki Railcar Manufacturing Co., Ltd.: Certified
Energy Solution & Marine Engineering Company: Certified (Energy Solution, Plant Engineering, Marine Machinery, and Ship & Offshore Structure Business Division)
Kawasaki Motors, Ltd.: Certified
Precision Machinery & Robot Company: Certified (Precision Machinery Business Division; some parts of the division also certified under IATF 16949, and Robot Business Division)
In addition, 18 of the 19 overseas production sites are certified under the ISO 9001 quality management standard.
Initiatives to Prevent Human Rights Infringements in Defense-related Businesses
Aware of the CSR obligations attendant to involvement in national security-related businesses, we formulated corporate ethics-based in-house rules regarding the provision of products and services. In addition to ensuring compliance with laws and regulations associated with security trade and export control, these corporate ethics-based rules are designed to help employees judge the propriety of how purchasers put our products and technologies to actual use and thereby prevent such products and technologies from being used in unintended manners.
Furthermore, the Kawasaki Group Code of Conduct states that "We do not provide products and technologies for unethical purposes of use" and requires that Group members be aware of the ethical responsibilities associated with the provision of Group products and technologies.
Net Sales by Defense-related Businesses (consolidated global)
(FY)
| | Unit | 2017 | 2018 | 2019 | 2020 | 2021 |
| --- | --- | --- | --- | --- | --- | --- |
| Net sales | Millions of yen | 237,737 | 216,989 | 256,839 | 260,960 | 227,696 |
| Percentage of total net sales | % | 15.1 | 13.6 | 15.6 | 17.5 | 15.2 |
---
Customer Relationship Management
Our Basic Stance
The Kawasaki Group offers a vast variety of products to a wide range of domestic and international customers. The Group's products range from transportation equipment, such as ships, rolling stock, and aircraft, to industrial machinery, such as gas turbines, engines, robots, and industrial plants, and also include leisure products, such as motorcycles. A critical aspect of our business is to reflect our customers' demands in our products as quickly as possible.
Each internal company handling our businesses and products has built its own customer relationship management (CRM) structure, and they share information among themselves so as to reflect this information in product design and after-sales services.
Structure
Since our product lineup is highly diverse, and because of the differences between our B-to-B and B-to-C businesses, we base our business activities, goal setting, and customer information management for gaining the confidence of our customers on the specific characteristics of each business. Key Group-wide activities are aimed at establishing and improving feedback systems. We have established a contact page on our website for receiving comments from stakeholders, including customers. And in addition to these efforts to acquire the customer feedback, the Marketing Division follows up by calling on internal companies to take steps to enhance customer satisfaction. Specifically, since fiscal 2013 the Marketing Division has been providing follow-up to internal companies, in principle every year, on the status of online surveys, questionnaires, and interviews relating to customer satisfaction, thereby endeavoring to share information and raise CRM awareness.
Customer Satisfaction Surveys
Since the Kawasaki Group supplies a wide range of products to customers, and since customer characteristics and business practices vary widely depending on business and product, each internal company strives to understand the level of customer satisfaction using the most appropriate methods.
Business units with many regular or ongoing customers conduct customer satisfaction surveys over time to monitor changes in satisfaction and use these findings to make necessary improvements. In particular, since Kawasaki Motors, Ltd. caters to ordinary consumers as well, it uses both direct interview-style questionnaires and online surveys to measure the satisfaction of large numbers of customers around the world.
Customer Satisfaction Surveys at Kawasaki Robot Service, Ltd.
After the completion of field service work, Kawasaki Robot Service, Ltd., which engages in maintenance service and service support for industrial robots, conducts field service work completion questionnaires of customers to check the degree of satisfaction with such matters as the attitude of service personnel and work procedure.
These questionnaires, which began in fiscal 2020, show that customers are highly satisfied with the company's work. For example, when asked about work procedure, more than 90% of respondents replied "very good" or "good."
In addition, space is offered for free comments by customers, which are used as reference so that even better services and service tools can be provided.
Communication with Customers
Since customer characteristics and business practices vary widely depending on business and product, each internal company responds to customer feedback and demands in ways best suited to their businesses. For example, Kawasaki Motors, Ltd. has a customer contact point to respond to comments, requests, and inquiries about products from customers in Japan, manages inquiry-related information in a uniform manner, and uses it to inform product development. (Similar systems are operated overseas as well.) In the event of a vehicle recall, the relevant information is quickly posted on the company's website. In addition, through sales companies in and outside Japan, Kawasaki Motors, Ltd. conducts surveys of customers who have bought new Kawasaki motorcycles regarding their opinions of their vehicles.
Furthermore, to support customers' enjoyment of motorcycling, Kawasaki Motors, Ltd. operates the motorcycle user social group Kawasaki Riders' Club KAZE, regularly organizes new product announcements and social events, and holds safe riding classes in various regions as part of its contribution to traffic accident reduction efforts.
Efforts to Deepen Relations with Customers
Establishment of 24-hour Help Desk
To provide even better service to customers, Kawasaki Robot Service, Ltd. has established a 24-Hour Help Desk, which accepts inquiries and consultations about problems at nighttime on weekdays and during the day on Sundays and non-business days. At the help desk, service personnel directly listen to inquiries from customers and, based on their abundant experience and technical materials, provide information, technical guidance, and troubleshooting support.
Support for the Building of Strong Relations with Customers in the Introduction of K-COMMIT®
Kawasaki Robot Service, Ltd. strives to build relations with customers after the introduction of robots. Through the TREND Manage service®, it conducts the predictive maintenance of robots by constant online monitoring of the condition of robotic equipment.
In this remote maintenance, the company obtains real-time information about the operation of robots, inputs it into a database, and analyzes the trend management data, thereby accurately predicting any malfunctioning. In the event of a robot error, it provides various services, including speedy support through automatic email transmission. Based on the concept of Kawasaki Robot ANSHIN Lifecycle Support, the company optimizes the lifecycle cost of robotic equipment and delivers ANSHIN (peace of mind) to the customer.
Furthermore, Kawasaki Robot Service, Ltd. quantifies all inspection results selected on the basis of its abundant inspections and maintenance-record database and conducts TREND management quantitative inspections to accurately diagnose the state of robots. In addition, with K-CONNECT, the company creates dedicated websites for each customer to exchange and share information with the customer, manage robotic equipment maintenance information, search maintenance visit reports, manage machine numbers, and send technical materials.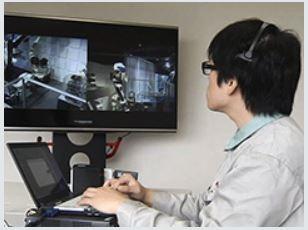 Remote operation of a customer's robot via an online connection
Online Strategy
Each internal company provides services in ways best suited to their businesses. At the Group-wide level, we are using social media to provide information about the Group.
Kawasaki Motors, Ltd. is working to increase customer satisfaction using services provided through RIDEOLOGY THE APP, an official smartphone application that links to supported motorcycle models.
We also provide the following online services:
Energy Solution Business Division: Techno Net, a gas turbine remote monitoring system
Plant Engineering Business Division: KEEPER, a waste management facility remote monitoring and support system
Robot Business Division (KRS): TREND Manager, a robot monitoring and preventive maintenance system; K-CONNECT, a webpage for robot service members
Responsible Corporate Promotion
The Kawasaki Group seeks to accurately communicate the content of our business activities, which are based on our corporate philosophy, to stakeholders. To this end, we carefully check information prior to disclosure from various stakeholder perspectives, including checks for factualness and potential legal issues. Furthermore, we endeavor to avoid using specialized terminology or expressions likely to be misunderstood. We utilize such media as press releases, Group websites, social media, corporate promotional publications, and advertisements, selecting the form to use with due regard to how it impacts society. We engage in corporate promotion with a constant awareness of not only increasing the public awareness of the Group but also the need to communicate the Group's contributions to solving social issues through our businesses and products.
Advertisement Violations and Actions Taken
There were no violations of laws pertaining to advertising in fiscal 2021.
---
Contact