Occupational Safety, Hygiene, and Health
---
Management Approach
Our Basic Stance
In line with its tenets of maintaining respect for individuals and putting health first, the Kawasaki Group is committed to creating a workplace culture that places the utmost priority on safety and health. Accordingly, the Group will not only comply with laws and regulations related to occupational safety, hygiene and health but also give even more careful consideration to maintaining safe, hygienic and healthy workplace settings for all those working at its facilities. Under this policy, the Group will thus create a safe and comfortable workplace environment in which every worker can stay mentally and physically healthy, to this end promoting close collaboration involving its management, all people working in our Group , labor unions and health insurance associations (if any), and other stakeholders to maintain and improve occupational safety, hygiene and health, with the aim of solidifying a foundation supporting its Group Mission, "Kawasaki, working as one for the good of the planet."
Policy on a Management Approach Prioritizing Occupational Safety, Hygiene and Health
Safety: Provision of a Safe and Secure Labor Environment
We will strive to reduce workplace dangers, including the risk of exposure to harmful substances, to prevent occupational accidents and health problems.
We will develop a proper occupational safety and health management system and constantly operate a PDCA cycle to improve the level of management.
We will promote the creation of a workplace culture that embraces open-minded communication and is supported by safety-oriented disciplines.
Hygiene: Prevention of Occupational Illness and Mental Health Issues
We will carry out the thoroughgoing management of working environments, work procedures and worker health to prevent the occurrence of occupational illness.
We will implement mental healthcare for employees and strive to reduce work-related stress, with the aim of preventing mental health issues.
We will also prevent other health problems through the appropriate management of labor hours, provision of face-to-face interviews to offer guidance and the implementation of precautionary measures based on feedback from such interview.
Health: Promotion of Health and Realization of a Fulfilling Life
We will proactively implement health-oriented management measures along with assisting individual employees in their autonomous efforts to improve their health, with the aim of promoting across-the-board initiatives to build up mental and physical health.
We will provide employees with periodic health checkups to ensure the early detection and proper treatment of diseases in addition to utilizing checkup results to maintain and improve employee health.
We will encourage employees to utilize various systems that enable them to switch workstyles and/or take leave in order to support their pursuit of a harmonious work-life balance.
Scope of Policy Application
The Kawasaki Group and staff seconded from partners under the Group's management
Structure
Kawasaki has defined a set of Safety and Health Management Rules under which it has established safety and health structures both Company-wide and at individual works. We actively implement measures in a planned manner to ensure the safety and health of our employees and staff seconded from partners, improve their health and create comfortable working environments. Specifically, our safety and health activities are carried out at different works under the supervision and management of Managers of Safety and Health based on Company-wide measures defined by the General Manager of Safety and Health. When an accident occurs, it is reported to the General Manager of Safety and Health and the labor union, and legally required filings and other such procedures are handled in accordance with corporate regulations and rules.
Occupational Safety, Hygiene, and Health Management Structure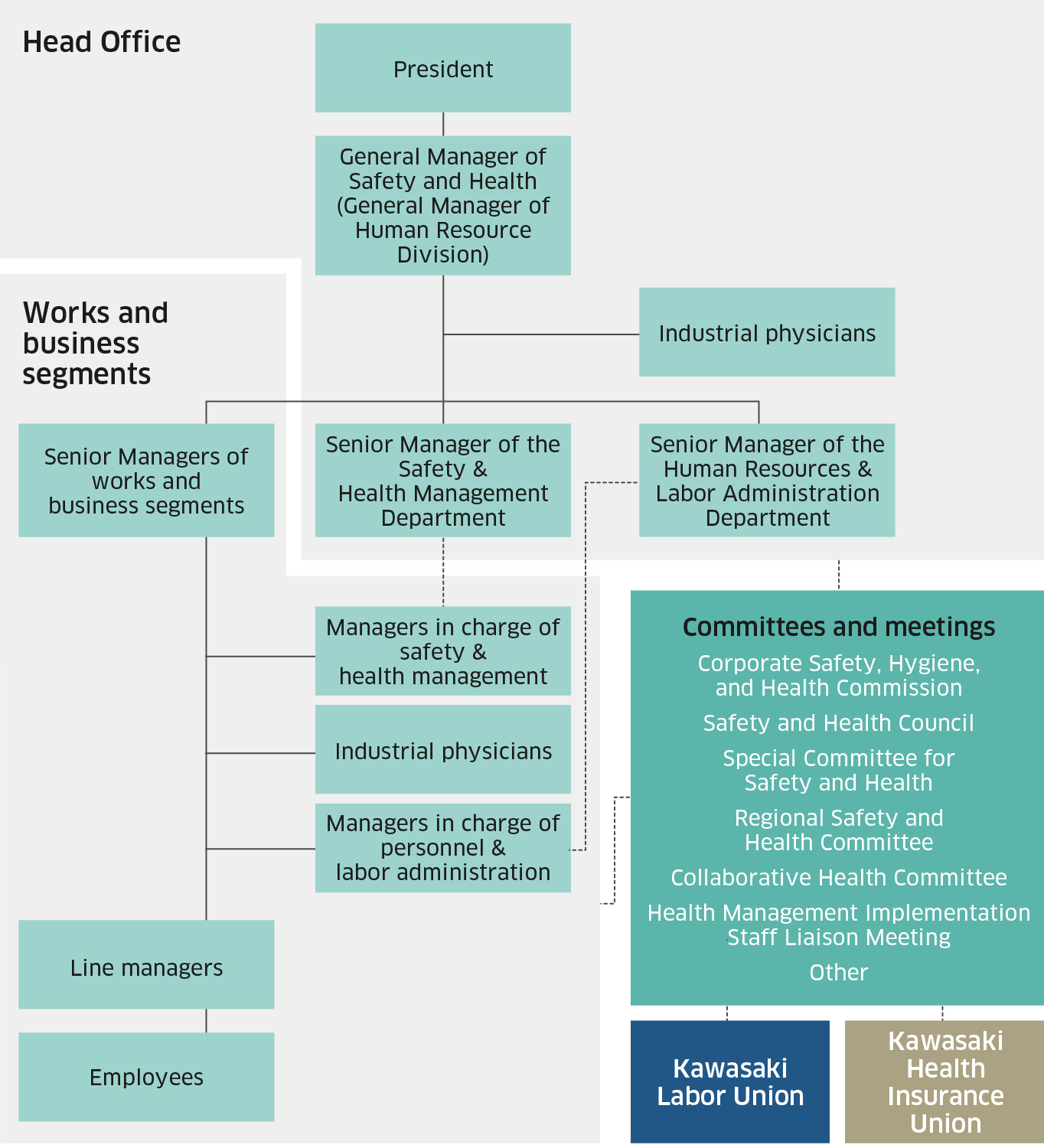 Responsible Officers
Company-wide: Osamu Gouroku, Deputy General Manager of Human Resources Division (General Manager of Safety and Health)
Each works: Managers of Safety and Health
Responsible Executive Organ and/or Committee
Corporate consultative body: Corporate Safety, Hygiene, and Health Commission
Attended by the General Manager of Safety and Health and site Managers of Safety and Health, the commission meets every December to reflect on the year and discuss targets and other safety, hygiene, and health matters for the following year.
Consultative body with the labor union: Special Committee for Safety and Health, and Safety and Health Council
The Special Committee for Safety and Health is attended by the Senior Manager of the Head Office's Safety & Health Management Department, staff responsible for safety and health, and members of the management and safety executive committees of the labor union headquarters and branches. The Safety and Health Council is attended by the General Manager of Safety and Health and the Managers of Safety and Health (for the Head Office and works) from the Company and the Central Executive Committee members (for the Headquarters and branches) from the labor union.
Consultative body at works: Regional Safety and Health Committee
Based on labor agreements, this committee is attended by the operating sites' safety and health managers and staff as well as management and safety executive committee members from the labor union branches.
For details on the functions of the Special Committee for Safety and Health, the Safety and Health Council, and the Regional Safety and Health Committee, please refer to Labor Discussions.
---
Safety Management
Our Safety Management Activities
Occupational Safety and Health Management Systems
Based on our occupational safety and health management systems, we implement systematic safety and health management activities as well as improvements through ongoing PDCA cycles and internal audits at workplaces. By doing so, we seek to create a virtuous cycle of improvement of these systems, prevent occupational accidents, and facilitate the creation of a comfortable work environment. In our risk assessment efforts, we constantly strive to enhance our ability to identify and reduce risks. Workplace risk assessments are regularly reviewed based on the business characteristics of the respective internal companies. We also review risks when operations or procedures are first introduced, when they are altered, and upon restart after a pause. The safety and health management systems at all of our business sites are at an OSHMS third-party certified level (Sites with third-party certification: Kobe Works shipyard, Sakaide Works shipyard [ISO 45001], Kobe Head Office Works of Kawasaki Railcar Manufacturing Co., Ltd. [OSHMS certification according to the method of the Japan Industrial Safety and Health Association]). Business sites with third-party certification undergo regular inspections by third-party certification bodies. Uncertified sites undergo internal audits once a year in principle, administrated by the Head Office.
KSKY Campaign
Kawasaki's KSKY Campaign and awareness-building efforts are key aspects of its occupational accident prevention efforts. The letters comprising this acronym stand for Japanese words that describe the different elements of the campaign: K (kihon), creating a disciplined workplace that observes the basic safety rules; S (shisa koshou), making sure to identify and call out to confirm breaks and other crucial points in each work operation; and KY (kiken yochi), working to further improve danger prediction abilities. The purpose of the campaign is to encourage employees to take a more active role in safety measures and thereby create a workplace in which all can openly caution one another about potential issues.
Safety Awards
Corporate regulations provide for safety awards. Production divisions receive awards for amassing long accident-free records, while business sites receive awards for having accident-free years. In fiscal 2021 year-long accident-free operations were achieved by the Nagoya Works, Harima Works of Kawasaki Railcar Manufacturing Co., Ltd., and Kakogawa Works of Kawasaki Motors, Ltd.
Initiatives to Prevent Harm Caused by Radiation
Based on relevant laws, Kawasaki prevents harm caused by radiation by carefully controlling the use of radioactive isotopes; radiation-generating equipment and its handling during sales; and work in locations contaminated by the scattering of radioactive isotopes. In addition, to ensure operational safety in operations that involve radiation, we have established regulations for preventing harm caused by radiation. Any occurrence of an accident resulting in harm caused by radiation is reported to the General Manager of Safety and Health and the labor union, and legally required filings and disclosure to the public and media outlets are handled in accordance with specified procedures.
Education on and Awareness of Occupational Safety and Health
Based on our Safety and Health Education Standards, in addition to education and training required by law, we carry out other necessary safety and health education programs, including grade-specific training for different staff grades; operation-specific training given after a change in operational content or for employees engaged in specific duties; general education, which includes health education and hazard prediction training; and training for on-site employees seconded from partners working under Kawasaki Management on, for example, plant construction sites. Moreover, we also use the corporate safety education facility, referred to as the "safety dojo," to promote safety awareness, impart knowledge, and refine risk sensitivity in order to further develop human resources who are capable of acting safely. To prevent accidents caused by unsafe practices and to build safety awareness, we implement a range of safety and health education programs, including simulated scenarios to help employees experience hazards in the workplace first hand.
Safety Dojo Participants
(FY)
| | Unit | 2017*1 | 2018*2 | 2019*3 | 2020*3 | 2021*3 |
| --- | --- | --- | --- | --- | --- | --- |
| Safety Dojo participants | Persons | 2,778 | 2,668 | 1,581 | 671 | 511 |
Status of Labor Accidents and Work-related Illnesses
(Jan.-Dec.)
| | | Unit | 2017 | 2018 | 2019 | 2020 | 2021 |
| --- | --- | --- | --- | --- | --- | --- | --- |
| Number of labor accidents | | Number of incidents | 57 | 90 | 104 | 77 | 87 |
| | Under Kawasaki's overall supervision*1 | Number of incidents | 57 | 48 | 69 | 48 | 58 |
| | Domestic group*2 | Number of incidents | - | 42 | 35 | 29 | 29 |
| Number of fatalities in the course of duty | | Persons | 0 | 0 | 1 | 0 | 1 |
| | Under Kawasaki's overall supervision*1 | Persons | 0 | 0 | 0 | 0 | 1 |
| | Employees | Persons | 0 | 0 | 0 | 0 | 1 |
| | Internal transfer staff*3 | Persons | 0 | 0 | 0 | 0 | 0 |
| | Domestic group*2 | Persons | - | 0 | 1 | 0 | 0 |
| Frequency rate of lost-time injuries (frequency rate) | Under Kawasaki's overall supervision*1 | | 0.29 | 0.42 | 0.37 | 0.34 | 0.31 |
| | Employees | | 0.30 | 0.21 | 0.24 | 0.21 | 0.12 |
| | Internal transfer staff*3 | | 0.24 | 1.04 | 0.77 | 0.74 | 0.93 |
| | (Reference) Industry average*4 | | 1.66 | 1.83 | 1.80 | 1.95 | 2.09 |
| | (Reference) Manufacturing industry average*4 | | 1.02 | 1.20 | 1.20 | 1.21 | 1.31 |
Frequency Rate of Lost-time Injuries (under Kawasaki's overall supervision)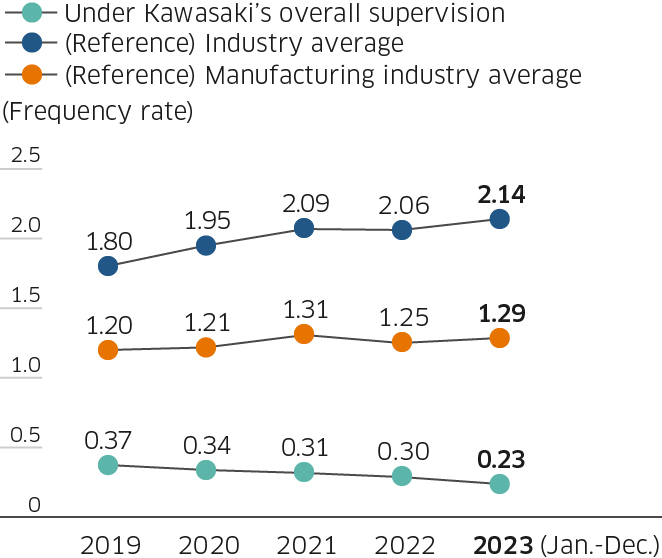 ---
Sanitation Management
Our Sanitation Management Activities
Preventive Measures against Occupational Illnesses
To prevent occupational illnesses, we carry out occupational health training when employees are hired, when they change operations, and when they are assigned to dangerous or hazardous work. Furthermore, in accordance with relevant laws, we carry out special health checkups and provide thorough health guidance for those identified as having potential health problems while measuring work environments and advancing work environment improvements. In light of the growing use of IT in the workplace and the increasing diversity of operations involving IT devices, we monitor the health of employees using such devices and provide guidance in accordance with guidelines set by the government.
Checkups for Employees Working Long Hours
To prevent health problems that can be caused by overworking, we have set stricter standards than those mandated by law, requiring employees who have worked 45 hours or longer of overtime in each of two consecutive months or 60 hours or longer in one month to undergo checkups for long-hour workers as well as checks for cumulative fatigue. Based on the results of these examinations and such factors as the number of overtime hours worked, employees are interviewed by an industrial physician and necessary measures put in place.
Furthermore, as measures to counter long working hours, we respond by properly conducting attendance and labor affairs management.
Mental Health Measures
As a mental health care initiative, we have compiled Guidelines on Mental Health Care Measures. In response to the rise in the number of people with mental health problems in recent years, we revised these guidelines in 2022 and now promote countermeasures centering on four types of mental health care from primary to tertiary prevention. Each business site offers level-specific mental health education by age group, at the time of promotion, and so on to ensure that employees have regular access to such education, which is important in terms of self-care. Each year approximately 10% of all employees receive this mental health education. We also conduct annual stress checks, assist self-care by employees themselves, and provide interview guidance and other follow-up for those found to have high levels of stress. As line-of-command care, we conduct group analysis at the time of stress checks. Based on the results of this analysis, industrial physicians hold individual workplace interviews with supervisors at workplaces with high health risks, and training is provided to supervisors at each business site. Furthermore, as care by industrial health staff at business sites, we aim to intervene and respond quickly when an employee develops a mental health issue, and industrial physicians, human resource and labor affairs departments, industrial health staff, and the employee's supervisor provide coordinated support when that employee returns to work. In addition, as care by external organizations, we offer an external consultation hotline so that employees can easily seek advice relating to mental health and other issues and strengthen our response by means of contracts with professional mental health doctors.
Health Management of Employees on Overseas Assignment
Kawasaki's corporate regulations lay out health management standards for employees on long-term overseas business travel or stationed overseas. For such employees, we carry out health checkups before, during, and after their return from overseas assignment, and their eligibility for overseas assignment is decided based on the results of such checkups and interviews with industrial physicians. Amid the COVID-19 pandemic too, the human resource and industrial health departments cooperate in checking conditions at destinations and conducting health management. In addition, when dispatching employees overseas, Kawasaki covers the cost of and implements vaccinations as necessary for the specific destinations so as to prevent employees on overseas assignment from contracting such infectious diseases as malaria and tuberculosis.
We also provide support so that employees can seek necessary medical care with confidence should they become unwell while overseas.
Sanitation Management (non-consolidated)
(Jan.-Dec.)




Unit
2017
2018
2019
2020
2021
Sick leave rate
(case basis)*1




5.1
5.6
5.7
4.8
4.6
Mental health-related sick leave frequency (case basis)*2


0.22
0.22
0.35
0.43
0.50


Mental health issues (Situational/Acute)
Cases
42
42
67
84
99


Other psychological disorders
Cases
1
3
5
7
7
Absence rate
(day basis)*3
Leave due to mental health issues*4


2.4
2.3
3.8
4.6
5.0


Overall sick leave


4.9
4.8
7.0
7.5
7.8
---
Health Management
Our Health Management Activities
Kawasaki sees the health of its employees as one of its key management resources. As such, Kawasaki provides extensive support to help individual employees live a healthy lifestyle in a self-directed manner, and aims to help employees enjoy healthy and rich lifestyles by promoting healthy activities.
Implementation of Physical Checkups and Lifestyle Disease Countermeasures
To manage employee health, Kawasaki provides regular health checkups for all employees, including those on assignment overseas, aiming for 100% of employees to receive such checkups. After the checkups, we encourage employees flagged as having potential issues to undergo secondary examinations and provide thorough health guidance.
Furthermore, in coordination with the health insurance union, we proactively provide designated health guidance to employees with metabolic syndrome, with a Group-wide implementation rate of over 60%.
Infectious Disease Prevention
Kawasaki provides influenza vaccines during work hours at little cost to the employees who elect to receive them.
In addition, to prevent the spread of COVID-19, we are conducting awareness raising with regard to such topics as hand washing, cough etiquette, ventilation, and avoiding the three Cs (closed spaces, crowded places, and close- contact settings). In accordance with government policy, we have also stipulated various guidelines toward preventing infection and the spread of infection, which we have endeavored to instill in employees.
Since July 2021 we have implemented companywide workplace vaccinations against COVID-19. About 22,000 employees, including employees of related companies and business partners in Japan, have been vaccinated in this way, and the initiative has contributed toward the prevention of group infection within companies and local community activities. A third round of workplace vaccinations has been implemented companywide.
Second-hand Smoke Preventive Measures
In response to the April 2020 amendment to the Health Promotion Act, Kawasaki is implementing measures to prevent second-hand smoke exposure, for example, eliminating indoor smoking areas and setting up dedicated smoking rooms based on the government's guidelines for preventing second-hand smoke exposure in the workplace. In addition, to support employees who smoke and want to quit, we have set up a program to subsidize their efforts to do so. The smoking rate at Kawasaki (non-consolidated) has been falling; in 2020, it stood at 24.5%, down from 31% in 2013, the first year that we collected data. Together with second-hand smoke preventive measures, we will continue working to reduce the employee smoking rate.
Health Maintenance and Improvement Measures
In the Kawasaki Group measures to improve the health of employees are discussed and planned in the Collaborative Health Committee, which comprises representatives of the company, health insurance union, and labor union. Each business site and related company compiles a health report based on employee health-related data administered by the health insurance union and company so that this committee can adopt effective measures and obtain better results. Regarding issues made clear by the results of the health reports, we decide the theme for each year and set about tackling it on a Group-wide basis.
In fiscal 2021 the Kawasaki Health Challenge, an existing event, was renewed, with this data being used to place the spotlight on food, exercise, and smoking habits, which had become identified as particular issues in the Group as a whole.
In addition, in fiscal 2022, in conjunction with the health insurance union, we are scheduled to tackle the issue of gynecological cancer screening in view of the fact that although many young people suffer such cancer, the screening rate is low.
Health Education Classes
As part of our companywide Total Health Promotion activities, we identify the health issues faced by business sites from their health reports and in response to these issues hold dietary improvement seminars, exercise seminars, and other events aimed at the prevention of lifestyle-related diseases together with the health insurance union. We also hold seminars for female employees and antismoking seminars, thereby supporting employees' mental and physical health improvement.
Outstanding Health & Productivity Management Organization
In the Health & Productivity Management Outstanding Organizations Recognition Program, which commends large corporations, SMEs, and other organizations practicing especially outstanding health management, Kawasaki was certified as an Outstanding Health & Productivity Management Organization 2022 in the large enterprise category.
This scheme is implemented jointly by the Ministry of Economy, Trade, and Industry and Nippon Kenko Kaigi. Certified enterprises are expected to play the role of top runners in disseminating the idea of health management among group companies, business partners, local related companies, customers, the families of employees, and others.
Kawasaki will continue to actively implement various measures, such as support for the health improvement of employees, to promote the maintenance and enhancement of employee health.
Health Education Participants (non-consolidated)
(FY)


Unit
2017*1
2018*1
2019*1
2020*2
2021*2
Mental health education
Persons
1,323
2,048
2,206
2,047
2,673
Level-specific education
(for new hires, etc.)
Persons
1,051
906
765
1,978
1,941
Other health education (antismoking seminars, etc.)
Persons
622
2,352
1,728
1,569
1,517
Actions for Preventing Lifestyle Diseases (consolidated domestic; exceptions apply)
(FY)
| | Unit | 2017 | 2018 | 2019 | 2020 | 2021 |
| --- | --- | --- | --- | --- | --- | --- |
| Percentage taking designated checkups | % | 92.8 | 96.2 | 96.7 | 95.7 | 95.1 |
| Percentage taking designated health guidance | % | 62.7 | 62.5 | 66.7 | 66.7 | 60.0 |
Health Management (non-consolidated)
(FY)
| | Unit | 2017 | 2018 | 2019 | 2020 | 2021 |
| --- | --- | --- | --- | --- | --- | --- |
| Percentage taking regular physical checkups | % | 99.0 | 99.0 | 99.6 | 99.8 | 98.4 |
---
Labor Discussions
Status of Labor-Management Consultations on Occupational Safety, Hygiene, and Health Issues (Status of the Safety and Health Committee, etc.)
Kawasaki has concluded a labor agreement with the labor union and holds Safety and Health Council meetings at least once a year to discuss policy for occupational safety, hygiene, and health activities, priority initiatives, and activity plans; The Special Committee for Safety and Health meets at least twice a year to follow up on the state of implementation and make revisions, and Regional Safety and Health Committee meets monthly at all domestic sites to deliberate on measures for preventing hazards and health impediments and discuss the causes and measures for preventing the recurrence of labor accidents at each site.
---
Contact