Corporate Governance
Basic Stance on Corporate Governance
Guided by the Group Mission, "Kawasaki, working as one for the good of the planet," the Kawasaki Group's basic stance on corporate governance is to raise enterprise value through effective and sound management while forming solid relationships with all stakeholders, including shareholders, customers, employees, and communities, through highly transparent management practices. The Kawasaki Group is striving to further strengthen and enhance corporate governance systems as appropriate for its businesses and scale.
---
Corporate Governance System
To enhance the Board of Directors' discussions of management strategy and other matters and to further reinforce the Board's oversight function while facilitating nimble response to rapid changes in the operating environment, Kawasaki transitioned to a company with an audit & supervisory committee pursuant to a resolution passed at the 197th General Meeting of Shareholders on June 25, 2020.
Kawasaki's main deliberative bodies, their composition and roles are described below.
Board of Directors
The Board of Directors comprises 13 directors (of whom, five serve as Audit & Supervisory Committee members), with the chairman serving as the presiding officer by resolution of the Board. Six directors are outside directors (of whom, three serve as Audit & Supervisory Committee members) and independent of business execution. By avoiding having directors serve concurrently as officers responsible for specific businesses (the internal company presidents), the Company seeks to enhance the separation of management oversight and business execution and thereby further reinforce the Board of Director's oversight functions.
Furthermore, the Nomination Advisory Committee and Compensation Advisory Committee have been established as advisory bodies to the Board of Directors in an effort to reinforce the transparency and objectivity of its deliberations. A majority of the members of both committees are outside officers, as are the presiding officers of each. The Nomination Advisory Committee discusses such matters as policies regarding the appointment of directors and other officers and the appropriateness of candidates for such positions. The Compensation Advisory Committee discusses such matters as director compensation policy and the appropriateness of the director compensation system. These committees provide reports and advice to the Board of Directors.
Audit & Supervisory Committee
The Audit & Supervisory Committee comprises five directors, including three outside directors. To secure effective oversight, the two internal directors have been appointed as full-time Audit & Supervisory Committee members. Furthermore, to ensure the reliability of financial reporting, the Company appoints audit & supervisory committee members who have considerable knowledge of finance and accounting.
Business Execution Framework
Kawasaki has adopted an executive officer system in order to facilitate response to rapid changes in the business environment. To accelerate decision making, a great deal of authority over business execution decisions is delegated to the executive directors and executive officers, who are appointed by the Board of Directors.
Kawasaki maintains a Management Committee, comprising mainly executive directors and internal company presidents, as an advisory body to the president. The Management Committee discusses matters that are important to Group management, including management policy, strategy, and challenges.
Furthermore, the Company maintains an Executive Officers Committee, comprising all executive officers. This committee issues business execution policy based on management policy and plans determined mainly by the Board of Directors and Management Committee. It also discusses management issues, striving to build unified consensus in Group management.
Kawasaki's Governance Structure (As of July 1, 2020)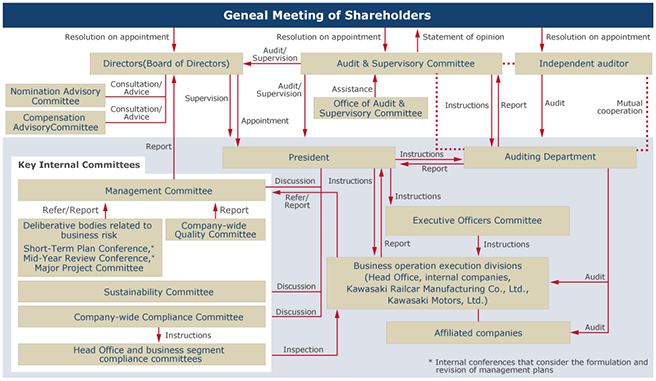 For more details, please see the following links.
---
Contact