Liquefied hydrogen loading/unloading terminal
(~ 10,000 m3 storage tank)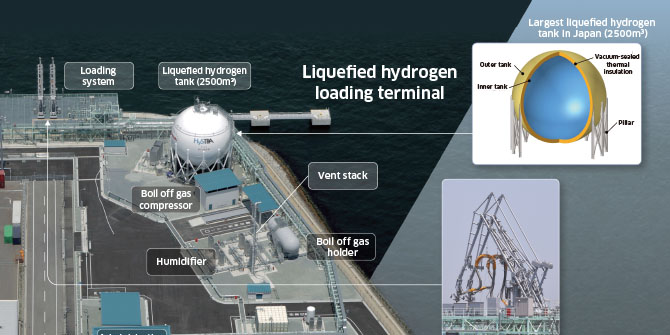 Advanced thermal insulation technology
achieves the world's lowest boil off gas rate

The boil off gas rate is significantly reduced in the liquefied hydrogen tank, which is the main component of the terminal. In addition to the liquefied hydrogen tank, the components of terminal (loading system, transport piping, etc.) have a vacuum insulation structure to minimize the boil off gas of liquefied hydrogen.
Product Description
It is a terminal for the import, export, domestic transportation and storage of liquefied hydrogen required for the hydrogen supply chain.
The main components are hydrogen liquefaction system that converts gaseous hydrogen into liquefied hydrogen, liquefied hydrogen tanks, loading system and transport piping that load and unload liquefied hydrogen with ships and containers.
Special Features
· Treating it as liquefied hydrogen reduces the required volume to 1/800 of the gas volume, enabling a compact terminal design
· The liquefaction system, storage tank, loading system, transport piping, liquefied hydrogen container and main equipment that constitute the terminal have a vacuum insulation structure (high thermal insulation structure)
· Energy saving is achieved by retaining liquefied hydrogen at -253 °C, and safety is ensured by the structure that prevents the cryogenic atmosphere around the equipment