Waste FREE (Realization of a Recycling-oriented Society)
Efforts to curb the consumption of natural resources and reduce waste have acquired greater social urgency, reflecting wider economic activity and population growth.
By promoting resource efficiency in its products and manufacturing processes, Kawasaki takes great care to effectively utilize and recycle the planet's finite resources.
Through ongoing initiatives in our business activities and efforts to promote their penetration in workplaces, we have maintained landfill disposal and recycling rates at our target levels.
Target of the 10th Plan (FY2019–2021)
Maintain ratio of direct-to-landfill waste to total waste generation at less than 1% (non-consolidated*)
Key strategies of the 10th Plan
Further enforce waste sorting and recycling
Improve Group-wide management

Precisely understand water uses and usage volumes
Confirm water resource risks
The results of activities in fiscal 2021 to achieve the above targets are reported below.
---
Reduction of Total Waste Generation
We are continuing activities to achieve our targets to reduce waste generated through our manufacturing processes per unit of net sales by using resources effectively, and to achieve zero waste disposed of in landfills through the promotion of recycling.
In fiscal 2019, by making changes to product packaging, we reduced waste and eliminated the need to sort cardboard and foam, facilitating recycling. Total waste generated and the landfill disposal rate (the ratio of waste disposed in landfills to total waste generated) in fiscal 2021 are shown below. The landfill disposal rate was 0.2%, achieving the target of 1% or less.
Waste Generated and Landfill Disposal Rate (Non-consolidated)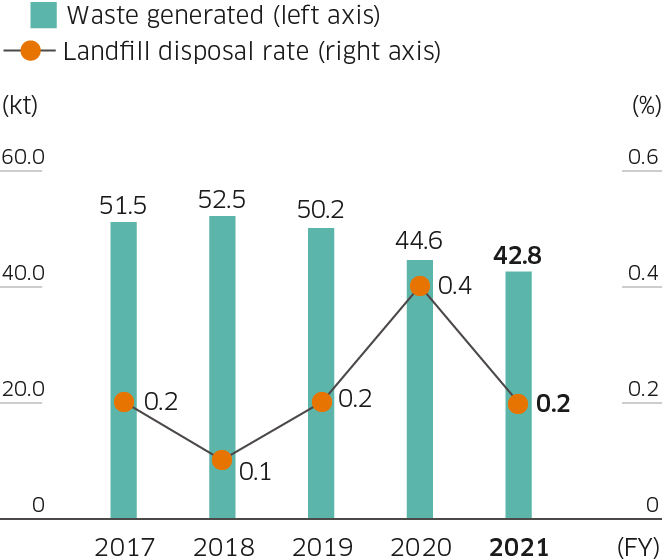 ---
Promoting PCB Treatment
The disposal of PCB (polychlorinated biphenyl) waste is proceeding worldwide, in line with the Stockholm Convention, which includes stipulations on the proper treatment of PCBs. In Japan, disposal is undertaken in a systematic manner, mainly by the Japan Environmental Storage & Safety Corporation (JESCO), which was established by the Ministry of the Environment. The phased disposal period for high-concentration PCB waste is scheduled to end in 2023, and that for low-concentration PCB waste will end in 2027. We are undertaking the treatment of our PCBs, aiming for completion ahead of the national schedule. To achieve our disposal targets, we are steadily ceasing use of equipment that contains PCBs (low-concentration PCB waste), putting such items into storage, and working with treatment service providers.
---
Precisely Understanding Water Uses and Usage Volumes
To more effectively use water resources, Kawasaki is advancing efforts to precisely understand water usage at each of its plants.
Water consumption in fiscal 2021 came to 5,629,000 m3. We are reexamining our uses of water, such as in production activities and boilers, as we explore ways to promote more efficient and effective water use. By rolling out these initiatives across the Group, we will reduce water resource risks.
Water Consumption (Non-consolidated)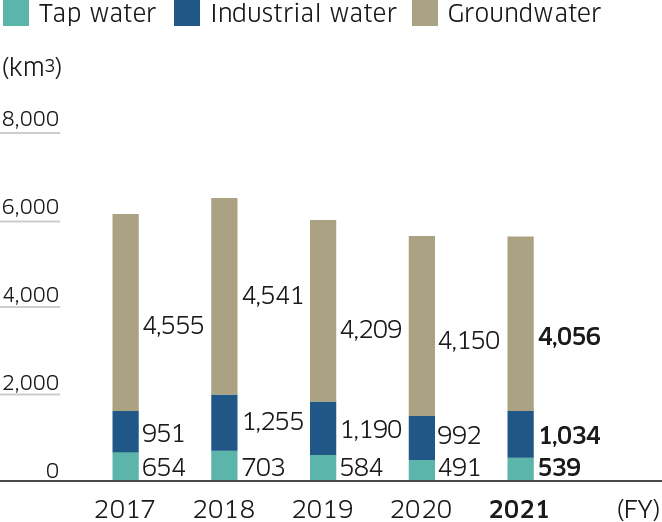 ---
Reduction of Water Resource Risks
In fiscal 2021, in collaboration with external experts, we conducted a simple risk analysis from the perspectives of water shortage, drought, flooding, and water pollution utilizing the Aqueduct Water Risk Atlas published by U.S. think tank WRI (World Resources Institute).
Based on the results of this analysis, we have set in our Three-Year Environmental Management Activities Plan 2022 the minimization of water resource risks across the entire supply chain as a key strategy concerning water resource risks. Classifying what we envision for this key strategy into the minimization of direct operation risk, the minimization of water resource risks for our suppliers, and the reduction of our products' environmental impact, we will continue our efforts toward these respective aims.
---
Manufacturing Facilities and Water Level Risk (Water Stress)
Kawasaki Group has 17 manufacturing facilities domestically and 21 overseas, and many of our overseas manufacturing facilities are located in areas with high water stress; such risk is becoming especially high in countries such as India, Thailand, and China.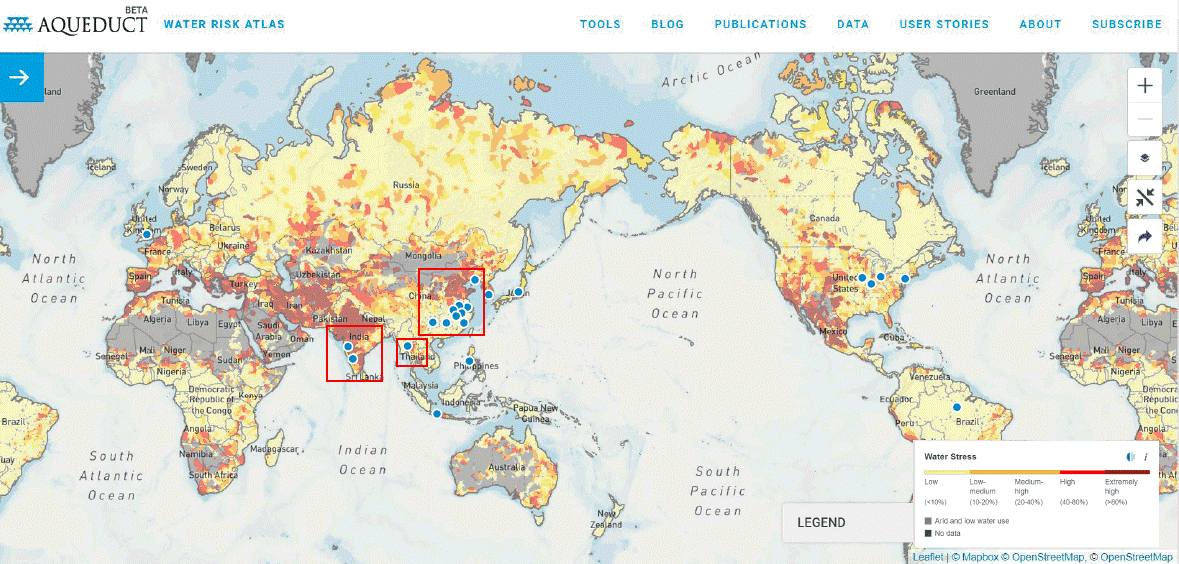 Global water stress
---
Contact