History
---
History of Kawasaki
---
1878
Shozo Kawasaki, the founder opens Kawasaki Tsukiji Shipyard (Tokyo).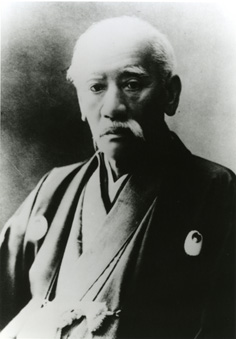 Kawasaki's origins go back to 1878, when Shozo Kawasaki established Kawasaki Tsukiji Shipyard in Tokyo. Eighteen years later, in 1896, it was incorporated as Kawasaki Dockyard Co., Ltd.
Born in Kagoshima to a kimono merchant, Shozo Kawasaki became a tradesman at the age of 17 in Nagasaki, the only place in Japan then open to the West. He started a shipping business in Osaka at 27, which failed when his cargo ship sank during a storm. In 1869, he joined a company handling sugar from Ryukyu (currently Okinawa Prefecture), established by a Kagoshima samurai, and in 1893, researched Ryukyu sugar and sea routes to Ryukyu at the request of the Ministry of Finance. In 1894, he was appointed executive vice president of Japan Mail Steam-Powered Shipping Company, and succeeded in opening a sea route to Ryukyu and transporting sugar to mainland Japan.
Having experienced many sea accidents in his life, Kawasaki deepened his trust in Western ships because they were more spacious, stable and faster than typical Japanese ships. At the same time, he became very interested in the modern shipbuilding industry. In April 1878, supported by Masayoshi Matsukata, the Vice Minister of Finance, who was from the same province as Kawasaki, he established Kawasaki Tsukiji Shipyard on borrowed land from the government alongside the Sumidagawa River, Tsukiji Minami-Iizaka-cho (currently Tsukiji 7-chome, Chuo-ku), Tokyo, a major step forward as a shipbuilder.
1896
Kawasaki Dockyard Co., Ltd. is incorporated. Kojiro Matsukata is appointed as the first president of the new company.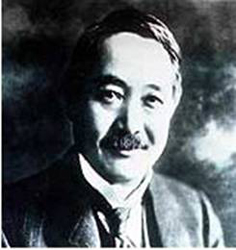 In 1894, seven years after the establishment of Kawasaki Dockyard, the Sino-Japanese War started and the shipbuilding industry in Japan enjoyed sudden prosperity.
Kawasaki was also very busy in receiving and finishing a rush of orders for ship repairs. Realizing the limitation of private management, Kawasaki decided to take the Company public right after the end of the war. Then close to 60 years old, without a son old enough to succeed him, Kawasaki chose Kojiro Matsukata, the third son of his business benefactor, Masayoshi Matsukata, as his successor.
Kojiro Matsukata, born in Satsuma (currently Kagoshima Prefecture) in 1865, became a secretary to Japan's prime minister during his father's administration between 1891 and 1892. In 1896, the younger Matsukata was appointed the first president of Kawasaki Dockyard Co., Ltd., and maintained this position for 32 years until 1928. By expanding business into rolling stock, aircraft and shipping, and implementing Japan's first eight-hour day system and other measures, he nurtured and grew Kawasaki into a leading heavy industrial company in Japan.
Matsukata was also known as an art collector. The National Museum of Western Art in Tokyo was established around the core of Matsukata's private collection. In addition, the Tokyo National Museum houses his extensive collection of Ukiyoe prints.
1897
Launches Cargo-Passenger Ship Iyomaru.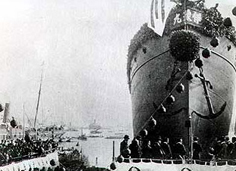 In 1897, Kawasaki Dockyard completed a cargo-passenger ship, Iyomaru (727 GT), its first ship after becoming a publicly traded company. During the 10 years of private management between 1886 and 1896, the Company built 80 new ships, including six steel ships such as Tamamaru (about 570 GT). Since the first steel ship was built in Japan in 1890, ship material had rapidly modernized from iron to steel. The beginning of Kawasaki Dockyard is thus the beginning of Japan's modern shipbuilding industry.
1902
Finishes construction on Dry Dock at Kobe Shipyard.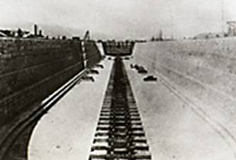 Shozo Kawasaki had fully realized that the Company's shipyard needed a drastic increase in capacity since Kawasaki Dockyard was established in Kobe City, Hyogo Prefecture. He planned to construct a dry dock by reclaiming land next to the shipyard. In 1892, a land survey began, and in 1895, boring tests were carried out. After the incorporation of Kawasaki Dockyard, Kojiro Matsukata pursued the plan.
Construction work faced rough going due to the extremely weak foundations of the site on the Minatogawa River delta. After a couple of failures, a new technique was adopted to harden the underwater foundation by pouring concrete. Six years later in 1902, the dry dock was completed at last, costing three times as much and taking three times longer than the construction of a dock under normal conditions.
Size of the dry dock:
Length: 130 m, width: 15.7 m, depth: 5.5 m
Maximum size of ships that can be docked: 6,000 GT
The dry dock (currently No. 1 Dock, Kobe Shipyard) was listed as a Registered Tangible Cultural Asset of Japan in 1998.
1906
Opens Hyogo Works.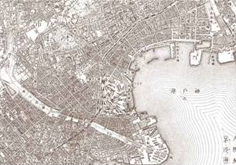 Kawasaki's first president, Kojiro Matsukata, had a strong desire to expand into new business areas. One especially promising new business would be the manufacture of railway cars. In 1906, the newly opened Hyogo Works began fabrication of locomotives, freight and passenger cars and bridge girders. This is also the year that Kawasaki began production of marine steam turbines at its dockyard.
1906
Builds the first submarine in Japan.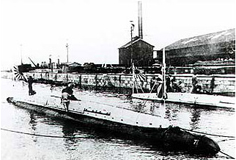 The Japanese Navy began to think about introducing submarines around 1901, and it decided to form a submarine corps soon after the start of the Russo-Japanese War. In 1904, five Holland type submarines, Submarines No. 1 to 5, were imported from the United States.
At the same time, the Navy decided to build submarines in Japan. In 1904, it awarded an order for the first two to Kawasaki. Although the Navy provided plans made by J. P. Holland, the designer of Holland type submarines, the details were left to the Company. Kawasaki devoted all its energies to building submarines that would live up to the Navy's expectations and demonstrate its capabilities as a shipbuilder to the world. It invited engineers from the United States as well as continuing to research problems even after laying the keel. In 1906, having conquered many difficulties, Kawasaki completed and delivered the first two submarines made in Japan, Submarines No. 6 and 7, to the Navy.
1908
Builds the Yodo, Japan's first large-size warship built by a private Japanese shipyard.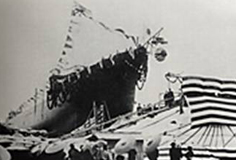 After the naval battle that decided Japan's victory in the Russo-Japanese War, the Japanese government made plans to strengthen its naval force by domestically manufacturing its large fleet vessels, all of which were previously manufactured abroad. Whereas private shipyards had received government orders for small vessels, such as early destroyers and torpedo boats, they would now also receive orders for large-size vessels. Built by Kawasaki Dockyard, the dispatch boat Yodo was the first 100-ton warship built by a private shipyard and was highly praised by naval officials. It marks the beginning of true shipbuilding by private shipyards.
---
---