1950-1989
---
History of Kawasaki
---
1950
Steelmaking division is spun off and Kawasaki Steel Corporation is incorporated.
1952
Begins production of Bell 47D helicopters.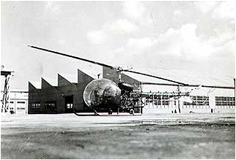 Japan's aircraft industry, which mainly manufactured military airplanes, was suppressed when World War II ended in 1945. Production of aircraft was prohibited for seven years until 1952 when the Treaty of Peace with Japan became effective.
Even after the prohibition was lifted, the industry faced difficulties in restoring business due to the seven-year blank. However, Kawasaki started designing of a four-seat transporter at Gifu Works, and in 1953 completed the KAL-1 transport airplane.
In addition, Kawasaki focused on developing helicopters at Akashi Works. In 1952, the Company signed a technical agreement with Bell Aircraft Corporation (currently Bell Helicopter Textron) of the U.S., and in 1954 completed the Kawasaki-Bell 47D-1 helicopter, the first helicopter built in Japan. Kawasaki manufactured six 47D-1 helicopters for the Ground Self-Defense Force.
1969
Kawasaki Dockyard, Kawasaki Rolling Stock Manufacturing and Kawasaki Aircraft merge to become Kawasaki Heavy Industries, Ltd.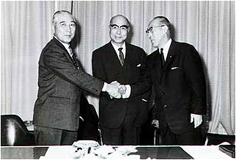 In the 1960s, at the beginning of Japan's high economic growth era, large-scale mergers between companies were booming, aimed at strengthening their international competitiveness, which accelerated consolidation in various industries. Amid these circumstances, Masashi Isano, president of Kawasaki Dockyard, conceived the idea of creating a great Kawasaki enterprise by merging major group companies. This was based on his long-held dream to raise the Company to a comprehensive heavy industrial enterprise providing products for endeavors on land, at sea, and in the air, which first president Kojiro Matsukata, had directed in the past.
Presidents of the three companies-Isano of Kawasaki Dockyard, Masao Ueda of Kawasaki Rolling Stock Manufacturing and Kiyoshi Yotsumoto of Kawasaki Aircraft-all desired a great Kawasaki, and signed a Merger Agreement on March 19, 1968 following discussion and negotiation. On April 1, 1969, Kawasaki Dockyard acquired the two companies, and adopted the new company name Kawasaki Heavy Industries, Ltd. (Note: In Chinese characters, Kawasaki Dockyard Co., Ltd. had already changed its name to Kawasaki Heavy Industries, Ltd. in 1937. However, its English name remained Kawasaki Dockyard until the date of the merger of the three companies.) Kawasaki Heavy Industries started with about 26,000 employees, paid-in capital of 28 billion yen, and anticipated first-year sales of 200 billion yen. Isano was named president, and Ueda and Yotsumoto were elected executive vice presidents.
1969
Develops Kawasaki-Unimate 2000, the first Japan-made industrial robot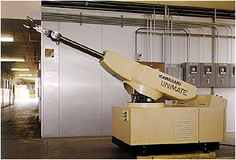 Kawasaki regarded the development and production of labor-saving machines and systems as an important mission, and became Japan's pioneer in the industrial robot field. In 1968, the Company (Kawasaki Aircraft) entered into a technical agreement with Unimation Inc., a U.S. company specializing in industrial robots, and began development work. In 1969, the Company succeeded in developing the Kawasaki-Unimate 2000, the first industrial robot ever produced in Japan.
1969
Launches H1 motorcycle.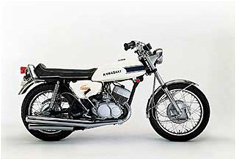 Following the Kawasaki W series, Japan's largest motorcycle of the day, which initiated the big bike boom, the Company introduced an epoch-making new model, the H1 (2-stroke, 3-cylinder, 498 cm3) in 1969. In that era, large motorcycles were mostly produced by European makers, who dominated the U.S. market as well. However, exports of Japanese motorcycles with large engine displacements were expected to grow dramatically. Amid such an environment, the success of the H1 confirmed Kawasaki's big bike reputation and position in the U.S. market. Among the H1's outstandingly unique attributes were awesome power and high performance, an exhaust roar typical of the 3-cylinder models, which came out of the asymmetrically set mufflers (two on the right, one on the left), and two-tone coloring of white and blue.
1972
Unveils Z1 motorcycle.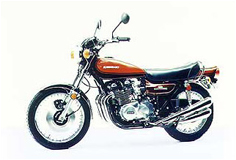 In 1972, the Company unveiled Japan's largest motorcycle of the day, the Kawasaki Z1, featuring an air-cooled, 4-stroke, 4-cylinder, 903 cm3, DOHC engine, which was Kawasaki's first 4-stroke engine with a state-of-the-art, unique mechanism. Code-named "New York Steak" as early as in the development stage, the Z1 became a "mouth-watering motorcycle," winning overwhelming popularity immediately after its introduction, and becoming a long-term bestseller. The Z1, a pioneer of Supersport models, not only solidified Kawasaki's reputation in large motorcycles, but remains deeply engraved in the public conscience as one of the most superlative models to date.
1972
Merges with rolling stock company Kisha Seizo Co., Ltd., and forms Kawaju Reinetsu Service Co., Ltd.
Through its merger with Kisha Seizo Co., Ltd., the Company became Japan's leader in the rolling stock industry. That same year, it also formed Kawaju Reinetsu Service Co., Ltd. Operations also expanded into the field of municipal refuse incineration. The 20th century ushered in incredible technological advances. Kawasaki foresaw the need to apply advanced technologies and engineering expertise to large-scale projects worldwide.
1973
Begins selling Jet Ski® watercraft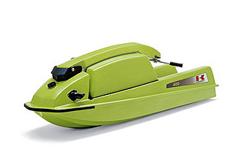 Kawasaki sought to develop a new product powered by a gasoline engine other than motorcycles in order to expand its consumer product business. In 1971, management decided to enter the marine recreational product field and a Marine Project Team was formed at the Company. During team discussions, the concept of a new product gradually took shape. A product in a completely new category, which enables people to enjoy waterskiing, a popular marine sport of the day, by themselves, without a boat-that became the basic concept of the Jet Ski watercraft.
In 1973, at Akashi Works, Kawasaki developed a new product (product code: WSAA) by installing a 2-stroke, 2-cylinder, 398 cm3 engine designed based on those for snowmobiles. The product was named Jet Ski, and became a registered trademark of Kawasaki. After obtaining a positive response from trial sales in the U.S., the Company began mass production. In 1975, Jet Ski production was shifted to the Lincoln Plant, Nebraska, and full-scale manufacturing of the JS400 commenced. In 1980, Kawasaki started to sell Jet Ski watercraft in Japan.
1975
Begins production of motorcycles in the U.S.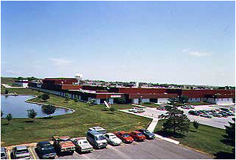 The Company (Kawasaki Aircraft) started full-scale motorcycle business in 1960, and forged ahead in the U.S. market in the late 1960s. Motorcycle sales subsidiaries were set up in Chicago in 1966 and in New Jersey the next year. In 1968, Kawasaki Motors Corp., U.S.A. (KMC) was established by merging the two companies, and it aggressively promoted sales.
In addition to strengthening its sales network, the Company introduced successful new motorcycles such as the H1 in 1969, and the Z1 in 1972, which made Kawasaki a household name in the U.S.
In that era, strong demand for motorcycles was expected worldwide, especially in the U.S. Therefore, in 1974, KMC established a new motorcycle factory in Lincoln, Nebraska, which was the first U.S. manufacturing site for Japanese motorcycle/automobile makers. In January 1975, the new plant started producing the KZ series motorcycles, and in the same year also began producing Jet Ski® watercraft. The KMC Lincoln Plant formed a new subsidiary, Kawasaki Motors Manufacturing Corp., U.S.A. (KMM) in 1981. Today, KMM has a factory in Maryville, Missouri in addition to the Lincoln Plant, and manufactures a wide range of products such as motorcycles, ATVs, Jet Ski® watercraft, general purpose gasoline engines, industrial robots and rolling stock.
1976
Develops GPS200 gas turbine generator.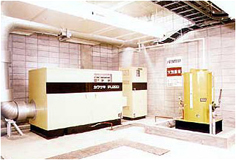 Utilizing its technology and experience in aircraft jet engines, Kawasaki pioneered Japan's gas turbine generator business. In 1972, the Company started developing industrial gas turbines based on its proprietary design. In 1976, the Kawasaki GPS200, Japan's first gas turbine generator, was produced and it attained type approval under the Fire Services Act. The next year, in 1977, the GPS200 won the Minister of Construction prize, top prize at the Electric Equipment Industry Exhibition.
Kawasaki went on to expand Japan's market for gas turbine generators. The Company also developed proprietary cogeneration systems, the GPC series, in 1983.
1979
The BK117 helicopter's first flight.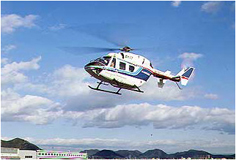 In 1977, Kawasaki started developing the BK117, a multipurpose twin-engine helicopter, with MBB (currently Eurocopter Deutschland GmbH) of Germany, and production began in 1982. The BK117, the first helicopter ever developed in Japan, offers a high standard of safety featuring twin engines, and easier operation using a jointless rotor system. Advanced technology also enables instrument flights even in inclement weather.
1981
Delivers the first LNG carrier built in Japan.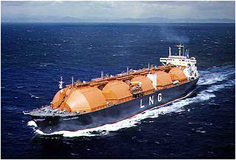 Kawasaki not only aggressively pursued orders for VLCCs (very large crude-oil carriers) and other oil tankers, but also conducted R&D activities to develop high-value-added ships. One example is its LNG (liquefied natural gas) carriers. In 1971, Kawasaki entered into a technical agreement with Moss Rosenberg Verft A.S. of Norway and accelerated the development of LNG Carriers. In 1981, at the Sakaide Works, the Company delivered the Golar Spirit (129,000m3, 93,815 GT), the first LNG carrier ever built in Japan.
1986
Begins production of rolling stock in the U.S.
1988
Begins production of construction machinery in the U.S.
1989
Receives orders for construction work on the Akashi Kaikyo Bridge.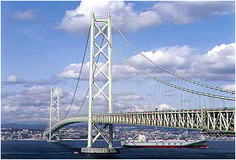 Spanning the Strait of Akashi, the Akashi Kaikyo Bridge was the longest single span suspension bridge in the world at the time of its construction, with a total length of 3,910 meters and a distance between the two main towers of 1,990 meters. Kawasaki was the main contractor for the tower on the Awajishima Island side-283 meters tall and over 25,000 tons-which fully utilized its advanced technology for steel structures. The Company also produced and installed stiffening girders. The bridge opened in spring 1998.
---
---