1910-1949
---
History of Kawasaki
---
1911
Completes the first Kawasaki-made locomotive.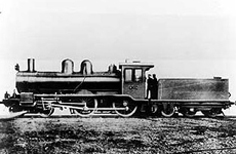 In 1872, U.K.-made steam locomotives ran for the first time on Japan's first railway line between Shinagawa and Yokohama. Kawasaki started manufacturing rolling stock in 1907, and 4 years later produced its first steam locomotive, the Tender type locomotive (2B saturation steam type, No.6700-6704), for the Ministry of Railways. Its performance was highly acclaimed and the Ministry later praised the Company, saying that its locomotive had done even better than those made in foreign countries. Kawasaki manufactured 3,237 steam locomotives in total until 1971, greatly contributing to the development of railways in Japan.
1918
The Aircraft Department is established at Hyogo Works.
In London at the time, Matsukata was impressed by the use of airplanes in World War I and established the Aircraft Department at the Hyogo Works in 1918. It was just a short 15 years since the Wright brothers' historic flight when airplanes were still made from wood and cloth and could only travel short distances. In 1922, the Company began manufacturing aircraft and established a new aircraft plant.
Kawasaki went on to build Japan's first metal aircraft, thereby laying the groundwork for the technological innovations of today.
1919
Shipping division is spun off and incorporated as Kawasaki Kisen Kaisya Ltd. (K-line).
1922
Completes the first Kawasaki-made airplane.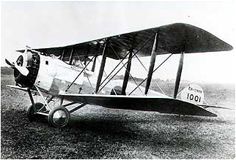 In 1922, Kawasaki completed its first airplane at its Hyogo works, and conducted test flights in Sohara Village (currently Kakamigahara City), Gifu Prefecture. The Japanese Army admitted its excellence based on the test flights, and adopted it for the first military plane, the Type Otsu 1 surveillance plane. Kawasaki manufactured about 300 planes of this type until 1927.
1926
Constructs Eitaibashi Bridge, Tokyo.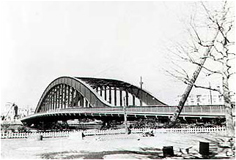 In 1923, the Great Kanto Earthquake hit Tokyo and bridges across the Sumidagawa River collapsed. Kawasaki constructed replacement bridges such as the Kiyosubashi Bridge, Shirahigebashi Bridge and Eitaibashi Bridge, which became well known for their elaborate designs. Kawasaki utilized state-of-the-art technology for these bridges. For example, it adopted high-tensile steel (Ducol steel), made at the Company's Hyogo Works, for the first time in Japan for the upper cables of the Kiyosubashi, an elegant suspension bridge, and for the lower connections of the Eitaibashi, a massive steel arch bridge. In that era, Kawasaki received orders from the Earthquake Reconstruction Bureau and other organizations in Japan for 25 bridges in total, including the bridges mentioned above, requiring 16,000 tons of steel. Kawasaki also constructed the Kachidokibashi Bridge across Sumidagawa River. The leaf-lift (trunnion bascule) bridge is built on a model of the same type of drawbridge in Chicago. The bascules, which hold the bridge center of 44 meters, can raise to a maximum of 70 degrees, making large ship traffic possible. However, the bridge no longer opens today, due to new regulations to ease road traffic jams.
1928
Hyogo Works is spun off and incorporated as Kawasaki Rolling Stock Manufacturing Co., Ltd.
1933
Begins manufacture and sale of Rokkogo automobiles.
In 1918, Kawasaki started manufacturing trucks at Hyogo Works to meet the social needs of the day, however, production was suspended until 1929, when the Company (Kawasaki Rolling Stock Manufacturing) resumed manufacturing automobiles. In 1931, the prototype of a 1.5 ton truck was completed based on a U.S. deluxe model, and the next year Kawasaki started producing Rokkogo trucks and buses. In 1933, it also began manufacturing classy Rokkogo passenger cars for such customers as the Imperial family.
Although the Company stopped producing automobiles in 1942 by order of the Department of War, which intended to shift production capacity from automobiles to airplanes, Kawasaki pioneered Japan's automobile industry during that era.
1934
Delivers Pashina Locomotive for Ajiago Super Express.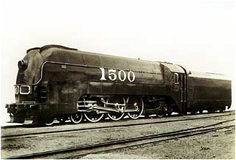 The Company (Kawasaki Rolling Stock Manufacturing) exported a large number of locomotives, passenger coaches and freight cars to China. Among them were the state-of-the-art locomotives of the day, Pashina type steam locomotives pulled the Ajiago super express linking Dalian and Changchun, China.
1937
Aircraft division is spun off and incorporated as Kawasaki Aircraft Co., Ltd.
1939
Adopts new Japanese company name Kawasaki Jukogyo Kabusikigaisya (i.e. Kawasaki Heavy Industries).
*The English company name Kawasaki Dockyard was changed to Kawasaki Heavy Industries in 1969, when three companies were merged.
1941
Starts production of Hien fighter.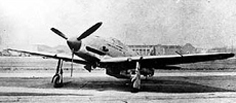 During World War II, the Company (Kawasaki Aircraft) manufactured the type 3-1 fighter Hien, the only liquid-cooled fighter developed in Japan during the war. Hien was known for its world-class performance, with a maximum speed of 610 km/h and the capability to fly in formation even at an altitude of 10,000m.
---
---