Gas Turbine Cogeneration System
(Kawasaki GPB Series)
A cogeneration system drives a gas turbine by using primary energy (fuel), and produces multiple types of secondary energy (e.g., electricity, steam) continuously. In a gas turbine cogeneration system, fuel is used as the primary energy, and multiple types of energy are produced in order to use energy more effectively. Furthermore, the system curbs NOx production and reduces environmental impact by using a gas turbine as the drive source.
Example comparing energy-savings and environmental impact of a conventional energy system and cogeneration system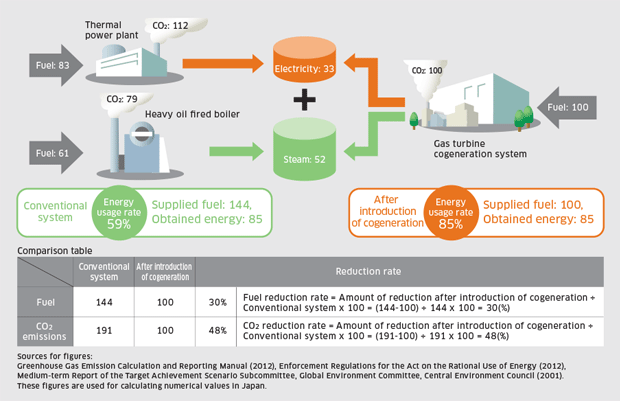 Example comparing economy of a conventional energy system and cogeneration system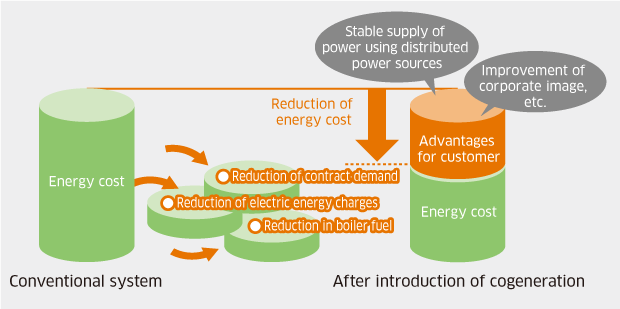 ---
Kawasaki GPB Series
Kawasaki GPB Series is designed for base load applications, for both parallel operation with the grid and island mode operation. In addition, the Kawasaki GPB Series is able to operate in Cogeneration service, with automatic operation capability supplying both electricity and heat (steam, hot water, direct heat) by collecting waste heat with a heat recovery steam generator (HRSG), heat exchanger, or dryer, and in combined cycle with a steam turbine generator. With high total thermal efficiency, Kawasaki GPB series is capable of very efficient operation.
Features of Kawasaki Gas Turbines
Drive source is a 100% Japanese-made gas turbine.
We develop, design and fabricate our gas turbines in house, so there are no "black boxes." For more than 30 years since our first delivery, Kawasaki has been a pioneering manufacturer of gas turbine cogeneration systems.
We show advanced technology for environmental measures.
Due to the use of a DLE (Dry Low Emission) combustor, the system has a NOx value lower than the regulatory NOx emission levels established in many regions.
The extensive track record as a pioneering manufacturer.
We delivered Japan's first cogeneration system with a Japanese-made gas turbine, and we boast one of the most extensive track records world-wide with over 700 systems delivered.
The system is suitable for standby power generation too.
By using a dual-fuel system enabling use of both gas and liquid fuels, the system can carry out a black-out start with liquid fuel in case of power outage. (Normally, gas turbine generator sets are operated with gas fuel).
After-sales service is worry-free.
We provide comprehensive after-sales service through an extensive world-wide service network. We can supply parts and carry out maintenance in a short time.
Various types of fuels can be handled
The combustion technology in Kawasaki gas turbines is progressing with the state-of-the-art. Various types of fuels can be handled, including urban gas, natural gas, LPG, kerosene, diesel and fuel oil A. Please consult with us regarding special fuels that have not been used yet.
Product Lineup
Kawasaki offers a wide range of gas turbines to meet diverse needs.

Engine Series
M1A Gas Turbine Series
Gas Turbine Model
M1A-13A
M1A-13D
M1A-17
M1A-17D
M1T-13A
M1T-13D
Gas Turbine Generator Model
GPB15
GPB15D
GPB17
GPB17D
GPB30
GPB30D
Electric Output

1,450
1,450
1,755
1,755
2,850
2,850
Heat Rate

15,130
15,280
13,120
13,120
15,350
15,510
Exhaust Gas Temperature

524
534
526
526
523
534
Exhaust Gas Mass Flow

28.8
28.5
28.8
28.8
57.6
57
HRSG Steam Output

5
5.1
5
5
9.9
10.2
Total Thermal Efficiency

79.2
79.7
80.4
80.4
78.8
79.3
NOx
(02 : 15%)

-
25
-
9*/15
-
25
Approximate Package Dimension
(L,W,H)

5.3 x 1.7 x 2.4
6.0 x 1.9 x 2.6
6.0 x 2.4 x 2.4
Approximate Package Weight
(dry)

14
14
21

Engine Series
M5A Gas Turbine Series
Gas Turbine Model
M5A-01
Gas Turbine Generator Model
GPB50D
Electric Output

4,715
Heat Rate

11,100
Exhaust Gas Temperature

516
Exhaust Gas Mass Flow

62.6
HRSG Steam Output

10.6
Total Thermal Efficiency

81.8
NOx
(02 : 15%)

15
Approximate Package Dimension
(L,W,H)

8.7 x 2.4 x 3.5
Approximate Package Weight
(dry)

41

Engine Series
M7A Gas Turbine Series
Gas Turbine Model
M7A-01
M7A-01D
M7A-02
M7A-02D
M7A-03
M7A-03D
Gas Turbine Generator Model
GPB60
GPB60D
GPB70
GPB70D
GPB80
GPB80D
Electric Output

5,410
5,280
6,590
6,530
7,660
7,660
Heat Rate

12,300
12,460
12,070
12,090
10,830
10,830
Exhaust Gas Temperature

548
545
519
516
525
525
Exhaust Gas Mass Flow

77.6
77.6
95.8
95.8
97.3
97.3
HRSG Steam Output

14.5
14.4
16.4
16.2
17
17
Total Thermal Efficiency

82.5
82.3
80
79.8
83.1
83.1
NOx
(02 : 15%)

-
35
-
25
-
9.9/15
Approximate Package Dimension
(L,W,H)

11 x 2.6 x 3.7
Approximate Package Weight
(dry)

55
58
58

Engine Series
L20A Gas Turbine Series
L30A Gas Turbine Series
Gas Turbine Model
L20A
L30A
Gas Turbine Generator Model
GPB180D
GPB300D
Electric Output

17,970
32,360
Heat Rate

10,690
9,110
Exhaust Gas Temperature

545
519
Exhaust Gas Mass Flow

213
315.8
HRSG Steam Output

39.7
54.1
Total Thermal Efficiency

84
84.3
NOx
(02 : 15%)

15
15
Approximate Package Dimension
(L,W,H)

17.4 x 3.5 x 3.4
14.2 x 4.5 x 5.3
Approximate Package Weight
(dry)

143
155
[Nominal Performance]
Elevation 0m, Inlet air temperature 15℃, Inlet air pressure loss 0.98kPa, Exhaust gas pressure loss 2.45kPa(GPB15,15D,17,17D,30,30D,60,60D) 3.43kPa(GPB70,70D,180,180D,300,300D) 2.94kPa(GPB50D, 80, 80D) , LHV of Natural Gas Fuel(100% CH4) 35.9MJ/Nm3
[Typical Steam Condition]
Steam pressure 0.83MPaG, Steam temperature(saturated) 177℃, Feed water temperature 80℃, Blowdown from HRSG 0%
*Option
Note: Mark "D" means Dry Low Emission
Delivery Examples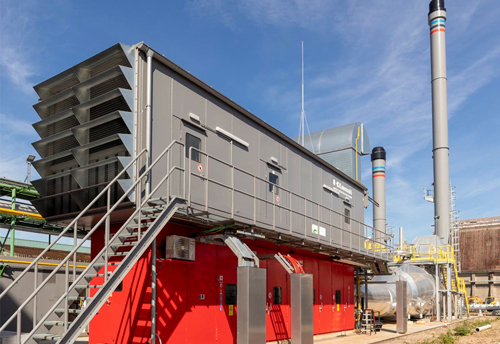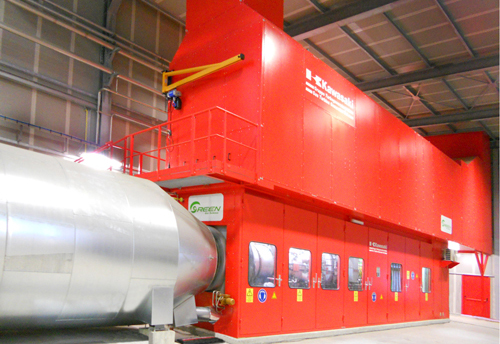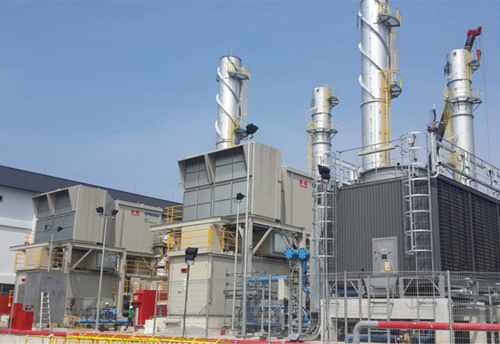 Project K: Creating the World's Most Efficient Gas Turbine
Inside K: Gas Turbine Division, Akashi / Seishin Works
Contact