Services for Gas Turbines
Kawasaki Heavy Industries (KHI) is a gas turbine manufacturer with integrated in-house operations covering development, design and manufacturing.
We propose optimal maintenance plans to suit the use environment and conditions surrounding each delivered gas turbine.
Proper operation and maintenance are crucial actions for ensuring stable operation of equipment.
---
Maintenance Service
Operation, including filter replacement and routine inspection, is performed by the user, and for scheduled maintenance (e.g., BSI (Bore Scope Inspection)/OH (Overhaul) based on gas turbine equivalent operation time*1) our basic services are to provide technical guidance by dispatching a Technical Advisor (TA) and to supply spare parts.
In addition, we can provide troubleshooting, equipment repairing, and technical consulting at the request of the user.
As an example of our maintenance service track record, we performed overseas OH for about 120 engines of 7MW class (M7) gas turbines until fiscal year of 2014 cumulatively. (In Japan, the figure was about 820 units.)
As part of our maintenance service system, we perform 24 hours per day monitoring for diagnosis of faults in the equipment and the daily reporting situation from each site using the remote monitoring servers at our Akashi Works. This is achieved using our proprietary remote monitoring system(Techno Net).
The above system enables immediate acquisition of information from each site (customer) by linking each site via communication lines with field service bases. This enables preventive maintenance by monitoring trends in instrument data, as well as cause analysis, identification, and early recovery based on data analysis in the unlikely event that an accident occurs. This helps to maintain a high operating rate of gas turbine power generation equipment.
The following shows a conceptual diagram of the remote monitoring system.

---
Service Parts
We supply the service parts which is necessary for maintenance of equipment delivered by KHI via field service bases in each region all over the world.
Also, in cooperation with our suppliers, we are working to build a stable and continuous service parts supply system. We propose a succession replacement parts and a necessary modification work for the parts of which production has been halted because of the reasons such as the passage of time.
---
Maintenance field service
Field service bases of KHI for gas turbine service are located all over the world.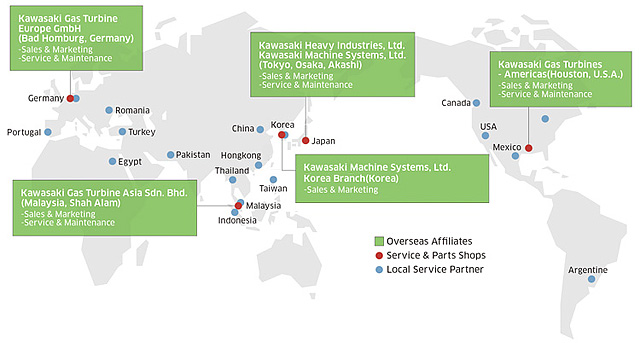 Each field service base has many field service engineers expert in maintenance of gas turbine power generation equipment, and they are dispatched to the site as TA when necessary.
To maintain their skill level and quality level, training is periodically performed at our "mother factory" KHI's Akashi Works.
We can also provide on-site operator training for gas turbine power generation equipment. (See below for training contents.)
(1) Overview of equipment
(2) Daily maintenance
(3) Initial trouble shooting  
If you would like to know any further details for the above, please contact your nearest field service bases.
---
Project K: Creating the World's Most Efficient Gas Turbine
Inside K: Gas Turbine Division, Akashi / Seishin Works
Contact