Risk Management
Risk Management Basic Policy
In accordance with the Companies Act, the Kawasaki Board of Directors has adopted a basic policy for internal control systems. The policy makes it clear that risk management should be addressed in accordance with the Risk Management Regulations by seeking to anticipate and avoid loss caused by risks, and to minimize risks through appropriate preparation and operation of the risk management system.
In addition, to achieve sustained improvement of profitability and corporate value, the Kawasaki Group Mission Statement identifies risk management as a guiding theme of the Kawasaki Group Management Principles.
To support these policies, the Risk Management Regulations established in 2008 lay down the following basic policy for the Kawasaki Group in the field of risk management:
Aiming to realize its Group Mission—"Kawasaki, working as one for the good of the planet"—Kawasaki and the Kawasaki Group will facilitate global and sustained business execution by continuously implementing risk management.
In implementing risk management, Kawasaki and the Kawasaki Group will put in place a risk management system, for which ultimate responsibility lies with the company president, as a means of preventing risks that may hinder business execution.
In the event that a risk situation emerges, Kawasaki and the Kawasaki Group will work to minimize loss to customers, employees, local communities and other stakeholders, and to prevent recurrence.
Each individual corporate officer and employee will engage actively with risk management and will work to maintain the risk management system and improve response capabilities of risk management.
The Corporate Risk Management Manual sets forth the following procedures for Group-wide integrated risk management based on these basic policy and guidelines: the respective operating divisions will strengthen their risk management measures, identify major risks that may have a serious impact on operations (Group-level risks) every year, monitor the response to them, and from among such risks determine a few items especially requiring Group-wide actions (risks requiring Group-wide action), implement such actions, and after the head office division in charge monitoring the results, discuss them at the Corporate Risk Management Committee.
On the other hand, with regard to the risks associated with individual business execution, the relevant divisions carry out assessments and analyses and sufficiently examine countermeasures in advance in accordance with the Kawasaki Group's Board of Directors Regulations, Management Meeting Regulations, Approval Regulations, etc., and for important projects which may have especially great impacts on operations, not only at bidding and contracting for received orders but after starting the projects, too, necessary measures to further ensure risk management are taken in accordance with Kawasaki Group's Regulations concerning Risk Management for Important Projects, etc. including the head office and the respective business segments following up on them regularly.
Concurrently, the actions to be taken when a risk situation emerges are set out in the crisis management provisions of the Risk Management Regulations, which stipulate that emergency action guidelines should be clearly identified, a Crisis Management Officer should be appointed for each operating site, and a system should be established promptly and appropriately to respond to risks.
Scope of Risks Covered
The Kawasaki Group defines the risk as "phenomena that hinder the conduct of business operations or the achievement of organizational goals," and is committed to giving due consideration to strategic risks and other risk items, as well as to phenomena that have a beneficial effect on the organization.
In concrete terms, this means all risks listed below, classified into external risks and internal risks (strategic risk and business risk), is included in the scope.
List of Risks Covered
Risk category
Risk name

External risk

Hazard
Major disaster
Accident (caused by third party)
Politics/Society
Government or social stability
Legal or regulatory amendment
Technology
Technological innovation
Market environment
Competitor companies
Customer needs
Economic
Economic recession
Stakeholders
Shareholders/activists
Harmful rumors
Human rights issue
Child labor/forced labor

Internal
risk

Strategic
risk

Vision
Effectiveness of vision
Decision making
Expansion into new business areas
Capital investment
Research and Development
Corporate acquisition/merger
Organization
Effectiveness of organizational structure
Brand
Kawasaki Value (brand)
Corporate governance
Supervising of management

Business risk
(by division)

Sales
Sales strategy
Collection of accounts receivable
Customer response
Development
Development themes
Development capabilities
Design
Design not coordinated with other
relevant divisions
Design capabilities
Design quality
Procurement
Enforcement of CSR Procurement
Guidelines
Procurement at appropriate price
Securing of stable procurement
partners
Management of procurement
partners
Warehouse
Inventory management
(materials, work in process, products)
Production
Insufficient production capacity
Production process management
Production facilities
Engineering operations
Management of individual
commissioned projects
Quality assurance
Deficient product servicing
Logistics
Management of logistics channels
Export and import procedures
Overseas
Country risk
Business customs
Domestic operating
sites
Operation/maintenance
Specific local conditions
Accounts
Accounting methods
Financial reporting
Tax affairs
Financial affairs
Interest rate rise
Foreign exchange rate fluctuation
Capital procurement
Financial management
Management of pension assets
Company stock
Credit rating
Management
Budget/planning/management
Evaluation of business performance
Consistency of goals and strategies
Public relations
Media response
Legal affairs
Contract conditions
Response to legal action
Information processing/
IT
Information leakage
Network/system failure
Information infrastructure
CSR
CSR activity
External reporting
Evaluation of internal controls
Information disclosure
Environment
CO

2

emissions
Environmental pollution
Compliance
Irregular action by organization
Irregular action by employees
Harassment
Compliance with corporate ethics,
social norms, laws and regulations
Anti-monopoly and fair trade laws
Export management
Social contribution
Social contribution activity

Business risk
(crossdivisional)

Personnel/labor
Human resources/
personnel deficiency
Safety and health management
Labor management
Personnel employment conditions
Human rights issues
Business operations
Management capabilities
Affiliated company management
Communication
Powers/restrictions
Operational efficiency
Outsourcing
Intellectual assets
(knowledge/expertise)
Intellectual property
Operational alliances
Security
Information sharing
Credit management
Work environment
Corporate Risk Management System
The Kawasaki Group has established a Corporate Risk Management System to ensure a uniform level of risk management across the Group, through which it identifies and responds to major risks with potential serious impact on operations and works to enhance risk management as outlined in the Kawasaki Group Management Principles.
The Kawasaki system places ultimate responsibility for risk management with the company president, and responsibility for coordinating risk management operations with the Managing Executive Officer. The Kawasaki system also seeks to reinforce the risk management system by setting up a Risk Management Committee with the function of discussing important matters relating to risk management and monitoring implementation status. Meanwhile, a Risk Management Unit has been set up within the Head Office Risk Management Office to implement and support corporate risk management, and each business division operates a similar system, for which the general manager of the business division is responsible. These measures are designed to reinforce a system that takes a Group-wide approach to risk management.
In October 2011, risk management initiatives similar to those applied in each business segment were launched at key domestic subsidiaries, and with efforts extended to affiliated companies in Japan as well, a Corporate Risk Management System covering all the domestic companies in the Kawasaki Group was established by the end of fiscal year ended March 31, 2013. In addition, from 2015 we began rolling out measures at some overseas affiliated companies—model companies—similar to those introduced at domestic affiliated companies, and this process will continue to gradually unfold.
Corporate Risk Management System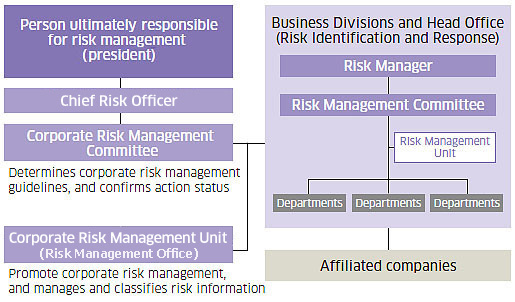 Responding to Significant Risks
Under the Corporate Risk Management System, major risks that could have a potentially serious impact on Group-wide operations are identified each year using uniform metrics and subjected to continuous management from a Groupwide perspective using efficient and optimal methods.
In concrete terms, this means that management of major risks at the Group-wide level is carried out by applying the following Plan-Do-Check-Act (PDCA) cycle to Group-wide risk management programs:
screening and evaluation of risks;
identification of major risks and specification of risks requiring action;
formulation and implementation of risk response measures; and
monitoring.
Corporate Risk Management Programs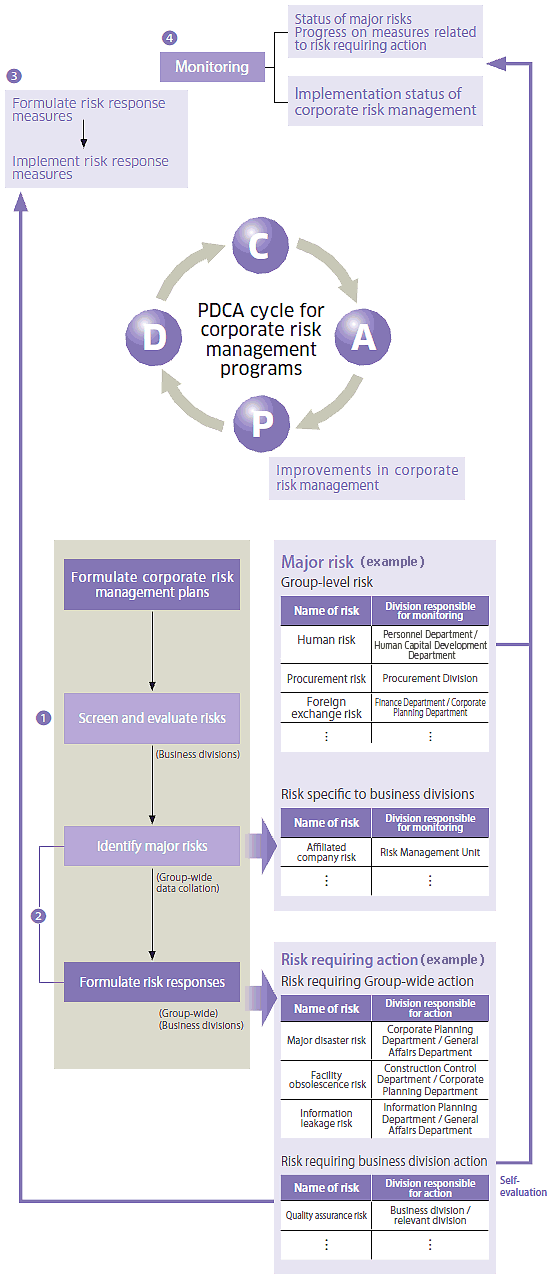 1. Screening and evaluation of risks
Risk reviews are undertaken each fiscal year by division, and major risks are then pinpointed for each business segment by the Corporate Risk Management Committee.
2. Identification of major risks and specification of risks requiring action
(Identification of major risks)
Major risks identified in each business segment are compiled, and the Corporate Risk Management Committee then discusses the consequences of these risks—Group-level risks—and classifies them into about 20 categories based on the severity of impact that each risk could have on the Group's operations.
Risk items other than Group-level risks are categorized as risks specific to business segments, and each business segment acknowledges and addresses respective risks.
For Group-level risks, a division at the head office responsible for monitoring risk is assigned to monitor risks on a regular basis.
(Specification of risks requiring action)
Within Group-level risks, the head office division responsible for monitoring risk deems that certain risk items require urgent, Group-wide action, as previous responses were insufficient (risk requiring Group-wide action).
In addition, each business segment will concurrently specify risk items that require a response (risk requiring business segment action).
3. Formulation and implementation of risk response measures
For risks identified as Group-level risk, a division at the head office responsible for risk responses is assigned to formulate response measures, which are discussed by the Corporate Risk Management Committee, approved, and then implemented. Similarly, for risks requiring business segment action, each business segment formulates responses and then puts measures into practice.
4. Monitoring
(Monitoring major risks)
At the end of each fiscal year, the risk management unit in each business segment undertakes a review of major risks for the following fiscal year and monitors significance, level of action, and urgency of each risk item.
Of note, with regard to Group-level risk, the division at the head office responsible for risk monitoring checks at the beginning of each fiscal year to see if the measures and structures introduced to reduce relevant risks in each business segment are functioning effectively, from a Group-wide perspective, based on the monitoring results compiled by each business segment.
(Monitoring of risks requiring action)
Risks requiring action—both Group-level risk and business segment risk—are subject to a twice yearly self-evaluation by the division responsible for executing relevant measures, at the end of the first half and at the end of the second half of the fiscal year. Results of these assessments are tracked by the risk management unit in each business segment.
(Report of monitoring results to the Corporate Risk Management Committee)
The results from major risks and risks requiring action monitoring are provided to the Risk Management Committee in each business segment.
The results from Group-level risks and risks requiring Group-wide action monitoring are provided to the Corporate Risk Management Committee.
Risks Identified as Group-Level Risk
Data on major risks identified at the business division level were collated, and the Corporate Risk Management Committee then identified major risks that could have a serious impact on operations under 18 item headings.
These risks are subject to monitoring in March of every year by the Head Office division responsible for monitoring. Meanwhile, taking Group-level risk as the basis, decisions are made on which risk items to disclose as "business risk and other risk" in the Securities Report, this report, and other information sources.
The risk items are subject to yearly review.
Risks Identified as Group-Level Risk for Fiscal Year Ending March 31, 2020
Name of risk
Head Office division responsible
for monitoring
Human risk
Personnel Department / Human Capital Development Department
Procurement risk
Procurement Division
Quality management risk
TQM Department
Labor, safety and health risk
Safety & Health Management Department
Incomplete market response risk
Corporate Control Department
Individual commissioned project management risk
Corporate Planning Department
Foreign currency risk
Finance Department / Corporate Control Department
Major disaster risk
Risk Management Office
Information leakage risk
IT Strategy Planning Center / General Administration Department
Country risk
Marketing Division
Intellectual property risk
Intellectual Property Department
Contract risk
Legal Department
Production management risk
Manufacturing Improvement Center
Compliance risk
CSR Department
Development and design risk
Corporate Technology Division
Environmental contamination risk
Environmental Affairs Department
Revised law and regulation risk
Corporate Planning Department
Aging equipment risk
Corporate Control Department / Construction Control Department
Risks Specified as Risk Requiring Group-wide Action
Within Group-level risks, we specified the five items listed below as areas where response was insufficient and Group-wide action was urgently necessary. To deal with these risks, a Head Office division responsible for action was designated to take the main role in formulating and implementing response measures.
Risks Specified as Risk Requiring Group-wide Action for Fiscal Year Ending March 31, 2020
| Name of risk | Head Office division responsible for monitoring |
| --- | --- |
| Human risk | Personnel Department / Human Capital Development Department |
| Quality management risk | TQM Department |
| Labor, safety and health risk | Safety & Health Management Department |
| Individual commissioned project management risk | Corporate Planning Department |
| Country risk | Marketing Division |
---
Contact