Harm FREE
Modern society is maintained by the value provided by natural ecosystems, including material cycles and the regeneration of air, water, and soil environments.

Kawasaki strives to reduce its environmental impact through products and manufacturing processes that exist in harmony with the global environment and contributes to the protection of ecosystems.
10th Plan Target
Reduce environmental risk while operating factories with respect for biodiversity
Realization of a Low-Carbon Society
Properly manage harmful chemical substances and consider alternatives
(Reduce Group-wide environmental risk)

Identify the types of trees on factory grounds and, where appropriate, replace with native species while continuing Company-wide forest conservation activities
---
Harmful Chemical Substance Reduction
Kawasaki properly manages and looks for alternatives to chemical substances that present a risk of negatively impacting human health or the environment.

Figure 19 shows Kawasaki's fiscal 2019 handling volumes of major VOCs (toluene, xylene and ethylbenzene), dichloromethane, and hexavalent chromium compounds.

Going forward, we will continue to properly manage chemical substances while aiming to reduce their use.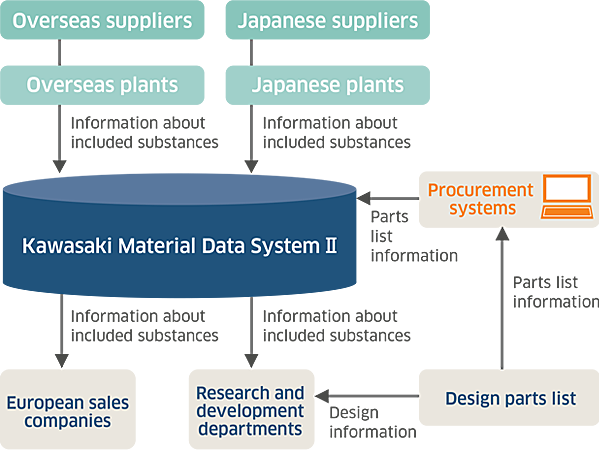 ---
Forest Conservation Activities
We are engaged in forest conservation activities in two locations: Hyogo Prefecture and Kochi Prefecture.

In Hyogo Prefecture, we have participated in the prefecture's corporate forest restoration project since December 2008. Our forest conservation activities started out at a community forest that we named Kawasaki Heavy Industries Nagomi-no-Mori, in the town of Taka.

Since the start of our forest conservation activities in 2008, the number of participating employees and their family members has reached a cumulative total of approximately 2,400 people, and approximately 2,840 trees consisting of 47 varieties, including Japanese red pine, konara oak, and mountain cherry, have been planted. Since fiscal 2018, we have shifted focus to the maintenance of trees planted in previous years. In fiscal 2019, we cleared undergrowth and trimmed trees.

In addition, in Kochi Prefecture, we have participated in a prefecture-organized forest restoration project aimed at forest regeneration since 2007, implementing activities in the town of Niyodogawa. Every year, new employees of the Company conduct forest conservation activities, mainly forest thinning, deepening our level of exchange with the local community.
Fiscal 2019 Achievements
Activity location
Taka, Hyogo Prefecture
Niyodogawa, Kochi Prefecture
Activity content
Pruning trees, clearing undergrowth, making coasters, making and attaching tree tags
Tree thinning, environmental education
Participants
Employees and their families, and others (195 people)
Employees and others (64 people)
Achievements
Area: 0.5 ha
CO2 absorbed: 0.97 t
Trees planted: 0
Area: 0.3 ha
CO2 absorbed: 15.0 t
Number of events
3
1
---
Environmental Education through Forest Conservation Activities
We carry out forest conservation activities, such as forest development and experiential learning, every year to provide opportunities for thinking about the environment.
Fiscal 2019 Achievements
Activity content
Aim
Date
Making coasters
(Figure 20)
Learn about the importance of the functions of forests (Participants gained a firsthand understanding of the necessity of tree thinning as part of regular forest maintenance in order to enhance forests' capacity to recharge water resources, prevent soil erosion and mitigate global warming.)
April 2019
Making and attaching tree tags
(Figure 21)
Interact with nature and learn about the importance of forests (Participants used wood from tree thinning to make tree tags—labels indicating species—then learned to identify the species traits of previously planted trees, which they then tagged. They also took measures to keep deer away from new growth.)
November 2019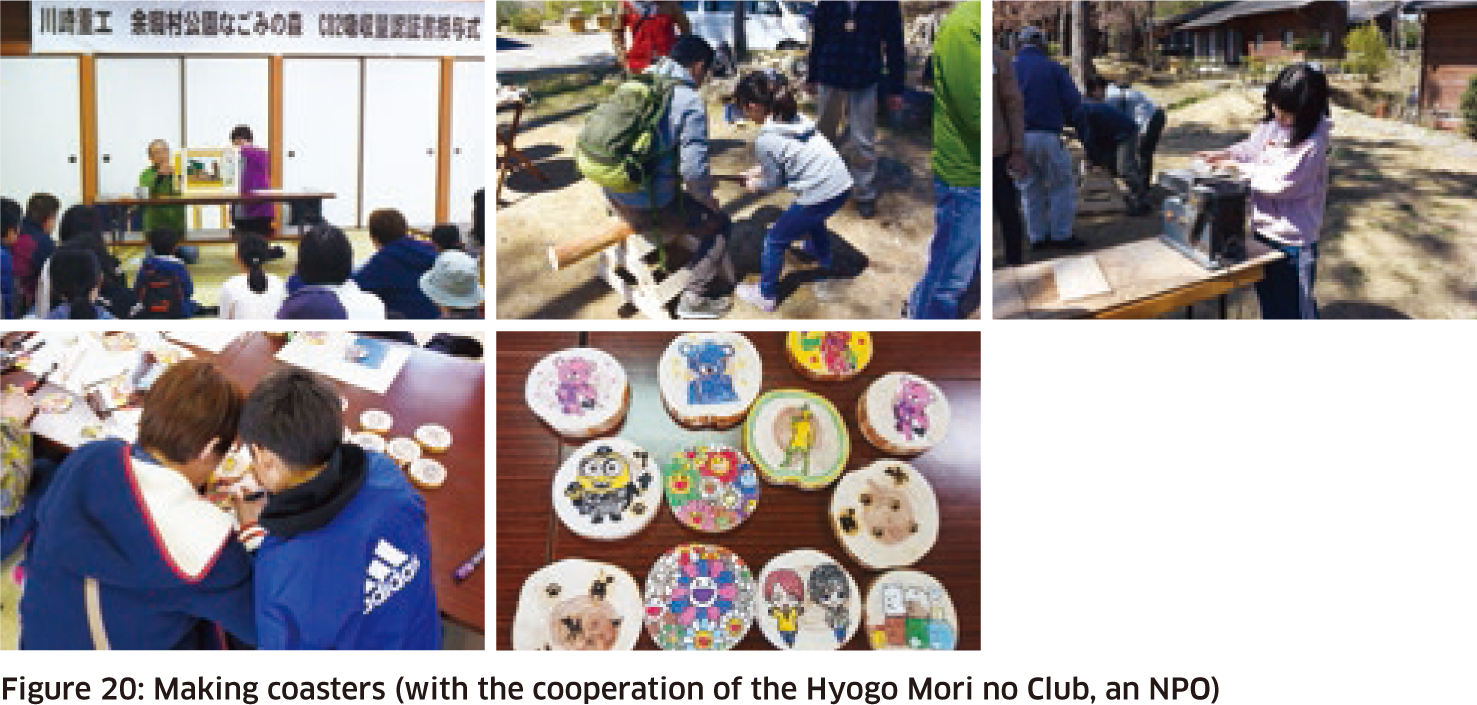 ---
Initiatives in Food: Sustainable Seafood
As part of activities aimed at the realization of a society coexisting with nature, in February 2020, the cafeteria of the Tokyo Head Office began serving sustainable seafood that is MSC certified1 and ASC certified.2

By including sustainable seafood in the cafeteria's offerings, we are providing opportunities to think about water resource depletion and the impact of global warming through food—an integral part of daily life.

---
Contact