Realization of a Recycling-Oriented Society
Efforts to curb the consumption of natural resources and reduce waste have acquired greater social urgency, reflecting wider economic activity and population growth.
By promoting resource efficiency in its products and manufacturing processes, Kawasaki takes great care to effectively utilize and recycle the planet's finite resources.
Through ongoing initiatives in our business activities and efforts to promote their penetration in workplaces, we have maintained landfill disposal and recycling rates at our target levels.
In addition, we practice appropriate storage management of PCB waste, a type of industrial waste subject to special control that has been banned from use. We are advancing the treatment of this waste according to a plan for completion by the legally mandated deadline.
---
Reduction of Total Waste Generation
We are continuing activities to achieve our targets to reduce waste generated through our manufacturing processes per unit of net sales by using resources effectively, and to achieve zero waste disposed of in landfills through the promotion of recycling.
In fiscal 2018, waste generated per unit of net sales amounted to 43.9 tons/billion yen, a reduction of 5.6% compared to the average from fiscal 2013 to fiscal 2015. The landfill disposal rate was 0.2%, achieving the target of 1% or less. Moreover, our recycling rate was 98%. Going forward, we will continue to pursue initiatives with a focus on the 3Rs.
Waste Generated and Waste per Unit of Net Sales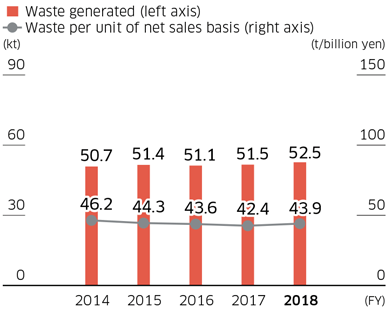 Note:

Per unit of net sales figures are obtained by dividing waste generated by net sales.
---
Promoting PCB Treatment
The disposal of PCB (polychlorinated biphenyl) waste is proceeding worldwide, in line with the Stockholm Convention, which includes stipulations on the proper treatment of PCBs. In Japan, disposal is undertaken in a systematic manner, mainly by the Japan Environmental Storage & Safety Corporation (JESCO), which was established by the Ministry of the Environment. We are undertaking the treatment of our PCBs, aiming for completion ahead of the national schedule.
To achieve our disposal targets, we are steadily ceasing use of equipment that contains PCBs (low-concentration PCB waste), putting such items into storage, and considering treatment service providers. In fiscal 2018, all of the high-concentration PCB waste stored by the Company was awaiting treatment by JESCO. Kawasaki will continue to store this waste safely until a treatment schedule is finalized.
---
Contact