Steel Processing Facility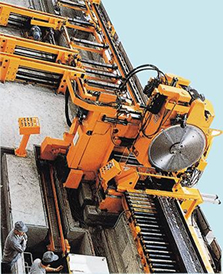 The COM Series Steel Machining Facility is used by many customers, enjoying a good reputation for its high productivity, quality and great labor saving effects. The high-performance water-jet cutting facility and tailored blank laser welding facility developed by Kawasaki with accumulated rich machining data added are treasured at the site of machining new materials and composites and producing automotive parts.
Features
Introduction of the COM System ensures comprehensive management of steel machining such as designing, marking-off, boring, cutting and stamping. This system contributes to drastic reduction in labor and increase in production capacity. This numerical control (NC) machining needs no skilled workers and produces high-quality products without human-induced inferior products.
Contact