Sewage Treatment System
Pneumatically Conveying System (for screenings material)
-Energy Saving System which conveys screenings material and scum pneumatically-
Features
Pipe conveying system enables free selection of the route and long distance transportation.
It enables to receive and deliver from and to many directions.
Conveying sealed prevents odor leak or dripping
Simple configuration helps easy maintenance.
Full automation saves running cost.
Membrane Diffuser
-Air diffuser which realizes high oxygen transfer efficiency by ultra fine air bubble-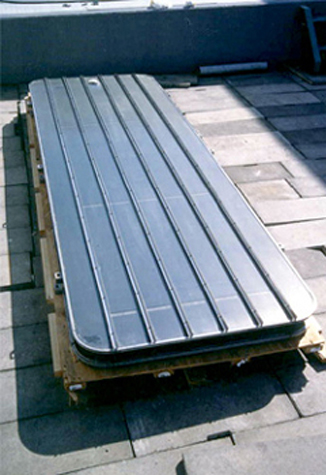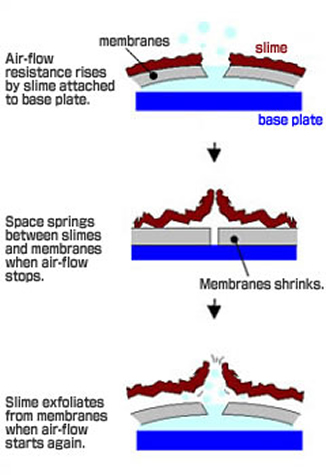 Features
Ultra fine air bubbles less than 1mm in diameter enable to reduce air supply with high oxygen transfer efficiency.
Reduced air supply leads reduction of electricity and cost for related facilities.
Wide range of control for air supply makes it easier to adjust to wide load change.
When aeration is stopped, clogged airhole can be avoided because diffusion membranes stick fast to base plate by water pressure and avoid sewage from seeping in.
The material for membranes is special kind of polyurethane and its flat surface prevents biological slime from sticking to and makes it easier to exfoliate in case it adheres.
Screw Press Dehydrator
-Compact Energy-saving Sophisticated Dehydrator-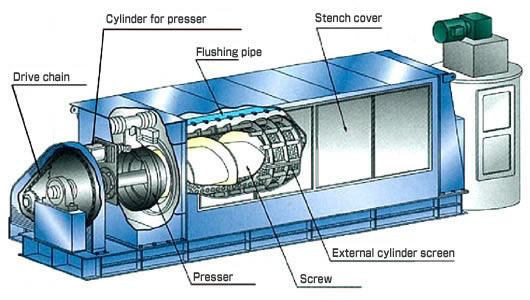 Features
By operating screw, moisture content in dehydrated cake and disposal amount is easy to adjust.
Small motor power and low power consumption reduce operating cost.
Simple design and light weight enable easy maintenance.
Odor is controlled with tight deodorizing cover.
Low noise and low vibration with slow rotation; environment-minded.
Flat and smooth metal surface of screen makes clogging harder and function recovery easier by washing.
Washing water can be saved for short washing time.
Contact