Sludge Processing System
Flash Drying System
-Saving energy system with high drying rate and good heat efficiency among direct heat dryers.-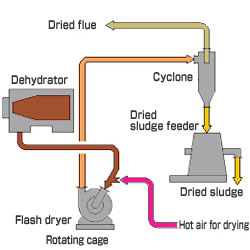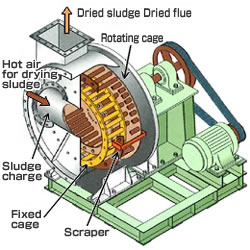 Features
Flash drying machine (sludge cracking function) is a main equipment. It cracks massive sludge by rotating cage and fixed cage and enables nearly instantaneous drying with direct hot air, creating more surface area.
Compact machine with high heat efficiency.
Powdered-granulated dried sludge gathered by cyclone separator after passing flash dryer is easy to handle.
Easy to control the moisture content in dried product.
Sludge Heating, Drying System
-Sludge drying system with anaerobic digester chambers which needs no auxiliary fuel-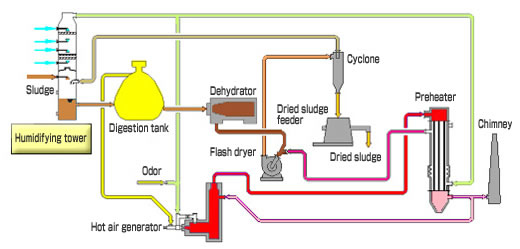 Features
It needs no boiler for heating digester chambers for heating sludge with condensation heat made by contact of concentrated sludge before put into digester chambers and exhaust gas in the heating chamber.
It boosts digestive efficiency in heating chamber by aerobic heat treatment.
It needs no digestion gas retention by continuous heating.
Automation makes unmanned system operation possible.
Sludge Carbonizing Processing System
-Processing system which made easier to utilize sludge.-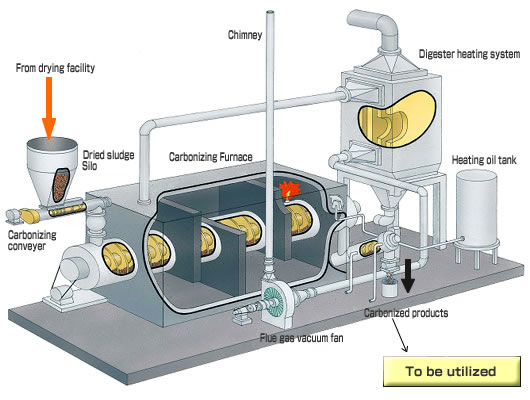 Our technology realizes very wide range effective utilization like high calorie "carbonized fuel products and very adsorptive active carbon products." Carbonized products can be obtained by granulated dried sludge thermally decomposed in low-oxygen atmosphere.
Features
Stability:
Stability in quality is made possible since forced conveyance system with screw makes it easy to control sludge retention time.
Safety:
Safe products with high ignition point can be made by processing active carbonated products at high temperature.
Low-fuel Consumption:
Low-fuel Consumption is realized by integrating carbonizing furnace and deodorizing furnace despite the need to keep the temperature in the furnace high.
Low-Pollution:
The system to recirculate the flue saves the emission of gas in the atmosphere and minimizes the formation of dioxin or N2O by high temperature combustion.
An Example of Effective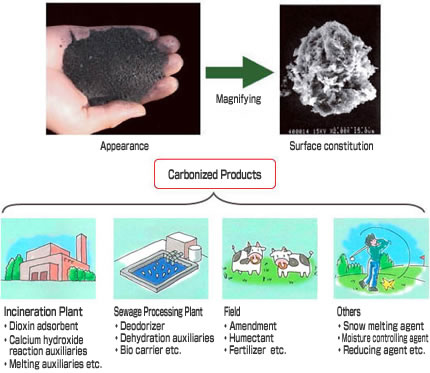 Contact