MAG Turbo
Initial registration: 2014

Domestic industry's highest level of efficiency
and low environmental impact achieved
through use of magnetic bearings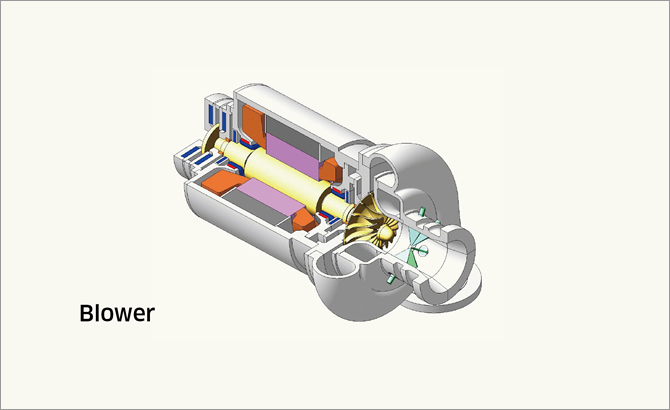 Featuring a high-speed motor with magnetic bearings, the MAG Turbo outperforms overall efficiency of existing sewage aeration blowers in all air volume ranges domestically.
Furthermore, the MAG Turbo does not require the use of lubricant, minimizing environmental impact.
Product Description
This new type of sewage aeration blower has an impeller attached directly to the rotor shaft of an inverter-driven, high-speed motor. The rotor levitates by magnetic bearings. This mechanism allows high-speed rotation without mechanical loss.
Special Features
The following features are possible because of the blower's inverter-driven, high-speed motor with magnetic bearings.
· High efficiency (a maximum of about seven points higher than existing models)
· No lubricant or cooling water necessary
· Low noise, low vibration