Kawasaki Delivers a New Waste Heat Recovery Power Generation System to Taiheiyo Cement ー This is the First Delivery of Kawasaki's New High Efficiency Waste Heat Recovery "VEGA® Boiler" to a Japanese Customer ー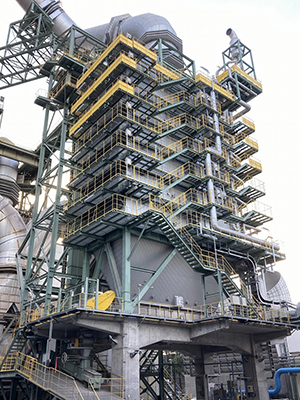 The VEGA® boiler delivered by Kawasaki
Tokyo, October 31, 2022 — Kawasaki Heavy Industries, Ltd. announced today the delivery of a cement plant waste heat recovery power generation (WHRPG) system to the Saitama Plant of Taiheiyo Cement Corporation.
The system will make use of waste heat released during the calcining stage of the cement production process to generate electricity, reducing the cement plant's power consumption and environmental footprint. The system consists of a waste heat recovery boiler and steam turbine, both manufactured by Kawasaki group companies, generator and other equipment. This represents the first installation of the VEGA® boiler,* in Japan, and the 37th installation worldwide. Kawasaki executed the turnkey project including: the overall plant design, equipment supply, installation, and commissioning, etc. The new system generates approximately 8 MW (7,850 kW rated output). The utilization of waste heat energy to generate power for in plant use will reduce outside power purchases and cut the carbon dioxide (CO2) emissions by about 23,000 tons annually.
Starting around 2000, cement plants began using larger amounts of alternative fuels and materials such as; wood chips, waste plastic, sludge, and incineration ash from sewage sludge and municipal waste, etc. These materials, however, generate more adherent, sticky dust, necessitating better dust removal performance for preheater waste heat recovery boilers. Moreover, due to layout restrictions within cement plants, it has often been necessary to install WHRPG systems in limited spaces. In consideration of these circumstances, Kawasaki developed the VEGA® boiler as a new type of waste heat recovery boiler with a smaller structure and higher heat energy recovery efficiency. Today, 37 VEGA® boilers are in operation around the world, and this latest delivery marks the first use of this boiler within Japan.
As a global corporation and industry leader, Taiheiyo Cement is pursuing CO2 emission reductions and the utilization of alternative fuels in their operations. This latest order represents Taiheiyo Cement's careful and thorough evaluation of the performance and economic efficiency provided by Kawasaki's WHRPG system. Taiheiyo's decision was based on a careful assessment of the system's ability to reliably produce electricity from waste heat, reduce CO2 emissions, and promote the increased use of alternative fuels.
As climate change countermeasures accelerate around the world, demand is expected to grow in both developed and developing countries for energy-saving, CO2 emission reducing products, including cement plant WHRPG. Kawasaki has served as a global leader in the field, ever since Kawasaki's delivery of its first cement plant WHRPG system in Japan in 1980. Kawasaki has now delivered 270 such systems to cement plants in 14 countries around the world, including Germany and South Korea. Moving forward, Kawasaki continues its active development and sale of products that facilitate greater energy savings and CO2 reductions as part of contributions toward the realization of a sustainable society.
*
Vertical Exhaust Gas Advanced (VEGA®) boiler:
A vertical flow preheater boiler with a completely different structure from conventional preheater boilers, incorporating high efficiency heat transfer tubes and hammering equipment with high dust removal performance.
"VEGA" is a registered trade mark of Kawasaki and Anhui Conch Kawasaki Engineering Co., Ltd. in Japan, U.S.A., European Union, China and South Korea.
Advantages of the VEGA® Boiler
Reduced Weight and Footprint Through a More Compact Design
Weight has been reduced by approximately 50%, and required installation footprint by approximately 40%, compared with conventional boilers.
Shorter Installation Time
The use of a modular block design for heat transfer tubes reduces installation time by about 25%.
Reduced Power Consumption for Induced Draft Fan
Boiler pressure drop has been reduced by about 75% compared with conventional boilers, which leads to more energy savings by reducing ID fan power consumption.
Excellent Dust Removal Performance
The adoption of a new hammering equipment design with high dust removal efficiency contributes to improved heat transfer. Furthermore, it is designed to achieve stable heat recovery that is effective over the long term, even with exhaust gases of alternative fuels and materials such as wood chips, waste plastics, sludge and incineration ash from sewage sludge and municipal waste, etc., which contain increased amounts of sticky dust that can easily adhere to the heat transfer tubes.
High Reliability and Easy Maintainability
Reliability is excellent because the joint between the hammer rod and heat transfer tubes can be inspected and repaired, if necessary, through manholes from outside the boiler.

Related Links
Kawasaki Receives Order from Taiheiyo Cement for New-model Cement Plant Waste Heat Recovery Power Generation System - First Domestic Adoption of Newly Developed VEGA® Boiler - (Jan. 21, 2020)
https://global.kawasaki.com/en/corp/newsroom/news/detail/?f=20200121_2414
Kawasaki Achieves Total 50 Orders for its High Efficiency Waste Heat Recovery Boiler "VEGA® Boiler" for Cement Plant (Mar. 10. 2022)
https://global.kawasaki.com/en/corp/newsroom/news/detail/?f=20220310_9960
New K Plant WHRPG System Goes to Germany (July 9, 2010)
https://global.kawasaki.com/en/corp/newsroom/news/detail/ba_c3100709_1.html
Kawasaki Completes South Korean Cement Plant WHRPG System Boasting World's Highest Generation Output (Oct. 15, 2018)
https://global.kawasaki.com/en/corp/newsroom/news/detail/?f=20181015_4187
Contact