Kawasaki Completes South Korean Cement Plant WHRPG System Boasting World's Highest Generation Output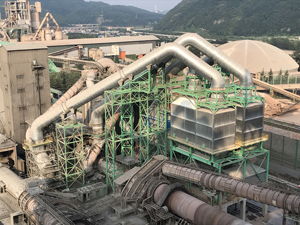 Tokyo, October 15, 2018—Kawasaki Heavy Industries, Ltd. announced today the delivery of and start of commercial operations for a waste heat recovery power generation (WHRPG) system in the Donghae Plant owned by Ssangyong Cement Industrial Co., Ltd. ("Ssangyong Cement"), South Korea's largest cement manufacturer.
The Donghae Plant's annual production output of over 11 million tons makes it the country's leading cement plant. The new WHRPG system uses 10 waste heat recovery boilers to recover waste heat from exhaust gases generated during the calcining stage of the cement production process, and one steam turbine generator to produce 43.5MW of electric power—the world's highest output for a WHRPG system. Kawasaki provided the overall plant design and engineering as well as the waste heat recovery boilers, the steam turbine generator, control system (DCS), etc. along with the basic design for the customer's portion and technical advisory services for construction and commissioning. The installation of this WHRPG system in the plant enables efficient utilization of waste heat, which was previously emitted into the outside air, and produces about 30% of the power needed by the plant, which is equivalent to reducing CO2 emissions by about 170,000 tons annually.
Since the Kawasaki Group's first delivery of a cement plant WHRPG system to a domestic client in 1980, the company has served as a global leader in this product category, providing 13 plants within Japan as well as others in China, South Korea, Vietnam, India, Germany and elsewhere for approximately 250 plants in total. Together these generate about 2,700 MW of electric power and cut CO2 emissions by roughly 11 million tons annually. Kawasaki has now completed a total of four such projects in South Korea, serving as testimony to the company's proven track record and technical capabilities.
As worldwide interest in global warming prevention measures continues to rise, demand is expected to continue growing in both advanced and developing nations for facilities and systems that save energy and reduce environmental loads, including WHRPG systems for cement plants. Kawasaki will proactively continue to develop and provide products that contribute toward energy conservation and environmental protection.
Contact