Kawasaki Achieves Total 50 Orders for its High Efficiency Waste Heat Recovery Boiler "VEGA® Boiler" for Cement Plant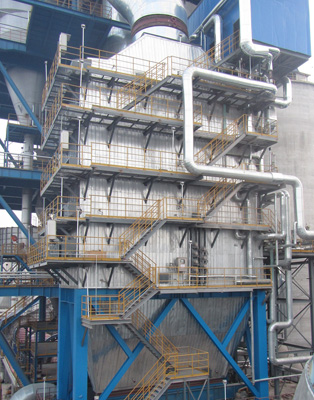 First VEGA® Boiler, installed at the Huaibei Zhongcheng Cement Co., Ltd.
Tokyo, March 10, 2022 – Kawasaki Heavy Industries, Ltd. announced today that it, together with Anhui Conch Kawasaki Engineering Co., Ltd. (ACK) and Shanghai Conch Kawasaki Engineering Co., Ltd., the Group Companies of Kawasaki, has achieved total 50 orders of VEGA® Boiler *1 used in cement plant waste heat recovery power generation (WHRPG) system.
VEGA® Boiler, of which the first unit was delivered in 2017, is an advanced one co-developed by Kawasaki and ACK, Chinese Joint Venture Company. In line with a worldwide growing interest in global warming countermeasures, the Kawasaki Group has steadily accumulated orders reception against the background of growing demand for replacement of energy saving equipment. By adopting a different type of heat transfer tube structure from that of conventional boilers, VEGA® boiler enables compact size and effective waste heat recovery and realizes high power generation.
In addition, the group has newly developed hammering equipment with higher dust removal performance as alternative fuels and materials have been used in greater quantities and dust adherence has been increasing, and these efforts have led to an accumulation of orders of VEGA® boiler from companies in Japan, China and other Asian countries thanks to comprehensively high appraisal such as the progressiveness of the boiler and its high reliability.
As the trend toward carbon neutrality accelerates in the world, there is a need to improve the power output of WHRPG using a highly efficient waste heat recovery boiler as an energy-saving measure during the calcining stage of the cement production process.
Since its first delivery of cement plant WHRPG system in 1980 in Japan, as a world leader, Kawasaki has supplied 13 plants in Japan as well as plants around the world including Germany, Turkey, South Korea, China, Vietnam, India, Pakistan, and elsewhere. The Group has supplied a total of 269 plants, generating approximately 2,800 MW of electrical power and reducing carbon dioxide emissions by around 16 million tonnes annually. Kawasaki continues to proactively design, develop, and deliver products that contribute toward energy savings and environmental protection and contribute to realization of sustainable society.
*1
Vertical Exhaust Gas Advanced (VEGA®) boiler:
A vertical flow PH boiler with a completely different structure from conventional PH boiler, incorporating epoch-making heat transfer tubes and dust removal system. Because development of the VEGA® boiler was completed on the day of Tanabata (the Star Festival), a festival celebrating the meeting of two stars in love, it was named after the star Vega, which represents one of the stars.
"VEGA" is a registered trademark of Kawasaki and ACK in Japan, U.S.A., European Union, China and South Korea.
Advantages of VEGA® Boiler
1. High Utilization Rate
The adoption of an effective dust removal system with hammering equipment contributes to improvements in heat transfer performance.
Furthermore, it is designed to achieve stable heat recovery that is effective over the long term, even from alternative fuel exhaust gases which can contain large amounts of dust that can easily adhere to the heat transfer tubes.
2. High Power Output
VEGA® boiler can produce higher temperature and pressure of steam, which can achieve 10% higher power output compared with conventional boilers. (In case of significant replacement of main equipment of existing WHRPG system for a cement plant or newly establishment of the system.)
3. Reduced Power Consumption for Induced Draft Fan
Draft loss of VEGA® boiler is decreased by about 75% compared with conventional boilers, which leads to more energy savings by reducing power consumption for the induced draft fan.
4. Reduced Weight through More Compact Design
The total weight is approximately 50% less than conventional boilers, with a 40% smaller footprint, leading to lower installation costs.
5. Shorter Installation Time
Use of a modular design for the heat transfer tubes reduces installation time by about 25 percent compared with conventional boilers.
6. High Maintainability
Maintainability is excellent because the joint between hammer rod and heat transfer tubes can be inspected and repaired, if necessary, through manhole from outside the boiler.
Features of Cement Plant WHRPG System
WHRPG system for cement plants recover unused waste heat from the exhausted gases during the cement production process and use it to operate a steam turbine for power generation. There are two available heat sources in a cement plant; the preheater (PH)*2 and clinker cooler (AQC)*3. The VEGA® boiler is designed to recover the heat from PH's exhaust gases which contain large amounts of dust. And the installation of WHRPG system for cement plants can not only reduce the heat emitted into the atmosphere but also provide for approximately 30% of a cement plant's power requirements without the use of additional generating fuel, which greatly contribute to the reduction of power usage mainly derived from fossil fuel purchased from grid as well as that of CO2 emissions. Since 2000, large amounts of alternative fuels and materials have been put into kilns, which has led to the increase of stickiness of the dust contained in the PH exhaust gases, thus, a more efficient dust removal performance has been required.
*2
Preheater (PH):
The preheater is the facility that preheats raw material by using the heat from kiln and calciner before feeding it to the kiln.
*3
Clinker Cooler (Air Quenching Cooler):
The clinker cooler is the facility that quenches the hot clinker by air.
*4
Steam Rankine Cycle:
A proven and reliable Rankine cycle, used over many years with water and steam as the heat transfer medium. It is safer and more efficient than binary cycles using other low boiling point fluids.
Contact