Kawasaki Receives Order for Four Gas Engines with World-leading Electrical Efficiency in Class for Use in Thai Cogeneration Project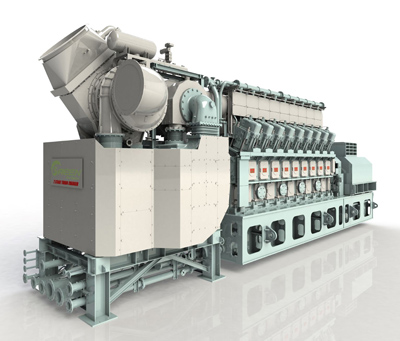 KG-18-T Kawasaki Green Gas Engine
Tokyo, September 21, 2022 — Kawasaki Heavy Industries, Ltd. announced today its receipt of an order from Thai engineering firm EGCO Engineering & Service Company Limited (ESCO) , a wholly-owned subsidiary of EGCO Group, for four Kawasaki Green Gas Engines, which will be used in the R E N Korat Energy IPS*1 project in Thailand.
The R E N Korat Energy IPS project is operated by joint-venture company R E N Korat Energy Company Limited (R E N Korat Energy), a company created for the project through joint investment by three companies: major Thai electric power company RATCH Group Public Company Limited (RATCH Group); PEA ENCOM International Company Limited, a subsidiary of a Thai national energy distribution company; and industrial park owner Nava Nakorn Public Company Limited. Through this project, R E N Korat Energy will construct a 30 MW class gas engine power plant in the Nakorn Ratchasima Industrial Park. This latest order represents the second placed with Kawasaki for RATCH Group–operated power generation projects following a previous order in July 2021 for the RATCH Cogeneration Expansion Project, demonstrating their high evaluation of Kawasaki's reliability and technological capabilities.
The four engines ordered for the project are Kawasaki's new, 7.8 MW class KG-18-T gas engines equipped with two-stage turbocharging systems, first released on the market in June 2020. The KG-18-T boasts the highest electrical efficiency in its class worldwide (51.0%*2) as well as fast startup and shutdown performance for nimble operation, enabling flexible responses to changes in electric power demand within the industrial park. ESCO has been contracted to carry out engineering, procurement and construction (EPC) of the power plant for R E N Korat Energy, and Kawasaki will deliver the full set of gas engine power generation equipment to ESCO. The new power plant is scheduled to enter operation in early 2024, and power generated will be supplied to customers within the Nakorn Ratchasima Industrial Park.
As renewable energy becomes increasingly widespread throughout the world as a global warming countermeasure, demand for distributed power generation systems is expected to rise in Thailand. Through Kawasaki Heavy Industries (Thailand) Co., Ltd., a local sales and service company in Thailand, Kawasaki will provide solutions tailored specifically to local requirements while proposing products optimized for distributed energy supply approaches—such as gas engines and gas turbines boasting high electrical efficiency—along with combined-cycle power plant facilities that combine those products.
Moving forward, Kawasaki will continue its active pursuit of product and technology improvements as well as strengthen plant engineering capabilities in order to further expand its energy-related business on a global scale. Furthermore, Kawasaki will continue to pursue reliable energy supplies, environmental load reductions, and efforts toward realizing a low- and zero-carbon-emission society while striving to precisely address a diverse array of market needs.
| | |
| --- | --- |
| *1 | Independent Power Supply. Refers to the supplying of electric power and heat independently within an industrial park. |
| *2 | Calculated using city gas in Japan (40.6 MJ/Nm3, methane number = 69). |
Related Links
Kawasaki Receives Gas Engine Order for Thai Cogeneration Project (July 14, 2021)
https://global.kawasaki.com/en/corp/newsroom/news/detail/?f=20210714_3306
Kawasaki Energy Solution Special Site (English)
https://global.kawasaki.com/en/energy/gasengine_gasturbine/index.html
Kawasaki Energy Solution Special Site (Thai)
https://global.kawasaki.com/th/energy/gasengine_gasturbine/index.html
Customer's Voice (Case Study of RATCH Cogeneration Expansion Project)
https://www.youtube.com/watch?v=fpi1ppce9tM&t=1s
Contact