Kawasaki Receives Gas Engine Order for Thai Cogeneration Project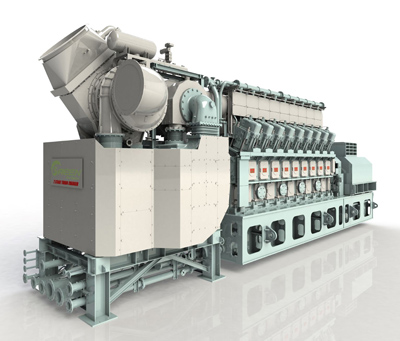 Tokyo, July 14 , 2021 — Kawasaki Heavy Industries, Ltd. announced today its receipt of an order from Singapore-based Jurong Engineering Ltd. (JEL) for four Kawasaki Green Gas Engines to be used in the RATCH Cogeneration Expansion Project in Thailand. The order was placed through Kawasaki Gas Turbine Asia Sdn. Bhd. (KGA),*1 which is based in Kuala Lumpur, Malaysia.
In the RATCH Cogeneration Expansion Project, a 30 MW class gas engine power plant will be added to a 110 MW combined-cycle power plant operated by RATCH Cogeneration Company Limited, which operates under parent company and major Thai power producer RATCH Group Public Company Limited.
The four engines ordered for the project are Kawasaki's new, 7.8 MW class KG-18-T gas engines equipped with two-stage turbocharging systems, first released on the market in June 2020. The KG-18-T boasts the highest electrical efficiency in its class worldwide (51.0%*2) as well as fast startup and shutdown performance for highly flexible operation. The newly ordered engines will be used during afternoon peak times, when demand for electricity is high. JEL has been contracted to carry out engineering, procurement and construction (EPC) of power plant for RATCH Cogeneration Company Limited, and Kawasaki plans to ship out the full set of gas engine power generation equipment to JEL in November 2021. The new engines are scheduled to enter operation in September 2022, and power generated will be sold to the nearby industrial park as well as the Electricity Generating Authority of Thailand.
Kawasaki offers a full lineup of gas engines, gas turbines and more with high electrical efficiency that are tailored to the distributed energy supply approach, and one of the company's strengths is its ability to provide optimized energy supply systems for combined-cycle power plants that effectively bring together these various products. Moving forward, Kawasaki will continue its active pursuit of product and technology improvements as well as strengthening plant engineering capabilities in order to further expand its energy-related business on a global scale. Furthermore, Kawasaki will continue to pursue reliable energy supplies, environmental load reductions, and efforts toward the realization of a low- and zero-carbon-emission society while striving to precisely address a diverse array of market needs.
| | |
| --- | --- |
| *1 | KGA is a wholly owned subsidiary of Kawasaki serving the Asian region that sells gas turbines, gas engines and other energy-related equipment and systems, and offers related services. |
| *2 | Calculated using city gas in Japan (40.6 MJ/Nm3, methane number = 69). |
Related Links
■Press release announcing release of KG-18-T
https://global.kawasaki.com/en/corp/newsroom/news/detail/?f=20200618_9655
Contact