Kawasaki 8 MW Class KG-18-T Gas Engine Receives Chairman's Award in Technological Development Category at 2020 Cogeneration Awards
Kawasaki's new 8 MW class KG-18-T gas engine, which has a two-stage turbocharging system and boasts the highest electrical efficiency in its class worldwide, received the Chairman's Award in the Technological Development Category at the 2020 Cogeneration Awards. The Awards are hosted by the Advanced Cogeneration and Energy Utilization Center JAPAN (ACEJ) and recognize exceptional cogeneration systems that are novel or cutting-edge, utilize new technologies, achieve high energy savings, and stand out in other such ways. Through these awards, the ACEJ hopes to raise societal awareness of cogeneration technologies and systems and promote the further spread of cogeneration.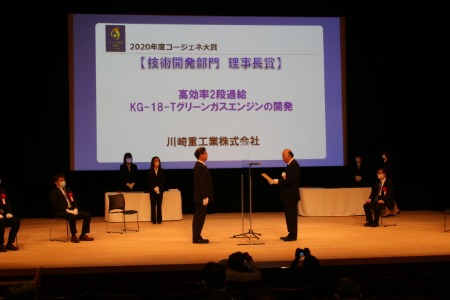 Since its first order in 2011, the original model that Kawasaki's KG-18-T is based on has sold over 180 units, and the latest model was developed to further boost its performance. The KG-18-T has received steady orders since its release in June 2020. It has an output of 7,800 kW at 50 Hz and 7,500 kW at 60 Hz and is equipped with a newly developed two-stage turbocharging system to achieve a 1.5 pt increase in electrical efficiency compared with previous Kawasaki models, giving it an electrical efficiency at the highest level in its output class worldwide of 51.0%.*1 NOx emissions are kept to 200 ppm*2 or less, and it is designed to meet the environmental performance requirements demanded by many Japanese cities. Furthermore, it offers excellent fast startup performance enabling the attainment of maximum generation output within five minutes of start command issuance, contributing to more effective adjustments in response to power demand fluctuations within the supply network. The receipt of this latest award is a recognition of the product's overall performance and advantages, which include efficient energy usage and contributions toward reduced environmental loads.
As power sources grow increasingly diverse both domestically and worldwide in response to the spread of renewable energy, the KG-18-T is helping to popularize the distributed energy source model through its excellent economy, environmental performance and fast startup performance. With full consideration for individual customer needs, Kawasaki will continue leveraging the advantages offered by its wide array of energy products while actively expanding energy and environmental business efforts.
*1 Calculated using city gas in Japan (40.6 MJ/Nm3, methane number = 69)
*2 Converted at 0% m3
Press release announcing the launch of the KG-18-T high-performance 8 MW class gas engine developed in-house
Press release announcing the first order for the KG-18-T high-performance 8 MW class gas engine developed in-house